Bollywood is the dream destination for all those who are aspiring for a career in acting. They are constantly striving to progress in the industry. Though you have a number of aspirants only a few of them are able to get the attention and success they desired. You can attribute the success to their attractive looks as well as their talent.
While we generally tend to confuse the terms attractive and beautiful to be the same, it actually refers to two different things. Even a person who is not actually beautiful could really be attractive and hot even wearing a normal mundane costume like jeans.
The list of 10 Bollywood actresses who look hot in jeans has been compiled here.
The list of actresses are 
10. Amrita Arora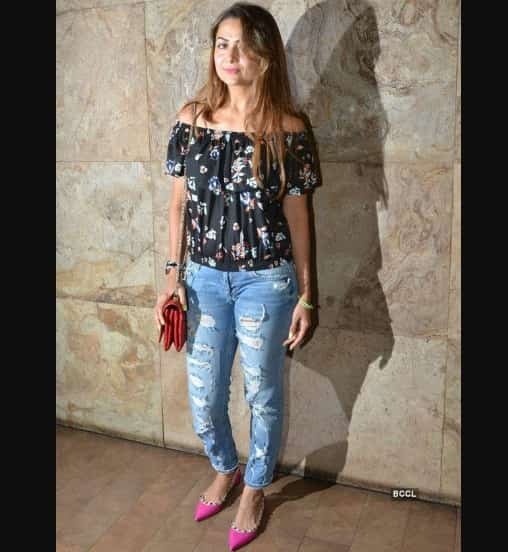 Amrita Arora is none other than the sister of Malaika Arora. She is a talented person with multiple identities that include a famous TV presenter, model, VJ, and an actress. Though she started off as a model, she did appear in music videos as well. She made her debut in Hindi film in the movie Kitne Door Kitne Paas. At present, she is hosting a number of shows on M TV. She is as cool as she could be sporting the designer faded jeans and off the sleeve top with a pink high heeled cut shoe to go with it.
9. Tamanna Bhatia
Tamanna Bhatia is a talented actress who acts in Hindi, Tamil and Telugu movies. She is known for her attractive and curvy figure. She looks gorgeous in almost all dresses owing to her complexion and slim figure. Clad in designer blue jeans and a cream top that is refreshing she does steal the show. The tight jeans and exposed navel just adds to the hot looks image.
8. Shruthi Sodhi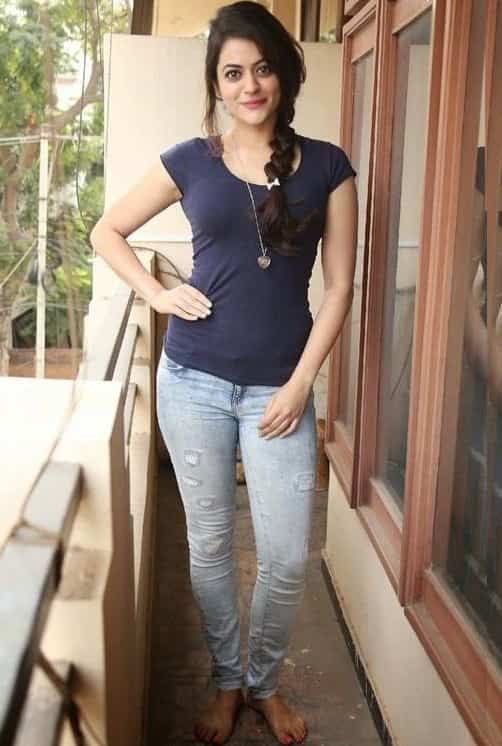 Shruthi Sodhi is an attractive actress who has acted in movies like Mr.&Mrs 420, Barood, Dil Vil Pyaar Vyar. She has also done anchoring projects earlier. At present, she works mostly in Telugu and Punjabi films. In this light blue faded jeans and figure-hugging navy blue tops She does look hot and appealing.  The tight jeans and the top seem to be just enough to flaunt the curves to good effect.
7. Mehreen Kaur  Pirzada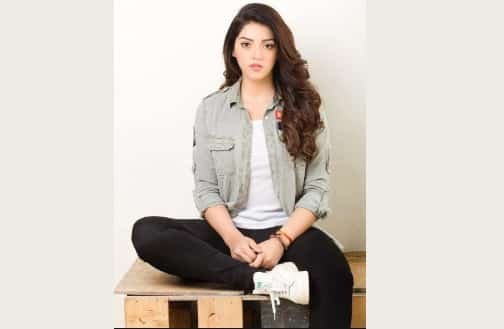 Mehreen is an attractive and talented young actress. She is an adventure lover and an International air pistol shooter. She has the distinction of representing India at the Young Global leader's conference at Washington DC and New York. She is a Bharatanatyam dancer as well. She is a standing example for a young lady who has beauty and brains. This picture of Mehreen in which she is clad in jeans goes to prove that she is a hot and adorable beauty. She made her debut in films in the year 2016.
6. Amanda Rosario
Amanda Rosario is an actress of  British-Indian origin. Though she has not played lead roles in Hindi films, she has played the lead role in the Tamil Movie Saagasam. She started off her career as a dance teacher and then moved on to work as a model in commercials. Apart from acting she also works as a choreographer for BBC Asian network and also as a freelance dancer. In this picture a still from the movie saagasam in which she starred opposite Prasanth, she is seen wearing faded jeans a top that that does little to cover the exposed navel along with a jean jacket. It no doubt enhances her appearance and helps her flaunt her curves to good effect.
5. Huma Quereshi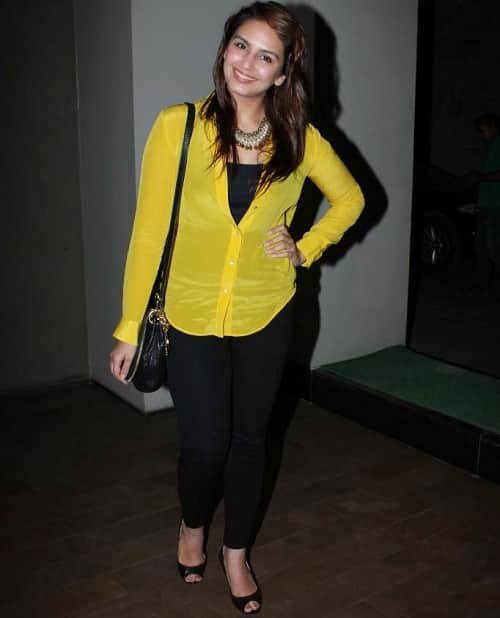 Who says you have to be size zero to look hot and appealing in an attire? Huma Qureshi just seems to quash this belief. She is indeed an actress who is supposed to be a bit on the bulkier side when compared to most of the other Bollywood actresses. But she is proud to flaunt her curves and looks as awesome and hot as ever in the denim she is sporting. She is fiercely different and has no qualms about being so. This could well be the reason behind her success in the industry. She has not only acted in the British movie called Viceroy's House but has also bagged the BRIT awards this year.
4. Anaika Soti
Anaika Soti is an actress, anchor, and model who has acted in Hindi, Tamil and Telugu films. She has an alluringly slim body. She does look attractive and hot in this picture sporting a low hip denim and a black sleeveless top. She is indeed an actress who seems to have mastered the art of flaunting her curves to qualify for the hot looks category.
3. Kriti Sanon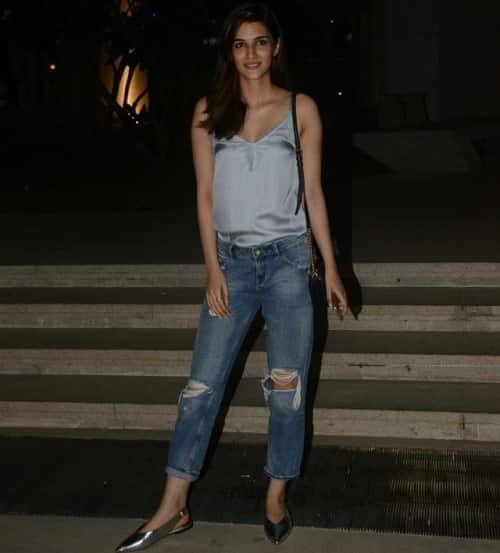 Kriti Sanon is a model turned actress who made her entry into films in the movie Heropanti. She is a talented and a well-known actress who looks gorgeous even in jeans. The ripped jeans only seem to add to her style and attractiveness quotient. She is indeed a rising star who provides ample evidence of her dressing sense in this ripped blue jeans and grey satin top. She looks super awesome and hot even in this simple attire.
2. Ileana D'Cruz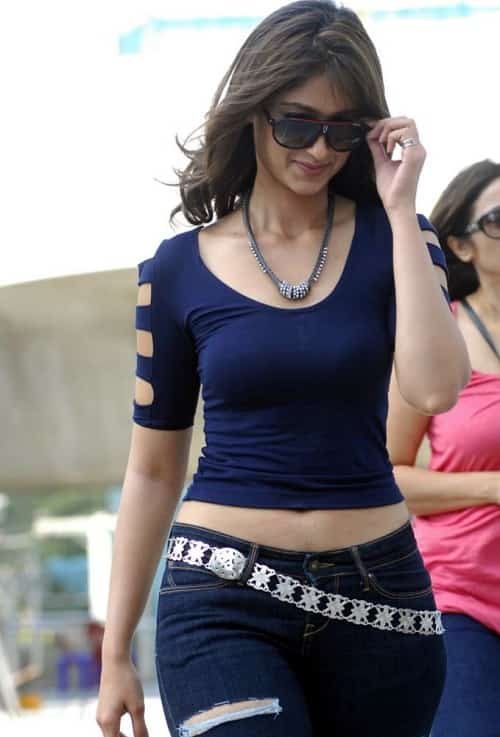 Ileana D'Cruz is an actress who entered the film industry when she was barely 18 years old. But she seems to have found her way into the dreams of most of the youth in South India as well as in the North after her entry into the Bollywood industry through her size zero figure. She is one actress who does full justice to any attire she wears including the ordinary casual blue jeans with a purple top and a short hairstyle she sports. The dark sunglasses and the ugg boots she wears makes her look stylish and attractive.  THIS PICTURE IS ALSO ONE AMONG THE 15 HOT AND SEXY PICTURES OF Amanda Rosario.
1. Deepika Padukone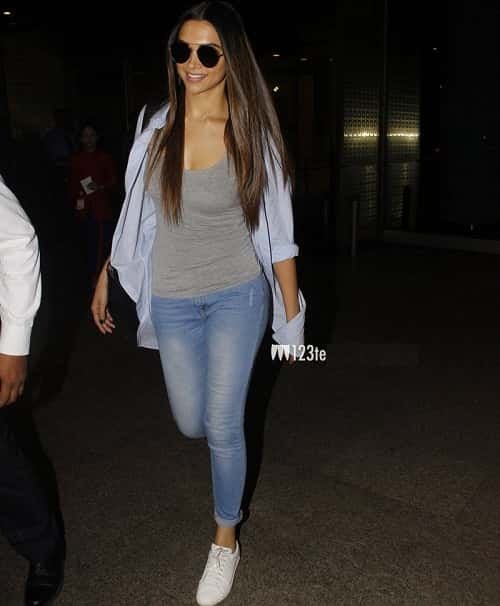 Deepika Padukone is one of the top paid actresses in Bollywood. Her height and structure seem to be apt to flaunt ethnic wear as well as Western wear with elan. She entered the film industry after a brief stint in modeling. She made her entry in the film Om Shanthi Om. She made her style statement with a pair of ripped black jeans and a sweater. She indeed looks hot in the ripped jeans that are ripped around the thighs and knees. The casual ponytail and the cat-eye glasses just add to the awesome looks. She does make one wonder as to how casual simple outfits are capable of flaunting her slim structure and curvy body. If the black ripped jeans were sensational, the blue jean ripped at the knee is no less.
This is by no way an exhaustive list. You may find that the list does not feature the Bollywood actresses who are quite popular like Alia Bhatt, Anushka Sharma, and the likes. Not all actresses can be appealing and hot clad in a dress as mundane as jeans.
This is an attempt to list those who are able to flaunt their assets in the best possible way to attract the attention and admiration of those who see them when clad in jeans and a casual top.
Related Topics: