Bollywood is not only a storehouse of talent but if you are someone who belongs to the industry, your life will always be subject to public appearances. Hence, all the actors and actresses want and ensure that they look good all the time.
The craze for Bollywood is so much that each and every person in the country wants to imitate its own favourite star. Be it western wear or the Indian attire, our stars never fail to surprise us.
In this article, let us see the top 10 Bollywood actresses who look hot in suits.
10. Aditi Rao Hydari
One of the most beautiful actress that Bollywood has today. Aditi Rao Hydari has time and again proven that she indeed is not just any other fashionista. She really knows how to carry herself and portrays everything she wears in great style and comfort. She looks hot in almost everything she wears and one of the most elegant looks if her as per me ia her look in salwar kameez and suits. She stood out during Anita Dongre's campaign where she carried every look of hers with poise and ease while also looking stunning and hot.
9. Karishma Kapoor
She may be the star of the past, but when it comes to looking hot in the Indian attire, there is hardly any other actress in the industry who can compete with Lolo. She looks as beautiful today as she used to when she started her career. She also has the unique ability of carrying everything that she is wearing with grace and elegance. She is the best in everything she does. Her best attire in which she looked extremely hot and elegant was the red color dhoti style suit that was worn by her during the launch of one of the outlets of McCain foods which she advertises since quite a few years now.
8. Sonakshi Sinha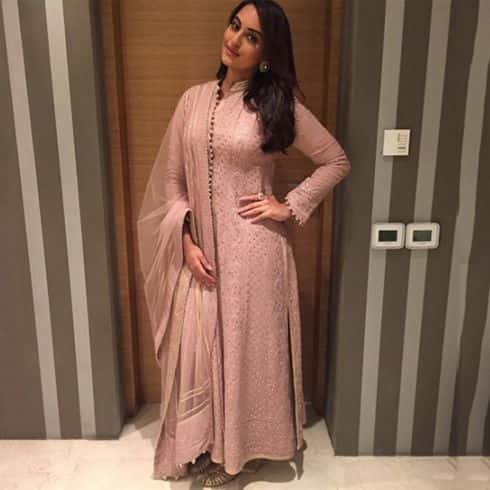 The daughter of Shatrughan Sinha may have long been criticised for being overweight as compared to most of her peers, one certainly cannot take away the fact that this lady looks really elegant and hot at the same time in a suit.
She carries all the attire that she wears with great wears with great ease and comfort, but suits are definitely her forte. I love every suit that she has worn so far in almost all her outings and my personal favourite has been the rosy pink suit designed by Rimple and Harpreet Narula.
7. Aishwarya Rai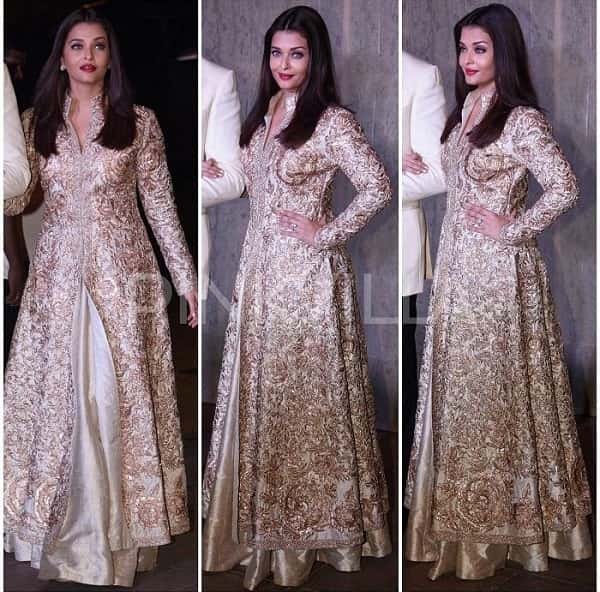 When we talk about Bollywood actresses who are best dressed and look hot in suits, we certainly cannot miss calling out the name of the former Miss World Aishwarya Rai. She is one of the most elegant and the hottest Bollywood actresses around and no matter what she wears, she just stands out with her perfect figure and poised demeanor.
6. Bipasha Basu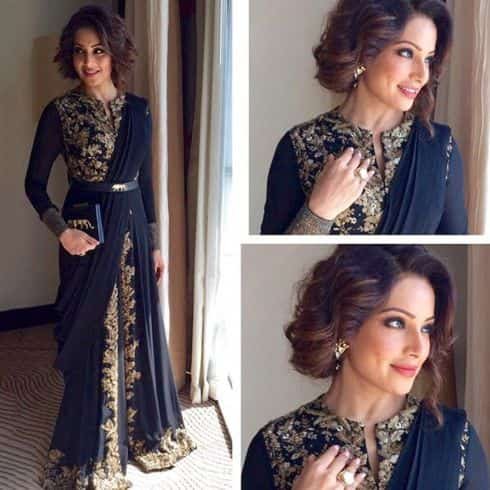 The bengali beauty sure makes it to the list of the top 10 Bollywood actresses who look hot in suits. In most of the occasions, she has been spotted adorning beautiful and intricate salwar suit designs. She has an amazing body and is known to be a fitness freak. Her natural beauty and voguish look always ensures that she is the one who stands out in a crowd always. She has worn some of the best salwar suit designs and looked both hot yet elegant in all of those designs. She truly is India's style icon.
5. Katrina Kaif
We don't know about her acting skills, but when it comes to dressing there is hardly anyone in Bollywood who can beat her. No matter what she wears traditional, western wear, a saree, or hot pants, she makes all her attire look hot yet elegant. Each and every time she manages to stand out from the crowd. Her effortless style and natural beauty makes her one of the best Bollywood actresses who look hot in suits
4. Sonam Kapoor
Another diva that makes it to the list of top 10 Bollywood actresses who look hot in suits is Sonam Kapoor. When it comes to fashion, she has really set very high standards in the industry. She carries everything she wears with great ease and poise. One of her beat looks is in a salwar suit gown designed by Shantanu-Nikhil.
3. Alia Bhatt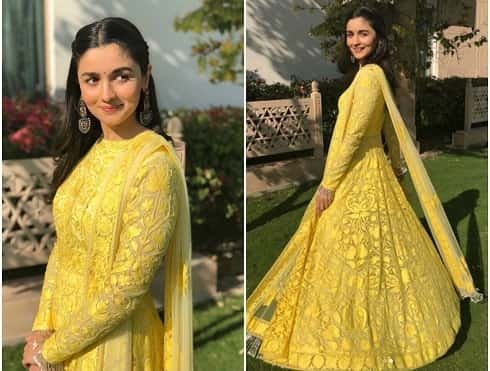 She is young, beautiful, and talented. What else? Alia Bhatt is one of the most sought- after divas of Bollywood who is much loved and followed for her girl next door looks. She carries everything she wears with a lot of confidence and vigour. The vibrant colors she adorns really stand out. Most of the styles she wears are something that you too could wear in your daily life. She looks really hot and elegant at the same time. Some of her best looks are when she is spotted in a salwar suit.
2. Kareena Kapoor Khan
Talking about Bollywood divas who look hot in suits, how can we forget mentioning the name of Bebo of Bollywood or Kareena Kapoor Khan. She carries every look of her with great poise and makes the clothes look as though they have been just made for her. He elegant and peppy dresses always make her stand out and she truly deserves to be called the "Begum" of the Hindi film industry. Most of the suits she adorns makes her look ethereal as well as hot. She is one of the best in the industry.
1. Deepika Padukone
When it comes to Bollywood actresses who look hot in suits, none of the actresses can beat Deepika Padukone. She is undoubtedly stylish and can carry all the different types of attire with great ease but she looks amazing in a salwar suit. Her tall and slender frame ensures that the leggy lass looks good in all different types and styles of suits. Most of her suits will be well fitted and will be paired with casual dupatta style. She is seriously one of the best in the business.
Thus, the above are some of the Bollywood actresses who look best in suits. Bollywood is a storehouse of talent and nearly every actor and actress wants to look good and adopt best of the styles. These actors and actresses are constantly in competition within themselves!
Related Topics: