Bollywood is known for its glitz and glamour. If you are someone who belongs to the industry, you always have to be on top of your style, irrespective of wherever you go. The media shall always follow you and you have to stand out in the public eye.
With a lot of youngsters joining the industry, Bollywood has witnessed a number of changes in the coming years. However, one thing that remains common to be seen amongst the past and the present is the love for clothes and particularly long, beautiful, designer gowns.
In this article, let us see the top 10 Bollywood actresses who look super hot in gowns.
10. Kriti Sanon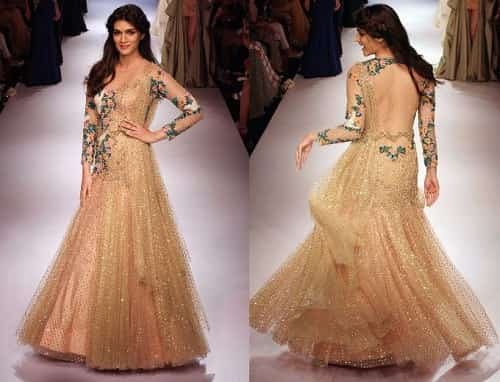 A young Bollywood actress who makes it to the list of top 10 actresses who look hot in gowns is the Raabta starrer Kriti Sanon. Her amazing height, perfect body, that perfectly shaped jawline plays an important role making her look both hot and elegant in gowns.
She just has the right kind if vibe ti herself and never goes over the top with anything that she wears.
9. Aditi Rao Hydari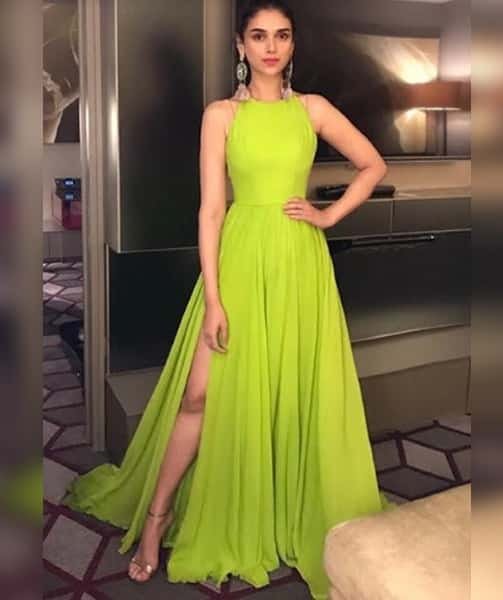 Amongst the Bollywood actresses who look hot in evening gown is another talented actress name Aditi Rao Hydari. Her beautiful yet innocent looks are enough to melt your heart. She looks stunning in anything and everything that she wears. Evening gowns are something that she has been spotted carrying effortlessly and beautifully.
8. Tamannah Bhatia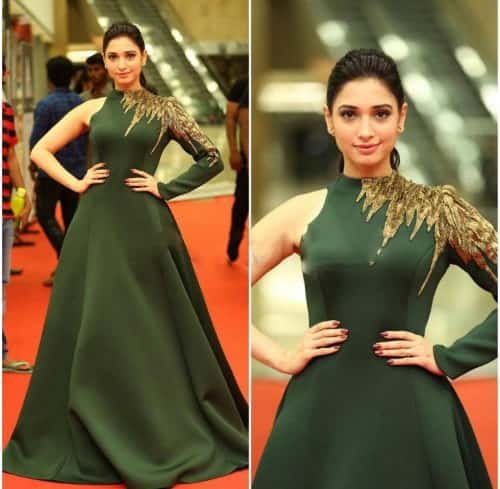 Another Bollywood beauty who looks ravishing in a gown has to be Tamannaah Bhatia. The actress is definitely one of the most followed celebrities on Instagram and the ease and comfort with which she carries her clothes is really remarkable. A particular look of hers that has been standing out since a long time now is the one-sleeved gown designed by Gaurav Gupta that she had worn.
7. Malaika Arora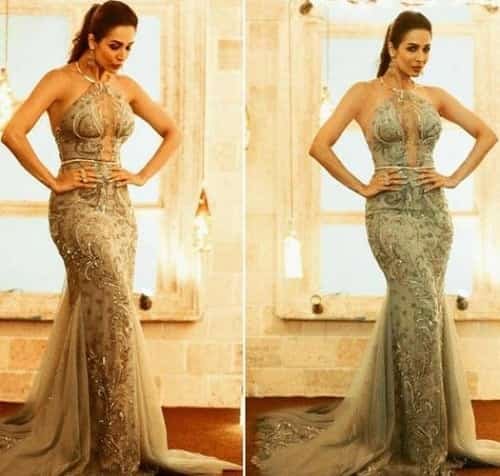 Well, when we are talking about the top 10 Bollywood actresses who look hot in gowns, how can we forget to mention the very talented and beautiful Malaika Arora. She is an epitome of beauty and style. The perfect body, the sense of style, and that confidence! Phew, she looks good and elegant i everything she wears. Time and again, she has been spotted in amazing evening gowns which somehow make us belief that gowns are perhaps the divas favorite and why not? She works hard to maintain that perfect body which makes her look so hot in all types of gowns.
6. Sonam Kapoor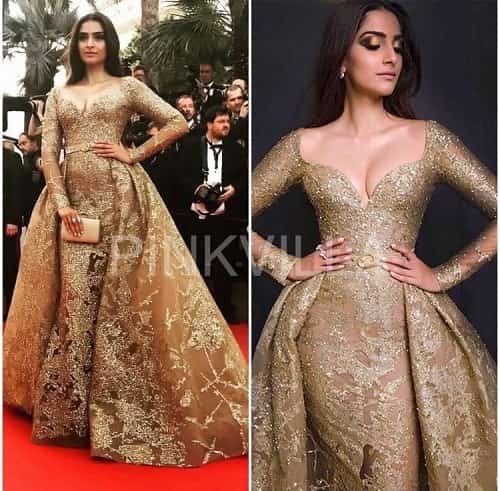 This Kapoor kid can easily be considered as one of the Bollywood actresses who look quite hot in gowns. She has the perfect body to carry that evening gown on her. She is never afraid of experimenting with her clothes and most of her accolades in the fashion world has actually come to het owing to her sense of style and taking of calculated risks. She, undoubtedly is one of the most stunning divas that Bollywood today has. She is the perfect model whose style statement you can easily follow. Sonam looks the hottest in gowns, although she can easily carry other types of clothes that include hot pants, western outfits, sportswear, sarees, or be it anything. Her confidence and sense of style ensures that she sails through every garment that she wears.
5. Kareena Kapoor Khan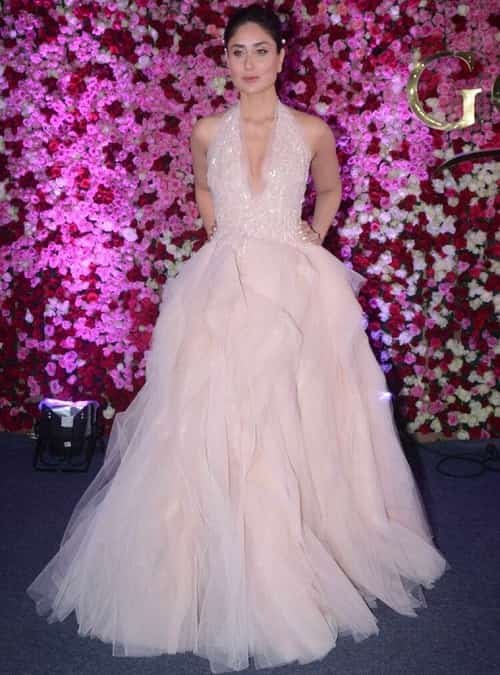 You cannot miss the name of this Kapoor girl when you are writing something on the top Bollywood actresses who look hot in gowns. Known for her carefree and casual nature, Kareena Kapoor aka Bebo is one of the most stylish celebrities we have in the Indian film industry today. No matter what she puts on, she always makes sure to carry if comfortably with the least possible efforts. She makes every piece of attire on her look as vivacious and as gorgeous as she as a person is. Some of the best gowns that the lady wore at the Filmfare Style Awards last year and also the light pink gown which was so beautiful yet elegant and which she wore at the Lux Rose Gold Awards held during the same year.
4. Deepika Padukone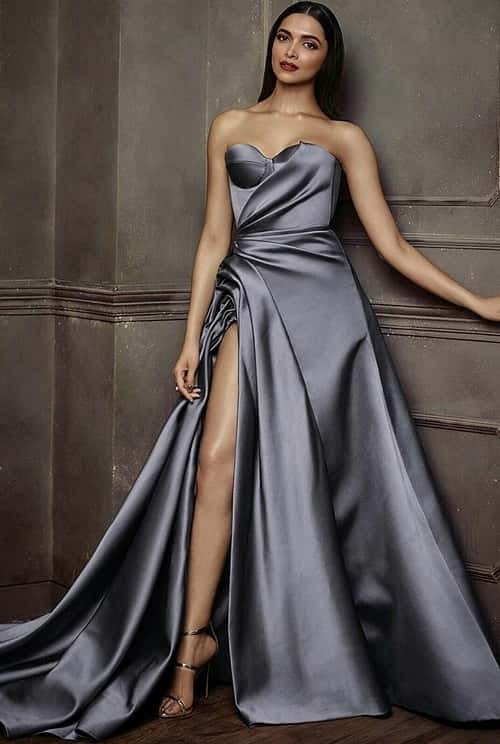 One of the more popular Bollywood actresses who look beautiful in a gown is Deepika Padukone. Time and again, this beautiful diva has proven that she, indeed is one of the most stylish actresses around. She is one of the most beautiful, talented, charming, and gifted style icon that the country has today. The most important reason which makes Deepika stand out in the crowd in no matter what outfit she wears is her toned body and the comfort factor that she adds to every ensemble of hers. Be it sportswear, traditional wear, western outfit, or evening gowns, Deepika never seems to go wrong. Her impeccable style has been a major factor that has hugely contributed to her success in Bollywood.
3. Priyanka Chopra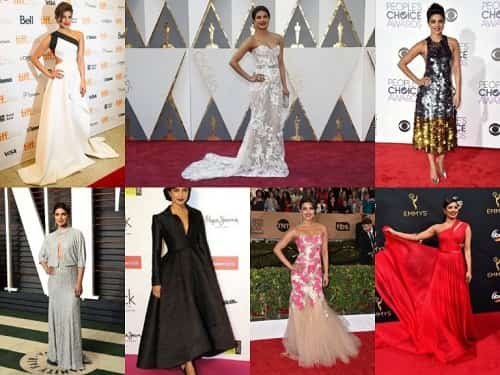 No list about Bollywood actresses can be complete without having the name of Priyanka Chopra. Not only has she made a mark in Hollywood, but Priyanka is known for all the right reasons here in India. One of the best dredsed Indian actresses, Priyanka Chopra is known to look extremely hot in gowns.
2. Katrina Kaif
One of the most beautiful actresses that Bollywood boasts of today, Katrina Kaif is a real style diva. She looks gorgeous in everything she wears but my personal favorite is when she wears an evening gown. She aces it each and every single time. Her toned body and effortless style is what defines hey style statement. You will never see Katrina Kaif feel uncomfortable in what she wears. She carries every single attire of hers resplendently. You will always be in awe when she comes out in the open and what is the most important factor in her style statement is that she always seems to prefer minimalistic and fuss-free styles
1. Alia Bhatt
Alia Bhatt has taken the industry by storm ever since she first made her appearance in the debut film Student of the Year. ever since, there has been no looking back for this diva and she has become one of the most sought-after style icons for youth all over the country. Be it the evening gowns, or the traditional look, or even the airport casual look, Alia seems to never go wrong. She looks stunning and most amazing in a gown. Some of her best looks were in the red gown that she wore at the Lux Gold Rose Awards in 2017 and soft pink gown worn by her at Filmfare Style Awards in 2017.
Thus, out of the many hot Bollywood actresses, the above are the favourite top 10 who look hot in gowns particularly. These beautiful divas own every dress and make it look as if they are specially and only made for them!
Related Topics: