One successful young Bollywood and Indian actress is Shraddha Kapoor. In her current age of 26, she already established herself in the field where she loves to work, which is the entertainment and filming industry. She was born on March 3, 1989 in Mumbai, India. She's not the only one in the family who is working in the same industry since her father, Shakti Kapoor, is also a popular Bollywood actor. Her acting career began in the year 2010 with a brief role in the movie titled Teen Patti.
Apart from these, there are some more interesting facts regarding Shraddha Kapoor that may still undiscovered by many. Here are 10 of these interesting yet least known facts about her: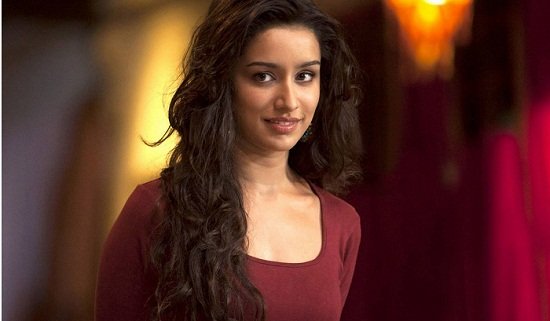 #1. Her Bollywood actor father, Shakti Kapoor, is actually a Punjabi while her mother, Shivangi, is a Maharashtrian. This goes to show that Shraddha is a half Marathi, and this mixed Indian blood is what made her very stunning and unique amongst other Bollywood actresses.
#2. Every person has his/her own sets of fears in life, and this does not exempt Shraddha Kapoor. Lightning is a thing that really scares this beautiful Indian actress, making it to be her biggest fear of all.
#3. Talking about education, Shraddha Kapoor went to Jamnabai Narsee Schooland as well as American School of Bombay. In her pursue for higher education, she went to Boston. But soon after, she went back to India for the purpose of making her maiden film.
#4. One interesting about her is her unique way of handling stress. Her secret is a cup of tea. She loves sipping it facing the magnificent beauty of the sea while she is staying in her apartment.
#5. This stunning young actress is an athletic type of a person. This can be confirmed during her school days. It was the time when she was very active in sports, especially soccer and other ball games mainly using hands in playing.
#6. Actually, Shraddha is not one of those Bollywood actresses who gone through extensive auditions and workshops before getting their chances of working in the entertainment and Indian filming industry. She was discovered through facebook by the famous Indian movie producer named Ambika Hinduja.
#7. She intensely loves the romantic movie titled Guru Dutt's Pyaasa. It is simply because she's a die-hard romantic human being. She also loves the movie of her father titled Andaaz Apna Apna.
#8. Even though she's an Indian actress, it doesn't mean that she never loves Hollywood films. In fact, she also loves watching these during her spare times. Some of her favorite Hollywood films are Godfather 1 and 2, Central Station, and Shawshank Redemption.
#9. Shraddha also has her favorite actresses and actors. For actors, she adores the excellence of Amitabh Bachchan and Aamir Khan in their acting skills and their extreme handsomeness. For actresses, she idolizes Nutan and Priyanka Chopra.
#10. Just like any ordinary individual, Shraddha proudly admits that she has crushes. Among the male celebrities, two of her crushes are Johnny Depp and Hrithik Roshan.
Now that you already know some interesting facts about Shraddha Kapoor, there is no reason for you not to love her anymore. This goes to show that she doesn't only has interesting physical appearance, but personality as well.