Photography is not just clicking photo but clicking every emotion with different shadow of life. This is an art with fully fond of photography. Photographer makes every moments unforgettable. They work day and night to enhance the beauty in photography. This is very hard work with creative mind.
Here is the list of top 10 famous photographer of India in 2017.
10. R Burman

R Burman is well known name is field of fashion photography. He completed his graduation from the Brooks Institute of Photography. He worked as an assistance freelancer with famous Steven Klein and Mark Seliger in New York. Later he started working with Vogue India. He has great fond of photography since childhood. He worked with all famous fashion magazine of India. He is very popular fashion photographer and every brand want to take advantage of his art. He worked for all famous brands. He worked with most famous celebrity of Indian cinema. He has very attractive skill in his photography.
9. Suresh Natarajan
He is famous fashion photographer. He was born in Kerala. He went to Canada in 1985. He has strong passion toward photography. He completed one year diploma in TV production at MacLean Hunter TV, Toronto. He worked as an assistant director in two Indian films with famous directors in India. He also worked as production co-coordinator in an English film. He completed his studied at Ryerson University in Toronto. His picture always inspire new age photographer to enhance their skills. He has very rich knowledge and fond of photography. He worked with many fashion magazines and picture grace is unique in itself.
8. Vikram Bawa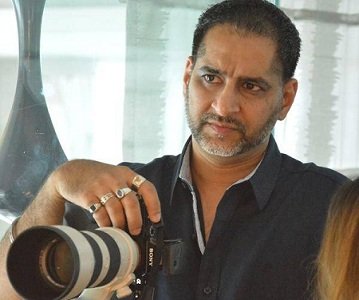 Vikram Bawa is one of famous Indian fashion photographer. He was the first Indian photographer to promote 3D photography. He attained popularity in his very early age. He worked in many popular fashion magazines. He provided his well shape photography shot for various magazines including Femina, Verve, Hello, Elle, Hi Blitz etc. He is very famous in Indian film celebrity and he done photo shoot session with many famous star of Indian film city as Amitabh Bachchan, Karishma Kapoor,  Shilpa Shetty, Aishwarya Rai Bachchan, Abhishek Bachchan, Akshay Kumar, Shah Rukh Khan, , Priyanka Chopra, Nawazuddin Siddiqui, Hrithik Roshan, Lara Dutta etc. He has shot many famous brand name like for  Coca-Cola, Dove, Godrej etc.
7.  Tarun Khiwal
He is one of the famous Indian fashion photographers. He lived in Delhi. He is one of the top ten famous fashion photographers in the Indian fashion history. He was awarded Hasselblad Masters Award by the Hasselblad Foundation, he is the first and only Indian received the award. He got the award of "Fashion Photographer of the Year Award". Later he attained the Kingfisher Fashion Photographer of the Year. He is a role model of many new photographer and provide them own studio has been a learning centre and an institution in itself. He made many new photographer now they a renewed in the Indian fashion industry. He made value able contribution to fashion industry. His studio has been home to individuals of many nationalities who have come and successfully interned and assisted him.
6. Rohan Shrestha
He is Indian born Nepalese origin photographer.  His father is one of the pioneer photographers Rakesh Shrestha. His photographs have been selected for the cover of several famous magazines. He has great experience of shooting with large number of celebrities including Kareena Kapoor, Ranbir Kapoor, Sonam Kapoor, Deepika Padukone, Anupam Kher, Alia Bhatt, Varun Dhawan and Farhan Akhtar.
5. Subi Samuel
He is one of India's leading fashion and commercial photographer in Indian fashion industry.He worked with many popular brands and covers almost all leading magazines. He was ranked in top 10 famous fashion photographer of India. He worked with most popular star of Bollywood. He got many awards for his creative art and unique photography. He guided many newcomers to fashion industry. He is guru and role model of many photographers.
4. Jatin Kampani
He is very popular fashion photographer. He has vast knowledge about rich quality photography. He worked with top star of Bollywood. He earned name and fame in his early age. He covered almost all famous fashion magazines with his photo. He is role model for new photographer. He has worked for many famous brand name likes for Coca-Cola, Dove, Godrej and many more.
3. Atul Kasbekar
He is one of the famous Indian photographers. He is the owned a celebrity management company named Bling. He worked with many popular fashion magazines. He has deep knowledge about all kind of photography. He is very creative and imaginative. He did amazing work for the fashion industries. He is an unforgettable personality of Indian fashion industry. He love and passion to photography is amazing.
2. Avinash Gowarikar
He is very popular fashion photographer in India. He has strong desire and great passion towards photography. He worked with many Indian film celebrities. He worked with many brands such as Reebok, Nestle, Nokia, and Panasonic.
1. Dabboo Ratnani
He has been ranked first ranking in top 10 fashion photographer. He is famous for annual calendar. All film stars appeared on his annual calendar photo-shoot. Every year the launch of the calendar becomes a great event for all top celebrities. He is the main lead role photographer for all leading magazine. He also worked in many advertising with top star of Bollywood.
Read Also: Top 10 Most Famous Indian Photographers
So these all are the best photographers of the country who are not only famous in the India but across the globe too.