Anupam Kher is one of the most famous character artists in the Indian film industry, who conquered the industry with sheer talent. He was never a hero material because of his unconventional looks, but he led the character actor faction with his versatility and life like portrayal of diverse characters. This is why he is as rich as many of the Bollywood lead actors today.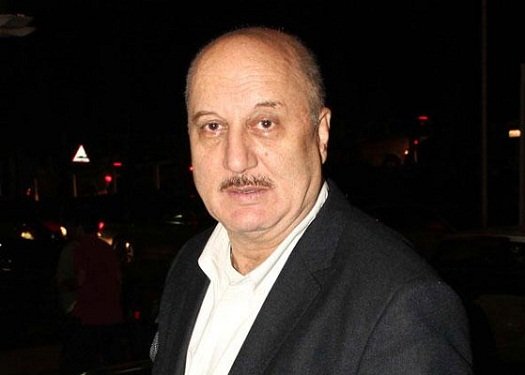 Net Worth: $ 70 million
Income Sources: Anupam Kher makes money by acting in Hindi movies
Born: 7th March, 1955 (59 years old)
Marital Status: Married to Kirron Kher since 1985. They have a son called Sikandar Kher, who has also been seen in some Bollywood movies.
Height/Weight: 5 feet 9 inches, 62 kg
Personal Background
Anupam Kher was born in a Kashmiri Pandit family, which was settled in Shimla. He was raised and Shimla and completed his school and college from the city. He had a flair for acting in his college days and even acted in some plays in the Himachal Pradesh University. Later, he joined the NSD to pursue a course in acting and film making, which was his first love. He is married to actress Kirron Kher, who has recently entered politics and has been successful too, by winning the Lok Sabha seat of Chandigarh as a BJP candidate in the 2014 elections. His son, Sikandar Kher and brother, Raju Kher, are noted actors too. Besides acting in a large number of movies and hosting some television shows, Anupam has also held the position of Chairman of Censor Board and NSD. He is also noted for his humanitarian efforts and was appointed as the goodwill ambassador of Pratham Education Foundation, an organization for promoting education among children in India. He also tried his hand at film production, starting a production house called Karol Bagh Production, along with his close friend, Satish Kaushik.
Career Graph
Anupam Kher made his Bollywood debut with a movie called "Aagman", but the real appreciation came his way with Mahesh Bhatt movie, "Saaransh", in which he portrayed the agony of a father who had lost his young son. Giving such a mature performance at the young age of 28 years was nothing less than a great achievement for this actor, who went on to become one of the greatest character artists in the Indian cinema. Anupam proved his versatility by performing roles of all kinds, emotional, comedy, negative and every possible genre of character roles till date. Some of his best performances came in "Karma", "DDLJ", "Saudagar", "Lamhe", "Darr" and "Dil". He has been a part of some prestigious Hollywood projects too, including Bend it Like Beckham", "Bride and Prejudice" and "Lust, Caution", making him an artist of international appeal. He is also a popular TV host, with shows like "Sawaal Dus Crore Ka" and "The Anupam Kher Show-Kucch Bhi Ho Sakta Hai", to his credit. Anupam Khar has had an illustrious career, marked by a number of prestigious awards and honors, including the Padma Shri in 2005 and Filmfare Best Actor in Comic Role on five occasions.