Bollywood has seen many beauties from the world of fashion entering it and making a big name of themselves. One of the famous model turned actresses of Bollywood is the dusky beauty Lara Dutta, who made entry into the industry simultaneously with another beauty pageant winner, Priyanka Chopra.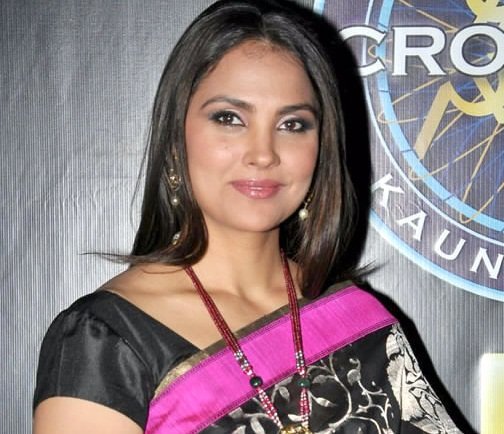 Net Worth: $ 8 million
Income Sources: Lara Dutta started her career as a model and later entered the film industry, becoming a much sought after actress. She has also done some modeling assignments, including the one for the leading shampoo brand, Pantene. She has recently become a film producer too. She has launched a number of YouTube videos performing pre natal yoga.
Born: 16th April, 1978 (27 years old)
Marital Status: Married to famous tennis player, Mahesh Bhupathi since 2011. The couple has been blessed with a baby girl in 2012.
Height/Weight: 5 feet 6 inches, 58 kg
Personal Background
Lara Dutta was born in Ghaziabad, Uttar Pradesh and she comes from an army background, with his father L K Dutta being a retired Wing Commander. She is of mixed ethnicity, with a Punjabi father and Anglo-Indian mother. She has two elder sisters in her family and is also related to music composer and DJ, Nitin Sawhney, who is her cousin. Lara was brought up in Bangalore, where she did her schooling from St Francis Xavier Girls High School and Frank Anthony Public School. She completed her college degree in economics from the University of Mumbai. Lara can speak many languages including English, Hindi, Punjabi, French and Kannada. Lara had a long standing relationship with model actor Kelly Dorji, but she broke up the 9 year old relation with him and married Mahesh Bhupathi in 2011.
Career Graph
Lara Dutta started her career as a model and soon reached great heights in the modeling industry, winning the annual Gladrags Megamodel competition in 1995, followed by the titles of Ms Intercontinental in 1997 and Ms Universe in 2000, becoming just the second Indian women to win the latter. After her phenomenal success in the Ms Universe pageant, Lara Dutta stepped into the film industry with a role in a Tamil film called "Arasatchi" in 2002. Her Hindi film debut came in 2003, with the hit film "Andaaz", in which she co starred with Akshay Kumar and the contemporary Ms World, Priyanka Chopra. The film fetched Lara the Filmfare Award for the Best Female Debut and served as a good launch pad in the industry. But, unfortunately Lara was not able to capitalize on this good start and her next films like "Bardaasht", "Aan: Men at Work", "Elaan", "Insaan" and "Jurm", all bombed at the box office. Then she tasted success with the multi starrer comedy film called "Masti". "Kaal", "No Entry", "Bhaagam Bhaag", "Housefull" and "Partner" are some of her other successful ventures. Lara has recently started as a film producer, with the film called "Chalo Dilli", which was released in 2011, which was a mediocre success. She is slated to make a comeback after her post pregnancy break, with a film called "No Entry Mein Entry", a sequel to "No Entry".