Keep it Simple Yet Special With These 4 Minimalistic Silver Rakhi Designs
Simplicity is the greatest form of sophistication. With thousands of tacky rakhis available in the market, you can opt for silver rakhi designs that are simple yet so stylish. Add more value and charm to this festival that celebrates the eternal bond of love and friendship between siblings with minimal silver rakhi designs that are sure to win everyone's heart. A subtle and sumptuous metal, silver is considered a very pious and precious metal in Hinduism. Apart from that, it has a unique luster that radiates positive energy and keeps negativity at bay.
So, elevate your celebrations with exclusive silver rakhi designs that are seamlessly crafted with precision for sheer perfection that can embellish your sibling bond like no other!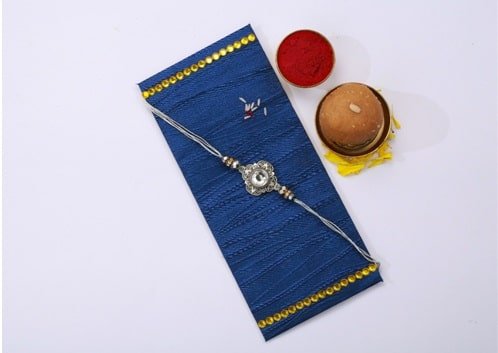 Image Source: Shutterstock
Today you can shop globally with the help of the internet. However, you make sure to opt for reliable brands that offer you authentic silver rakhi designs. Go for brands that have proven their credibility and loyalty over the years. Mia by Tanishq is one such brand that offers beautiful minimalistic real silver rakhi designs to stay true to their trust and reputation in the market!
Look Back At The Fun Memories
Inspired by the art of paper folding origami,this off-beat, envelop-shaped silver rakhi design is for those who want to relive their fun childhood memories with their siblings. Cherish your unique bond with this urbane envelope silver rakhi design only to remind each other of the fun paper boat races and super fun evenings spent together playing without any worry of the world.
Make Sure She Knows She's The Queen
A special gift for your queen sister, this pure silver rakhi design is uniquely crafted for the queens who have been the coolest sibling ever!
Express your unconditional love and respect for your star sister with this infinity rakhit hat has the word 'queen' carved out in pure silver. Gift her this contemporary rakhi bracelet that is sure to stay with her like a souvenir of your bond forever.
Bless Your Brother With Strength!
A finely sculpted pure silver rakhi design inspired by a tiger claw that symbolizes luck, power, and protection would be the best rakhi for your brother, this Raksha Bandhan. This exclusively classy and elegant rakhi bracelet blends in perfectly with all Indian ethnic wear outfits effortlessly!
For The Overprotective Bhai
Pamper your beloved brother with this elite silver rakhi with the word 'bhai' carved out in pure silver. An extraordinary silver rakhi design that can make this pious festival of Raksha Bandhan even more special with its subtle charm and luster. This silver rakhi by Miais a masterpiece that acts as a reminder for your brother that he has the best baby sister in the world!
We understand that rakhi shopping can get a bit haywire at times. However, rakhi is a celebration of unconditional love and forever friendship-like bonds between siblings and cannot be marked by a traditional string rakhi. So, make this day a part of the best memories of your life with authentic, designer, and absolutely stylish silver rakhis this year.
Wondering where to shop pure silver rakhis at a genuine price? Well, you can check out the online website of many reliable Indian jewelers that offer precious rakhis to add more to the essence of this auspicious day. One such reliable brand is Mia by Tanishq that offers uber-stylish, silver rakhis for the best brothers and sisters of the world!