From the Angry Young Man of the seventies to the most stylish actor of today, Amitabh Bachchan has come a long way to attain the status of a legend in the Hindi film industry. He is unquestionably the original super star of the India cinema and no one can come even close to him. He is regarded as on of the greatest actors, not only in India, but in the world.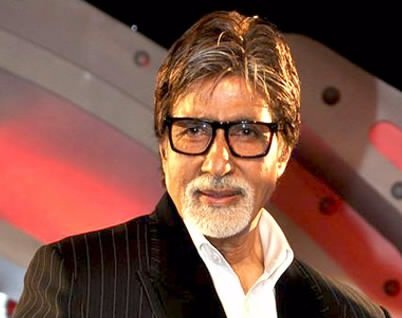 Net Worth: $ 400 million
Income Source: From getting Rs 500 from his first acting assignment, Amitabh has now reached a phenomenal figure of crores coming from each of his movies. He is also the most successful television presenter on the Indian television, making as much as Rs 3 crore per episode of the biggest quiz show in India "Kaun banega Crorepati". He has also hosted the popular reality show "Bigg Boss". Amitabh also endorses a number of leading brands including Dabur Honey, Pepsi, Cadbury and Parker Pens, to name just a few. His recent investment in the service called Just Dial has also fetched him a hefty sum of money.
Born: 11th October, 1942
Marital Status: Married to actress Jaya Bhaduri since 1973. Has a son, Abhishek Bachchan and daughter, Shweta Nanda.
Height/Weight: 6 feet 2 inches, 77 kg
Personal Background
Amitabh Bachchan was born in Allahabad, in the family of the famous Hindi poet, Harivansh Rai Bachchan, while his mother Teji Bachchan came from a Sikh family. Surprisingly, Amitabh delivered his first hit in Bollywood after a string of seven flops and no one had big expectations from this lanky young man, who went on to become the greatest actor in the industry. He is happily married to Jaya Bachchan and his son Abhishek Bachchan and daughter in law, Aishwarya Rai Bachchan ae acclaimed actors too. Amitabh is a man of great humility and charm, who believes in family values and togetherness. He loves to tweet and sing too. His alleged affair with co actress Rekha came into news once, but they parted ways because Amitabh chose his family first.
Career Graph
Amitabh made his debut in 1969, not as an actor but as a voice narrator for "Bhuvan Shome". His first film as an actor was "Saat Hindustani", which was not a great success. His supporting roles in "Anand" and "Reshma aur Shera" fetched him accolades, but he did not taste success as a lead actor till "Zanjeer", which came in 1973. After this movie, Amitabh came up with innumerable hits such as "Kala Pathar", "Silsila", "Kabhi Kabhi", "Deewar", "Suhaag", and the list is endless. He has been ruling the film industry for nearly four decades, with a successful second innings after a glorious one as a young man. Amitabh has been honored with countless national and international awards, including the Padma Shri and Padma Bhushan. He had a fatal accident during the making of "Coolie", but the countless blessings of his fans saved his life.
Houses and Cars
This famous actor has a large number of properties in Mumbai, including his luxurious homes "Jalsa" and "Pratiksha" in the Juhu suburb of Mumbai, which are worth Rs 160 crore and Rs 75 crore each. He is obsessed with luxurious cars and owns an amazing fleet consisting of a Rolls Royce, BMW, Porsche, Lamborghini, Bentley and Chorkee. He has come a long way from the second hand Fiat car, which he purchased after saving for months when he first came to Mumbai.