South Indian cinematography has come a long way from historic classical movies to record break Baghubali movies. With over thousands of films are produced per annum, south Indian movies are dubbed into multiple languages. South Indian movies are gaining popularity in Japan, China, and many countries. India has become a global film business, where more and more audience gets attracted to south Indian movie.
Here are the top 20 south dubbed Hindi movies to watch.
20. Dynamite
.Dynamite is a popular south Indian movie, which was released recently. This movie received mixed reviews yet gained hugely in the box office. Owing to its success, the popular director dubbed the movie in Hindi. The story cast of Dynamite revolves around an actor who goes on a date with her girlfriend. Unfortunately, the girl was caught and kidnapped by a gang. Later, Shivaji takes immediate steps to find her girlfriend. Dynamite is the popular south Indian Hindi dubbed movie of the year.
19. Rudra Tandava
Next, to the Dynamite, Rudra Tandava ranks as 19th on the list. Rudra Tandava is an excellent south Indian thriller movie, which was later dubbed in Hindi. If you want to enjoy watching the thriller move with your friends, then this is the best choice. The story cast of Rudra Tandava revolves around a young man Shivaji, whose brother is tortured and killed by a gang. Shivaji's Family approached the police but they didn't help them find out the gangster. With this in mind, Shivaji's father vows to take revenge against the gangster.
18. Duvvada Jagannadham
Duvvuada Jagannadham is yet another interesting south Indian movie to watch these trendy days. Allu Arjun takes the leading role and Pooja Hedge is her girlfriend. The plot revolves around a young man who goes to help people. On seeing his helping tendency, the police seek his help to the fight against the crime in the society.
17. The Great Father
The Great Father is one of the latest addition to the South Indian movie Industry. It's a Malayalam movie dubbed in Hindi. Mammootty stars as David Nainan. Her 10-year-old daughter was harassed and his wife was devastated. David decides to find the criminal and vows to take revenge against the criminal.
16. Kadamban
Kadambam is a Tamil horror movie released recently. The movie revolves around a businessperson who tries to destroy the forest area and village. Arya and Catherine Tresa take the leading role. Arya finds the way to stop the businessperson.
15. Golimaar 2
Golimaar 2 is a popular Kannada Movie, which is one of the best movie dubbed in Hindi. Nithya Memon and Sudeep take the lead role. The plot revolves around the actor, Sudeep who is a robber and a real estate agent as well. Sai Ravi, who finds a way to catch him and bring him justice.
14. Shivalinga
If you want to watch a movie that features action, thrill, and horror, then this is the best movies to watch. Raheem saves a blind man but was killed by a gang. Later, the police decided to close the file and declare it as a suicide. Seeing this incident, Raheem's wife calls a CID officer to reveal the truth and bring her justice.
13. Janatha Garage
The movie stars N.T Ramo Rao, Samantha, Janatha Garage, Akkineni.  Janatha Garage movie revolves around the young man who attends a seminar in Hyderabad where he meets Sathyam who runs a free organization for motivating the distressed people.
12. Raaja Kumara
Raaja Kumara is a record-breaking Kannada film. Owing to its success, the film was dubbed in Hindi. Popular stars include Prakash Raj, Priya Anand, and Puneet Rajkumar plays the lead role.
11. Dhruva
Dhruva is yet an interesting south Indian movie, which was released recently. The plot revolves around an IPS officer who reveals some criminal network in the city. He decides to block the entire criminal network so he takes immediate steps. Since it is difficult to stop the crimes, he faced many challenges and difficulties in his journey.
10. Sillunu Oru Kaadhal
Sillunu Oru Kaadhal is an evergreen Tamil movie for youngsters. Jothika and Surya play the main role.  In this movie, Surya fell in love with a college Junior. They had good times together. However, Surya Married Jothiga for the request of his relatives. The couple lived happily and blessed with a child.  Surya keeps a personal diary where he shares his past life. On seeing his diary, Jyothi felt sad and wanted Surya to meet his girlfriend. What happens next?  Just watch this lovely Hindi dubbed movie.
9. Pournami
Pournami features excellent music and classical dance. Prabhu Deva directs the Choreography thus making it one of the top 10 south Indian classical movies. The plots revolve around a village, which experienced terrible drought. To survive in the environment, a dancer decides to dance day and dusk in front of Lord Shiva so that God could have to make rain.
8. Iruvar
Iruvar is a classical & political movie directed by an Excellent director Mani Ratnam. The story defines the life of Tamil politicians.  Aishwarya Rai plays the lead role. From the entire film, you can easily observe Tamilians and how their life, love, friendship was made.
7. Varsham
Varsham is a Hindi dubbed movie, which comes with the blend of love & Romance. The story depicts the pure love of two young people. The actor and actress meet each other during rain and falling in love. Actress's father is a greedy man who ignores her daughter's love and tortured her to marry a rich man. The actor does anything to save his girlfriend from the evil hand. Varsham received many awards for music, dance, choreography and much more.
6. Raavanan
Raavanan is one of the top 10 best south Hindi Dubbed Movies, which was released in the year 2010. It features mesmerizing music composed by A.R Rahman and directed by Mani Ratnam. A beautiful classical movie has spectacular scenes and excellent story. As the name suggest this movie depicts the epic Ramayanam.
5. Kanchana 2
If you want to enjoy watching a movie that comes with the blend of comedy and romance, Kanchana 2 is recommended. It's of kind of horror movie directed by Raghava Lawrence. It was released in the year 2011, later dubbed in Telugu under the same name. Owing to its success, Kanchana 2 was dubbed in Hindi.
4. Kashmora
Karthik took the dual role in Kashmora. The movie received mixed reviews.  It's a kind of horror movies, which was dubbed in Hindi. The movie stars Karthi, Nayanthara, and Sridevi. Dream Warrior Pictures produced this movie. Santhosh Narayana composed this song. The film features 6 tracks in the movie.
3. Chandramukhi
.Chandra Mukhi is a popular horror movie for Tamilians. Superstar Rajinikanth, Jothika, Prabhu and Vadivelu plays a lead role in this movie.  The movie plot revolves around chandramukhi who is a gorgeous dancer of the kingdom. Chandramukhi fell in love with another dancer. Later, the king came to know their pure love and killed her in front of his empire. After listening to her life story, Jothika had started to behave like Chandramukhi and soon she learned to dance and speak all languages. Being a psychologist, Rajinikanth revealed the truth and helped their family.
2. Arundhati
Arundhati is one of the best Telugu horror movie, which was released in the year 2009. It gained fame and positive reviews. This horror movie was box office success thus it is dubbed in Hindi. Anushka plays a lead role and contributed much effort to the movie. This movie was dubbed in Hindi under the name  Arundhati –Ek- Anokhi Kahani.  The movie was again dubbed in Bengali.
1. Bahubali 2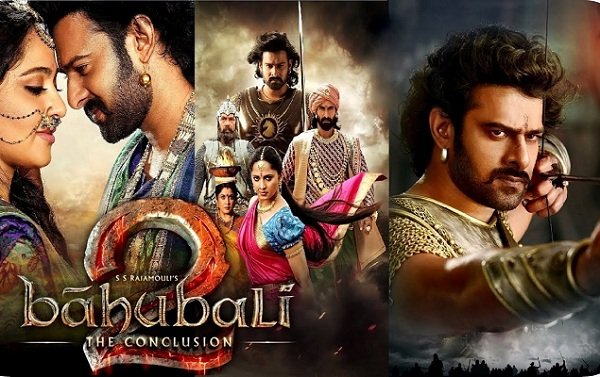 Our top pick for the list is Baghubali 2, which is a well known south Indian movies dubbed in multiple language. After the ultimate success of Baghubali 1, the whole Indians were eagerly waiting for the answer ' why kattapa has killed Baghubali'. The conclusion is really worth to watch any time. This classical movie grossed 500 crores in Box office.