Aadhaar card issued by Unique Identification Authority Of India better known as UIDAI, under Government of India is one of the must have government documents in modern Indian. There are many documents that can be presented as valid ID proof, valid address proof or valid Date of Birth proof however, Aadhaar is one of very few documents that can work as valid ID proof, valid address proof or valid date of birth proof. You can use Aadhaar for any of these proofs across India. There are many reasons due to which you may require to update your Aadhaar data online. If you are wondering how to change or correct address in Aadhaar card online then you have come to the right place.
So if you have recently moved to a different location or there are mistakes on your address details then you will need to make changes. To make changes or correction in the address part in Aadhaar card online you will need a mobile number because the online portal for Aadhaar card will send a onetime password to your mobile number.
Please bear in mind that only four maximum changes for address in Aadhaar card is allowed so be careful while getting the changes made. Here are the three easy steps to do it:
– First you need to login to AADHAAR card Online Self Service Update Portal by using this link – https://ssup.uidai.gov.in/web/guest/update
– Next, you are required to enter your Aadhaar card number and fill the captcha text to get the OTP password.
– Enter the password in the box below and it will open up new page
– You can now place your Aadhaar card request for change of address / address online.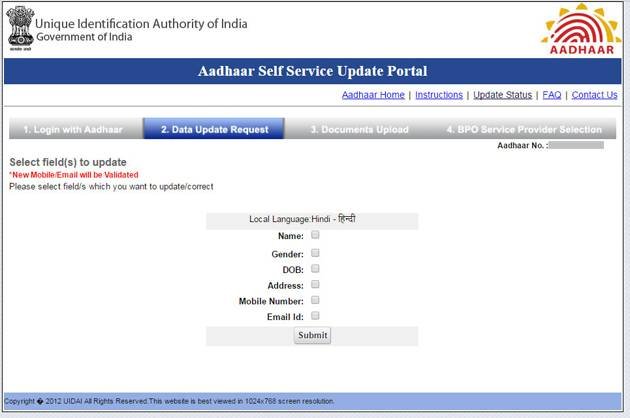 – To complete the process, you will need to upload proof of address mentioned in the application. Please ensure that the soft copy of document is self-attested.
– If the applicant is a minor then the address proof of the parent will be accepted.
– After the request is placed you will get a unique Aadhaar card update request number (URN). Keep it carefully to check the status of your application online.
Please follow the steps above to place your request for change or correction of your Aadhaar card online. Please remember to sign correctly and mention your name clearly in each attested copy. For kids below 5 years of age, parents or guardians can sign or thumbprint on their behalf. We hope you find this information useful.