Mushrooms are considered to be another new superfood revealed through the studies. These are the nature's treasures that were once regarded as the royal foods. Mushrooms are too much nutritious that after reading its health benefits, you will definitely want to add them in your diet. These are the greatest source of the natural Vitamin D, potassium, copper and antioxidants that are definitely required by the body to remain healthy and strong.
That is the reason why these interesting super foods are getting too much importance in the Indian platter. Along its goodness, here is the list of the 10 Best Indian Mushroom Food Recipes that you should have in order to achieve the above mentioned benefits:
10. Mushroom and Potato Xacuti
This Goan inspired dish is one of the best dishes that consist of the goodness of the mushrooms. This exotic Xacuti is made with the blend of Goan flavors including the combination of potatoes along with the vinegar, tamarind and the spark of coconut.
9. Matar Mushroom Sukhe
Here is another dish that is having outstanding flavor of mushrooms along with some healthy twist. Mushrooms and peas are rolled up in the creamy yogurt sauce along with some really exotic flavors to give up this amazing dish. This one is really simple and a healthy dish that is best suited to the calorie conscious people.
8. Mushroom Utthapam
This one is the Indian- English dish that is having the infusion of both the interesting cuisines. Uttapam is the common South Indian dish that got topped with the mushrooms, corns and some other healthy vegetables like pizza to give it unique touch. You can eat this dish whether in breakfast or in any meal in order to have the mouth- watering experience.
7. Stuffed Dhaniya & Pepper Mushrooms
Next on the list is something really interesting and fine recipe that will definitely leave you satisfied. This one is the quick and easy snack that you can prepare for your party or for dinner. The dish is all about the stuffed caps of mushrooms with creamy cheese, fresh coriander and aromatic garlic. Baked and served hot.
6. Potato and Mushroom Kebabs
While you are in the Indian cuisine, Kebab of everything will definitely be the part. These kebabs are something that is beyond description. Soft and tender kebabs that are coated with the crispy floor coating will melt in your mouth instantly. You can serve this dish with the tangy mango achaar to enhance its flavor.
5. Mushroom Kofta in Tomato Gravy
If you are planning a kitty party or making a dinner for two, then this one is really an amazing idea to please your guests. This curry is amazing blend of the tangy and spicy flavors along with the touch of the soft mushroom- y koftas that will tantalize your taste buds. This creamy curry will make your guests feel out of the world.
4. Mushroom Chettinad
If you are looking mushrooms in something spicy, then this recipe is the best option for you. Mushrooms cooked in the tangy and soft gravy that is made from the tamarind extract will make your mouth water only with its aroma. You can eat this incredible and really tempting dish with roti or also with steamed rice.
3. Kalan Milagu
Next on the list is another really amazing dish that is having mushroom as their main ingredient is Kalan Milagu. This one is the exotic dish that is cooked along peppercorns. With the zing of onion and garlic gives an excellent dish popular all across India.
2. Shahi Mushroom
This royal dish is holding next place in our list because of its so called yumm and hot taste. The sautéed mushrooms when cooked in the creamy buttery sauce gives the matchless taste of Shahi Mushrooms.
1. Kombu Barthad (Mushroom Chilly Fry)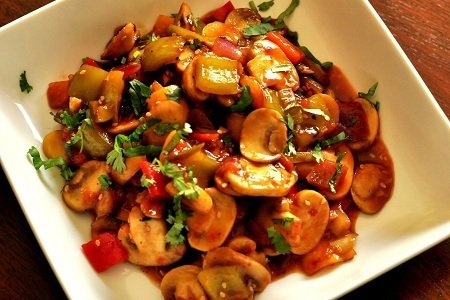 Topping the list with the Mushroom Chilly Fry, do not comes with the surprise. This one is really simple and amazing dish that is having the hot flavor of chilies, vinegar, coconut all sir fried together to give it a perfect touch.