Parents are the most precious people in anyone's life. Even, a good human being tends to remember parents before starts praying to god. From child's first step to parents' last breath, the relationship between child and parents counts all that no one could replace. From a parent's' point of view a mother sacrifices her common expectations from life to raise her child and fathers try it out to give the best of everything, he could give to his child.
Sometimes parents overlook the society, while the matter of his child's dream, passion or righteousness comes into place and in return they become the world to their child. Thus, to hold on such auspicious gift of our life, we always try to make each other feel special through our words, deeds and gestures. However we sometimes get confused what to gift our parents for their retirement days, which is now solved here.
10. Gardening tools
If your parents love the nature and love they already involved in gardening, then gifting them a gardening tool could be best choice. Like other social people with family responsibilities, parents too had the life of hectic schedule that they are already habituated with. Thus after retirement, activities like gardening could make your dad a little busy with lot of amusement.
9. Pair of shoes for walking or jogging
A pair of jogging shoes or shoes that complement your dad's occasional outfit could be the best choice to gift. For an elderly people, it's much essential to have better pair of shoes that can provide utmost comfort while everyday jogging or exercise.   Even, for normal walk, you can also gift him a nice pair of shoes, which would give him a remembrance.
8. Personalized Crockery
Personalized crockery set is the most preferable who want to give their dad a special remembrance while having food. Gifting such item could bring happiness and your dad would no doubt love to this item to glorify his dinner table. Even, after retirement people love to have something new or unique in their everyday schedule, where such personalized crockeries would add more value.
7. Wallet
 Wallets could be one of the best gifts for any individual. On the top of it, if it's a personalized wallet with the name of your retired dad, then it could be the best possible gift for him for his retirement days. Even, elderly people have more affection towards the wallets. Thus, there is a difficulty to decide what to gift, then surely one can choose wallet without hesitation.
6. Wrist watch
As a safe and attractive gift, wrist watches could be of the best choices to the people who are fond of wrist watches. Even, branded watches look more appealing and fulfill the occasional requirement. In order to bring a proudly felt instant happiness, a wrist watch could be the safe option to consider.
5. Gadgets
Gadgets are known as a good time killer. Thus, if your dad has retired or going to retire, then gifting him a gadget like digital watch with some modern specifications, a smartphone or laptop could be the best choice to give him utmost entertainment on his retirement days. Even, with having a suitable gadget, one can easily stay connected with each other that even allow to keeptracking the whereabouts of a person. Thus, gadgets could be the best choice in this case.
4. Personalizedengraved glass
Personalized engraved glass to have a chill beer or your dad's favorite shake could be the best choice with your dad's name and some emotional quotes printed on it. Whenever he would have something to celebrate, your personalized engrave glass could be his companion and would remind him your affection and respect for him.
3. Portable foot massager
When it is common to have a foot pain during growing ages of elderly people, it could be a good idea of gifting a portable foot massager to your dad. It not sooths the pain but also give a relaxing feeling. Even, having such portable foot massager, your dad can carry this with him wherever he goes.
2. A plant and laughing Buddha
A plant can be your room freshener and a small statue of laughing Buddha could bring luck and peace to your house. Thus, it could be the best choice to gift a plant and statue of laughing Buddha too your dad. It's not only a sweet gesture to show to your dad but it also can bring some health, wealth and charm to house.
1. A tie set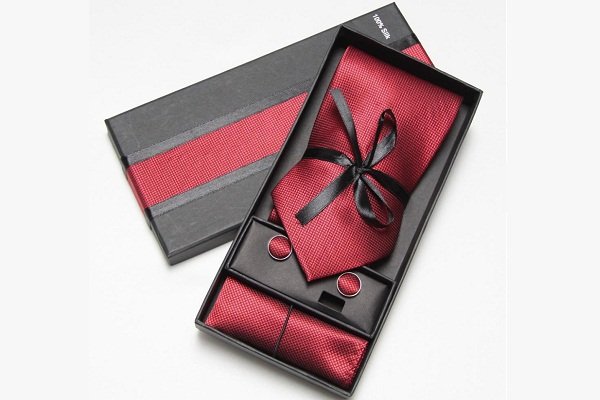 If your dad loves to have a pair of ties with contrast to his suits, then it also a good idea to gift him a tie set that goes exactly in contrast to his suites. A beautiful tie is embracement of sophistication and also complements the dress up. Whenever, he would get these ties hung over his neck, he would no doubt remember you.
So bring happiness on your father's face by choosing any gift out of these listed on his special day.
Save