10 Best Karwa Chauth Gift Ideas for Husband/Boyfriend
Karva Chauth is a traditional Hindu festival celebrated by married women, mostly by north state women. It is celebrated in fourth day after the full moon in the month Kartik and it is celebrated just one day. On that married women are fasting from sunrise to sunset for the welfare and health of their husbands. Sometimes some unmarried women can do fasting for their loved ones or for their fiancé. It's not just about fast or fasting together. Sometimes exchange of gifts will help both of them to exchange not only gifts but also your feelings for each other. Men always give some gifts to their wife and vice versa. Here are some of the gifts that will help you to make your husband happy.
10. Take Him to Tourist Spot
Take him to some tourist place of his choice but make it as a surprise. You should interact with your husband way before the event and never say a single word about it. You should have to know about his favorite tourist spot through those interactions. It will make makes him happy and he will be very impressed by this.
9. Buy Him a movie ticket
Men always love to watch movies. But with their loved ones it will make him even more happy. So, buy a couple's movie ticket for anys romantic movie. That will help you to make him happy and holding her hands always gives a pleasure to man.
8. Social Media Tags
Nowadays, Social media are playing a big role to express your love to your loved one. Most of us like that too. Share your memories about him in social media like Facebook and Twitter or you can make a video of your pleasant memories and upload it in Facebook.  If you upload some photo about your memories about him tag him to that photo.
7. Pen
Some of the men have the rare habit of collecting pens. So, do one thing just buy him a rare pen that he always spoke about. Surely he got surprised and maybe he will do anything for you for just that single pen. But for that you have to put maximum effort to buy that. Your effort will be paid off, when he likes that pen
6. Fitness
If your husband is a fitness freak, it's really simple buy him a treadmill or orbitrek like gym items or may be another fitness care item. He is very happy to see that. If you cannot afford that much, then simply buy a fitness center pass or voucher for a year. If he loves your gift he will acknowledge it with over joyous expressions. This kind of things surely makes your man happy.
5. Candle Light Dinner
Candle light dinners are always generating some romantic mood. Men always loves that kind of feeling. So, make him feel that feeling by take him to candle light dinner. It will help you to understand each other. Then it's all easy you just make your man happy.
4. Dress
Buy him some traditional wear like kurta churidar and some handmade jackets for your husband. It will make him happier and loves to wear that on that occasion or may be for Diwali. But he will remember you whenever he wear that dress.
3. Gadgets
Men all over the world loves gadgets especially electronic gadgets. So, buy him a watch or may be smartphone or if you afford big, then buy him a laptop with latest features and present it to him as a surprise. Sometimes electronic gadgets make him happier then whatever you do.
2. Flower Hamper and Greeting Card
By him some flower hamper and greeting card with beautiful quotes and with his favorite flowers on it. He will love that and surely you impressed him. This type of gifts available in online gift sites so it is easy to buy it from your home.
1. Spend some time with him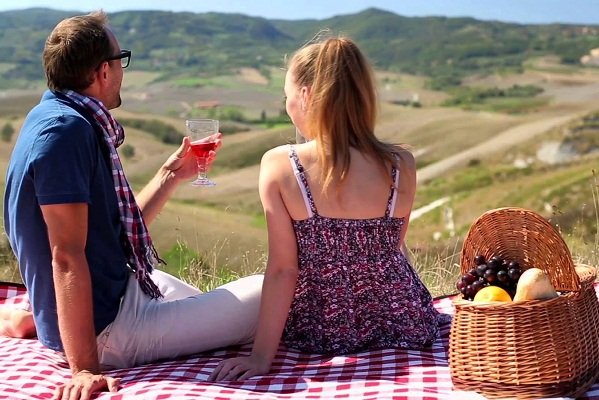 In some family both husband and wife goes for work and they rarely get the time to speak and discuss about their feelings. So, make this day as a day for that. Spend some quality with him and understand his feelings about you and express yours to him.
Most of the time women doing fasting for the welfare of their husband. But some husbands do fasting with their wife for the welfare of his wife. They will love what you are? So, don't try anything fancy to impress him maybe there is a chance, that he will hate it. So, respect your husband's thoughts and try to understanding him more that will help you understands his needs. Sometimes, costly gifts only cannot buy happiness maybe your behavior and your love towards him is enough to make your husband happy.
Save
Save