KFC is a name which is synonymous with crispy, delicious, and calorific poultry, served with chips. Most of us, as children, there was no greater pleasure than getting a bucket of KFC, dipping inside and seeing what you were lucky to pick that particular day. It has become so big all over the world, being second to McDonald, in terms of fast foods.
Let's check out some top 10 interesting facts about KFC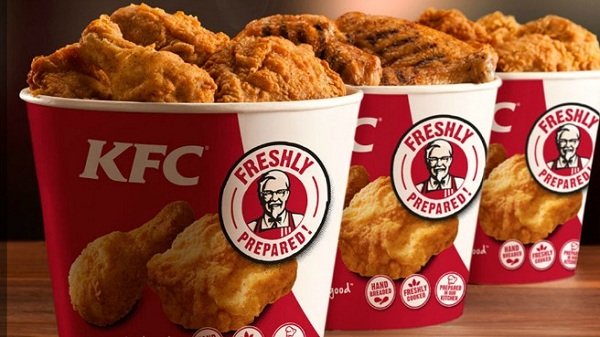 10. KFC Chicken was Pressure Fried instead of Deep Frying
Harland Sanders, the mind behind the KFC didn't fancy the idea of deep frying  his chicken because he believed that, when deep fried, the chicken's quality is ruined. He tried preparing it using his original method, and it took him exactly 35 minutes. With the emergence of pressure cookers in 1939,Sanders opted to make them in a unique way so that they could use the pressure to fry the chicken. The production time was reduced greatly.
9. Harland Sanders, The Founder of KFC, Started Catering By Selling Chicken From His Own Home
It all started in 1930, when he took over the running of a Shell petrol station. This happened on Route 25, which is located in North Cobin, Kentucky. He started off by selling fried chicken to travelers, cooking them in his own kitchen. What was served included macaroni cheese, steak, fried chicken and country ham.
8. His First Commercial Was At A Petrol Station Across The Road
After doing what he did in No.9, selling food from his own home to travelers of the Shell Petrol station, he decided to buy the station in 1934 and started with 6 tables which could comfortably fit in the space. The restaurant became so popular that, in 1937, he expanded it to 132 seats, bought a motel which was just across the road and named the whole place, Sanders Court & Café.
7. The Name Was Changed to KFC So That The Word "Fried" Wouldn't Put People Off
It is until 1991 that people only the company with its initials KFC for "Kentucky Fried Chicken". The former was then adopted as the official name of the business. Kyle Craig, the president of the KFC of the USA branch, then admitted as to why they stuck to the KFC name – to avoid people being put off by the "Fried" in the "Kentucky Fried Chicken" name.
6. Sanders Was A Colonel of Kentucky, Not of The US Military
Many people have assumed that the founder of KFC was a colonel of the US military, not at all. Yes, he was a colonel, but of the state of Kentucky. He was given the honorary title in 1937 by Governor Ruby Laffoon together with 5,000 other people.  In 1950, Governor Lawrence Wetherby gave Sanders the idea of wearing a black frock coat, a string tie and a goatee and referred to him as "colonel".
5. The Former Guns & Roses Guitarist BucketheadPuts on A KFC Bucket During His Performances
The bucket is normally emblazoned with an orange sticker which reads, "FUNERAL" on his head. He also wears mask, plain white in design, but it is the KFC bucket which makes him famous, this talented guitarist. His best known studio albums are 149 in number.
4. Pizza Hut and Taco Bells Are Owned By The Parent Company of KFC
Tricon Global Restaurants inc. was created in 1997 by PepsiCo when it decided to spin off.  In 2002, it was renamed YUM. This is the company that owns KFC, Pizza Hut, WingStreet,and Taco Bell.
3. It Is 15 Years After KFC Started That It Sold Its First "KFC Bucket" – In 1957
It is currently synonymous with KFC, but it didn't start until 1957, 15 years after it kicked off.  It is Peter Harman, who was behind the introduction of the bucket meal – at that moment, he was was an operator of the franchise in South Salt Lake, Utah. His bucket meal comprised of 14 pieces of chicken, a pint of gravy, and five bread rolls – they were all served in a cardboard. Later it was adopted by all outlets.
2. The First KFC Franchise Was In Utah, In 1952
Though they are referred to as Kentucky Fried Chicken, the first franchise was started in Utah by Harman, who was a friend of Sanders. He saw that chicken from Kentucky, done by his friend, Sanders, will sell well in Utah because they seemed more exotic. The painter, Don Anderson, was the one who came up with the name  – Kentucky Fried Chicken.
1. China Has Over 4500 KFC Outlets… And They Were The First Western Restaurant Chain To Open
KFC is known all over the world, but China has the largest number of outlets in one country. The first outlet  was opened in China in 1987,in Beijing. Each of the stores in China has an average of 50 different types of menu which include; tree fungus salad, rice congee and fried chicken of course.
Share the information with your friends so that they can know the unknowns about KFC as they rush to the nearest one in their respective areas.