One of the most enthralling tourist places in Andhra Pradesh is Araku Valley. A hill station with coffee plantations and frightening valleys makes the visitors feel fascinated. Being situated near to Visakhapatnam, it is easy to reach from any part of India. Araku valley is in Rangareddy district of Andhra Pradesh and it is being attracting wide range of tourists since years. The place seems perfectly made for nature lovers who wish to take away themselves with tribal surroundings and enchanting serenity.
The hill station of Araku valley is absolute for trekking and delving in the Borra Caves, which is another famous attraction of the spot. Greenery all around you will let you move away from the usual worries to a fantastic mood of love and life. There are a lot of things to do at Araku valley from trekking to shopping.
The top most not to be missed ideas and facts are here to boost up your interest to visit the spot even more than ever.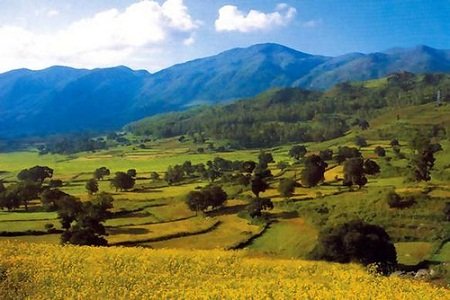 10. Train Track Along the Caves
There is an unbelievable railway track tunnelled along the hard Borra caves. The stretch of the tunnel is for 200 mts. Only one passenger train travels from Visakhapatnam to Borra caves along this tunnel every day. Visitors of Araku valley have to experience the journey through the tunnel track.
9. Antique Jewelleries and Handicrafts
Though Araku valley is not a shopping spot for many visitors, it is popular for the ancient antique jewelleries and handmade crafts, clothing, accessories etc. Girls go crazy for the various stylish ornaments they find in Araku valley. Cotton and silk woven clothes are of superb quality and patterns over them will steal the fashion lovers' hearts. You can also shop for coffee powder from Araku valley.
8. Licious Local Foods
There are lots of mouth-watering and delicious foods served in Andhra Pradesh. The state is known for its spicy eatables. In Araku valley you can find a superb special bamboo chicken. The chicken is stuffed into a hollow bamboo and cooked here. It tastes so licious which you can find nowhere around.
7. The Devine ChandanaYatra
There is a famous Hindu temple near to Visakhapatnam knows as Simhadri or Simhachalam temple. Shri Varahalakshmi Narasimha Swamy is the presiding deity of the temple. Chandana Yatra or Chandanotsavam is celebrated every year in the month of May i.e. Vaishaka masa in Hindu calendar. The deity will be always seen covered with sandalwood paste. That whole year's paste is removed on this and left uncovered for 12 hours. Again the fresh paste in applied. This Chandana Yatra is another pilgrimage attraction of Araku Valley.
6. Go Festive with Visakha Utsav
VisakhaUtsav is a great native festival organised by Andhra Pradesh tourism every year in the month of January for three days, from third Friday to Sunday. In the cold months of the year, to enhance the tourism of the place, the VisakhaUtsav plays a major role.
5. Rishikonda and Bheemunipatnam Beaches
Araku valley is not just a home for hills, lakes and temples. You can also visit beautiful beaches nearby. These two beaches along the east coast are must visit spots near Araku valley. Rishikonda is an unspoilt beach nearby. Sun sets looks amazing from the warm washed waves of sea.
4. World Class Araku Coffee
Araku valley is nowadays also famous as Araku Coffee Valley because of the aromatic world class coffee plantations. Anybody who visits Araku valley will definitely fall for the odour of coffee. The coffee produced here has decades of history. The affordable price has made it a best competitor in the world. The quality of this coffee meets global standards and now it is a most famous coffee growing place in India.
3. Draksharama Temple
There is a Lord Bheemeshwara Swamy in Draksharama temple. This makes Araku valley even a pilgrimage spot. It is a must place to visit when you plan a trip to Araku valley. A historical shiva temple looks glorious on Maha Shivarathri, attracting thousands of deities on the special occasions and festivals.
2. Ananthagiri Hills
It is one of the romantic place to visit in monsoons near Hyderabad. Ananthagiri hills are known for its greenery and temples. You can visit Anantha Padhmanabha Swamy temple there, because of which the name Ananthagiri has arrived. Being a part of Araku valley, these hills suits best for early morning trekking. There is even a river falling from the great height to enhance the beauty of hills.
1. Borra Caves
Borra Caves are one of the largest caves in India. A British geologist William King re-discovered the cave in 1807. It is a naturally formed limestone structure having a depth of 262.5 ft. and spread across 2 Sq. Km. with a 100 mt wide mouth. archaeologists have found stone tools underneath which confirms the human habitation in the spot. It is a must place to visit in Ananthagiri hills.
Preferences may be different for different person but the fact always remains same when it comes to nature. It is sure that this place is perfectly created for your next vacation. With everything from beaches to hill station, the valley is a natural treasure. Be prepared to enjoy to the most at Araku Valley.