Deepthi Sunaina gained fame because of social platforms. She came into public notice after her amazing Dubsmash Videos she posted on Instagram and Facebook. Soon, she received the offer for her first movie Kirrak party.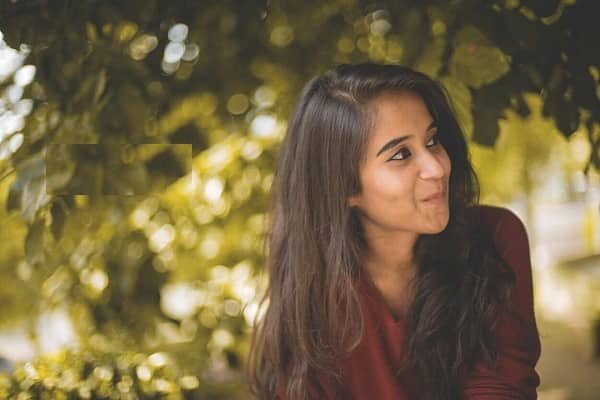 Net Worth
The net worth of Deepthi Sunaina is not known.
Income Source
The main source of income for Deepthi Sunaina is the fee she receives for her contribution to the entertainment industry.
Real Name
The real name of this cute actress is Deepthi Reddy.
Date of Birth: 19 November 1998
Age: 19 Years
Height/Weight
Deepthi Sunaina has a short height as she is 5 feet and 1 inches tall. In addition to this, Deepthi Sunaina weighs about 45 Kgs.
Marital Status
Deepthi Sunaina is presently unmarried.
Personal Background
Talking about the personal background of Deepthi Sunaina, it is known that she was born in Hyderabad and she also completed her schooling in Hyderabad. There is no concrete information available about her educational qualification but as per one of the source, she took admission in a college in 2018 and she is presently pursuing Bachelor of Arts from there. Talking about her personal life, it is known that she is not married but if rumors are to be believed then she is in a relationship with Shanmukh Jaswanth Kandregula. He is a popular filmmaker and a photographer.
Deepthi is really fond of taking selfies and she also makes a lot of videos for her fans. She looks really cute and this helped her in gaining many thousands of followers on social media.
This is how she came in the notice of the industry which basically helped her in making her career in the film industry in South India.
Career
Deepthi Sunaina never intended to make a career in the film industry and she wasn't even prepared for this but she gained a lot of popularity after her Dubsmash videos that she used to post on social media. This helped her in gaining thousands of followers on Instagram and at present, she makes videos with her boyfriend and all of them are really popular. In 2018, she received an offer to work in a movie called Kirrak Party. The movie received a good response at the box office and this shot up her popularity even more.
Presently, she is also participating in a reality TV show and it would be interesting to watch more her in more shows and movies.