The control D test strips work only in the control D glucometer. It is not valuable for any other glucometer machine for providing glucose testing. The packaging of the prescription is excellent that does not let them get affected by uncommon means.
The expiry of the test strips is after two years, so; people can use them for a good period. The noticeable fact of the strips is it is a breeze to check the blood sugar. It can be taken anywhere to record things and make changes in the timetable accordingly.
The sucking feature of the strip is quick that gives the quick result about the blood sugar. The sample requires By the strip is 0.5 microlitre and in a pain-free alternative. The item's weight is a hundred grams that can be taken by a diabetic person anywhere.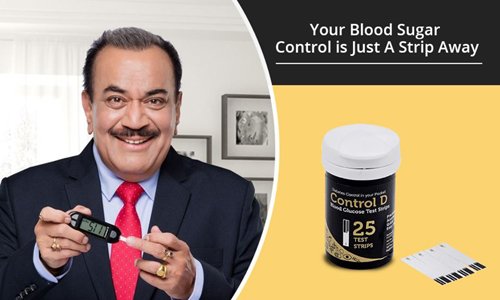 Key uses of control D test Strips
Measure glucose level in the blood
Key benefits
The control D test strip can only be used with the control D glucometer. It will not work on any other glucometer.
The packaging of the test strip is incredible to avoid the strip's contamination.
The expiry date of the strips is two years from manufacturing. People can use it for an extended period.
The size of the strip is minimal that is pocket friendly. Diabetes patients can carry it easily while traveling anywhere.
The reading given by the test strip is precise and accurate. This helps people to make their schedule proper for maintaining diabetes under control.
Directions for use
The Control D test strip is used straightforwardly for giving people the result about the glucose level in the blood. But, first, take a look at the steps.
First, to monitor the blood sugar level, wash your hands properly and dry them. Then, insert the test strip into the glucometer.
Collect the blood and apply it to the strip. Be sure that it has been applied on both edges.
The result is shown instantly on the visible display of the glucometer.
This is the entire process in which the test strip can be used appropriately.
Safety Information
Examine the expiry date of the test strips written on the packaging. It is necessary for getting accurate results.
Use the test strips with clean, dry hands. Otherwise, the result will not be precise.
Be sure to calibrate your meter before making use of new testing.
Insert the test strip inside the glucometer gently as per the directions for use.
Store the test strips in of adequate place that avoids physical damage on the strip.