Whenever you need to use your glucometer, you need test strips. You will find yourself purchasing the test strips frequently. The reliability of the results also depends on the quality of the test strips. Most people prefer buying the test strips in bulk because they are often cheaper. You will find the test strips in packs of 10, 25, 50 and even 100.
If you are looking for the test strips for the Accu-Chek glucometer, then you can even go ahead with Accu-Check Active Test Strips. We have covered all the features, uses, and advantages of Accu-Check Active Test Strips on this page. So, check them out below.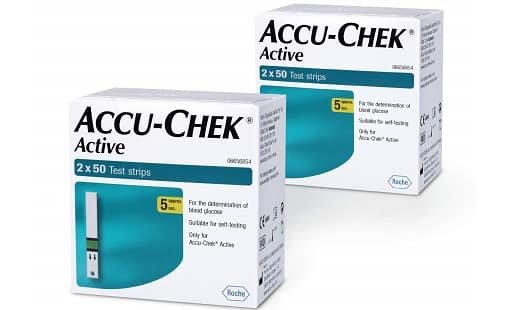 Accu-Check Active Test Strips: Specifications & Features
Reliability & Speed – The first important thing about Accu-Check Active Test Strips is that they are very accurate. The strips are as per the 15197:2013 standards. Moreover, the results are also displayed very quickly.
Easy to Handle – A strip of protective barrier covers the length of the test strip. This protective strip prevents spillage of blood. It also eliminates the chances of you accidentally ruining the test strip.
Minimal Blood Required ­- Accu-Check Active Test Strips requires only 1 to 2 micro-litre of blood to process the results. It is easy to extract that amount of blood with the lancet.
Longer Shelf Life – The shelf life of Accu-Check Active Test Strips is 18 months from the date of manufacture. So, even if you buy a pack of 100 strips, we are sure that you will exhaust it before the expiry.
Verifying the Results – The test point in the test strip changes colour when it interacts with the blood. The storage bottle of the test strip has an indexing chart that can help you determine the approximate value of glucose by matching the colour.
Accu-Check Active Test Strips: Key Benefits
The shelf life of these test strips is 18 months, and hence you don't have to worry about expiry.
The test strip allows you to validate the result visually.
The accuracy levels of Accu-Check Active Test Strips are very high.
You can use these tests for home verification, and it is easy to dispose of the Accu-Check Active Test Strips.
Very little blood is required to get the results.
Usage & Storage Accu-Check Active Test Strips
The test strips should be stored in temperatures between 4 & 30 degrees celsius.
You must use it only with the compatible glucometer.
You must not reuse the test strip.
Always seek medical advice in case of variation from normal results.
Store the test strips in a clean & dry place.
Calibrate the glucometer when you open a new box.
Do not squeeze the fingertip while extracting blood.