The human bodies are made up of complex tissues and parts and all of these parts are essential for the survival of a human being. Having said that, kidneys also are one of the important organ of the human body which is accountable for filtering out waste from our blood and create a balance between the water and salt present in our body. Mostly all human beings are born with a pair of kidneys and even if only one is present, even then it is absolutely possible to lead a normal life.
As we know that kidneys are helpful for removing the waste from our bodies and maintaining the balance of minerals and fluids in our body, but if they stop performing these activities, it can cause serious damage to the body. This waste could build up in our body making us sick. The study of kidney disorders are known as Nephrology. Any kind of kidney failure or any chronic disease related to kidney is all covered under this field of study. There are a number of hospitals dedicated to the same in Delhi.
Let us find out the top 10 best Kidney hospitals in Delhi:
10. Sir Ganga Ram Hospital
The Sir Ganga Ram hospital in Delhi's Rajinder Nagar is the best hospital for kidney treatment. The Pediatric Nephrology division is dedicated to the children who suffer from kidney disorders and helps them give a better life. It also includes giving the families the best possible assistance with the ailments related to kidneys. The services offered by them includes diagnosis and evaluation of Inherited / congenital renal disorders, Acquired renal diseases, Urological problems and Renal transplantation
The various facilities offered by them are
Acute Peritoneal Dialysis
Automated Peritoneal Dialysis (APD)
Chronic Ambulatory Peritoneal Dialysis (CAPD)
Hemodialysis
Sustained Low Efficiency Dialysis (SLED)
Continuous Renal Replacement Therapy (CRRT) – CVVHD, CVVHDF, CVVH, SCUF
Website – http://www.sgrh.com/
Address – Rajinder Nagar, New Delhi, Delhi 110060
9. Kidney Hospital & Stone Centre
Surely this is one of the best Kidney Hospital in Delhi. The treatments and the tests are done using the latest and advanced technology. This hospital is headed by Dr. Atul Agrawal who is a Kidney Transplant surgeon and a consultant Urologist. The team of doctors in the hospital specialize in treating any kind of kidney ailment and also removal of kidney stone. The various services offered by them include diagnosing Kidney Stones – PCNL
Website – http://www.kidneyhospitalstonecentre.com/
Address – 1/46, Vijay Enclave, Main Opp. Jindal Public School, Main Dabri Palam Road, Palam Colony, New Delhi, Delhi 110045
8. Pushpawati Singhania Research Institute
The Nephrology department of this hospital has seen some of the worst cases and they are known to give the best possible treatment to their national as well as international patients. More than 400 kidney transplants are conducted every month and almost 1500 hemodialysis. The various treatments and services offered by them are:
Latest equipment such as hemodialysis machine
For patients in ICU, Bedside hemodialysis is available
Sustained low efficiency daily dialysis (SLEDD) and
Continuous Renal Replacement Therapy (CRRT)
Website – http://www.psrihospital.com/
Address – Press Enclave Marg, Sheikh Sarai II, New Delhi, Delhi 110017
7. RG Stone Urology & Laparoscopy Hospital
This hospital in the East of Kailash area of Delhi is another hospital for the best treatment of kidney stones and cancer. The surgeries done here are minimally invasive. They have the world class and advanced technology for the urology and nephrology. The various services offered by them are:
Diagnosis of kidney cancer and kidney stone
Extracorporeal Shock Wave Lithotrispy (ESWL)
Ureterorenoscopic Lithotripsy with Holmium Laser
Percutaneous Nephrostolithotomy (PCNL)
Website – http://www.rghospitals.com/
Address – F-12, Near Kailash Colony Metro Station, East of Kailash, New Delhi, Delhi 110065
6. Primus Super Specialty Hospital
This hospital provides treatment for all ailments related to the kidney. Their department of Nephrology and Renal science is quite popular and they have the best doctors on their panel. They provide assistance to the international patients as well. The various services provided by them are:
Dialysis
Kidney Transplant
Renal Transplant
Website – http://primushospital.com/
Address – 2, Chandragupta Marg, Chanakyapuri, New Delhi, Delhi 110021
5. Max Super Specialty Hospital, Shalimar Bagh
This is one of the Max hospitals which is specialized in Nephrology. They have a specialized Dialysis Unit which is of created as per the international procedures and standards. Hemodialysis is also available for patients who are in the last phase of their kidney problem and require renal transplant or replacement. The various facilities given by them are:
Diagnostic services
Health checkups
Round the clock pharmacy
300 beds
Website – https://www.maxhealthcare.in/hospital-network/max-super-speciality-hospital-shalimar-bagh
Address – Shalimar Bagh, New Delhi.
4. Indraprastha Apollo hospital
Located in New Delhi, India, Indraprastha Apollo Hospital is a renowned name for kidney treatments. Over 400+ kidney treatments take place every year.As on date they have performed over 10000 kidney treatments and transplants. The fast recovery of patients can be expected since they conduct invasive surgeries and are very less complicated.
Website: www.apollohospdelhi.com
Address – Delhi Mathura Road, SaritaVihar, New Delhi, Delhi 110076
3. Medanta Medicity
This hospital has the expert team of nephrologists on their panel and they treat every thinkable diseases related to Kidney. They have the latest equipment and advanced technology. As a matter of fact, Medanta is known to perform robotic surgeries for correcting the issues related to Kidney and the bladder.
Website: www.medanta.org
Address – CH Baktawar Singh Road, Sector 38, Gurugram, Haryana 122001
2. Fortis Hospital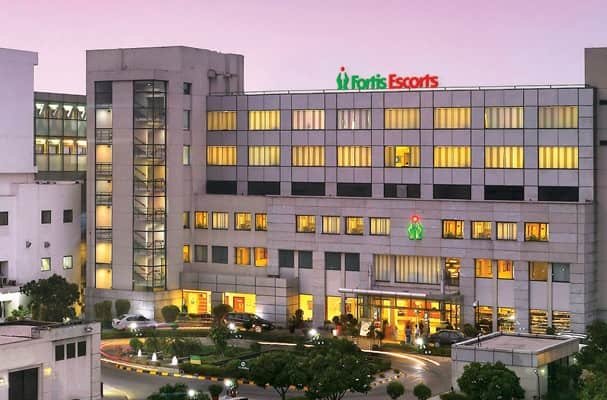 Fortis is known for its wide network of healthcare facilities and hospitals with more than 75 hospitals all over the NCR. Accredited with JCI and NABH, this brand is known for providing the best treatment in the country with the latest and advanced technology and equipment. For kidney transplant and treatment, the patients get a comprehensive medical package which includes the documentation expenses along with others too. You can choose the hospital nearest to your location from the website given below. But Vasant Kunj based Fortis Flt. Lt. Rajan Dhall Hospital is considered the best for kidney related ailments.
Website: www.fortishealthcare.com
Address:Sector B, Pocket 1, ArunaAsaf Ali Marg, VasantKunj, New Delhi, Delhi 110070
1. AIIMS New Delhi
The department of nephrology was set up in 1969. AIIMS is surely one of the economical and respectable hospital in India. Poor and needy also receive their treatments almost free of cost. The doctors and the infrastructure of this hospital is commendable. The kidney transplant operations are performed three to four times in a week and that too for only registered members. The waiting time is 2-3 months. The facilities offered by them include:
Kidney Transplant
Hemodialysis Facility
Website: www.aiims.edu
Address: Ansari Nagar, New Delhi – 110029.
Conclusion
The doctors of these hospitals are the best and therefore provide the best possible treatment to the patients. These hospitals are equipped with the latest machines and are very advanced to take care of the patients from India or even abroad.