No one says no for delicious recipes. Our beautiful planet is enriched with a variety of cuisines and restaurants. Anyone can get their favorite dishes of their choice at any time. If you are a tourist, then you might want to rejuvenate your taste buds with different cuisines. So, you may want to know which country has the best food. In such cases, it is difficult to find each and every cuisine.
So, we are providing you top 10 countries with the best cuisine in the world.
10. Germany
At number 10, we have Germany on the list of top 10 countries with best food in the world. The spicy flavors, blazing pretzels, plump sausages, bottle of wine are some of the best cuisine in Germany. The cooking style is so different. The roasted pork shranks and smoked fish are more interesting dishes.
9. China
China is a beautiful country enriched with green lushes, beautiful hills, and sweet fragrance. The food cultures do wonder for everyone. Eating new dishes in chine can never be bored. It is a great tourist destination not just because of the attractive tourist spot but also for the mouthwatering street foods. The sweet spices in the sour noodle soups taste great. The flavors in the street food invite all the spicy food lovers. There are a lot of must try Chinese cuisine such as Cantonese, Shandong, Zhejiang, Szechuan, Anhui, Fujian, Hunan. Chinese are fond of using bamboo shots. Jiang cuisine is a traditional cuisine which uses bamboo shots. The soft and delicate flavors of Jiangsu have become their regular meals.
8. Mexico
Mexican cuisine is a great blend of Asian and European cuisine. It contains beans, corn and chili as well.  The chicken meat, goat and pork are also used in the non-veg dishes. Mexico is a massive and vast country enriched with dense jungles and beautiful hills. The Mexico cuisine is often served in a soup or broth using cooking styles like steaming, stewing and boiling. The best part of the cuisine is that they use fresh and green vegetables, thus green soup is always the best in Mexico.
7. Thailand
With a lot of different traditional cuisine, Thailand features as the 7th top most country with the best food in the world. The spicy meals, tropical coffee, sour noodle soup, spicy sweet pork are just a few of the traditional cuisine in Thailand.
6. Greece
Greece is well known for seafood. Be it a fish fry, prawn fry or crab curry, no one denies the tastes. The seafaring culture in Greece is popular wide. They are a specialist in food culture, ingredients, western cuisine and all. The Japan market makes wonder for the breakfast & lunch. Greece Food culture is simple yet delicious. Traditional Greek salad, Stuffed grape leaves, Seasoned lumps and roasted potato chips are just a few of the delicious food. Meatballs cooked with herbs & onions are great snacks for tea time.
5. Japan
Japan is a technologically advanced country with variety of innovations and discoveries. It has made a mark as one of the great cuisine in the world. The fresh vegetables, spicy greens and flavor dishes are always the assets of Japanese. They just love to enjoy the traditional dishes.
4. Spain
Spain features as the 4th top most country with the best food in the world.  It is well known for delicious Acon Butter and Jamon Iberico. The street culture looks great and invites everyone to rejuvenate the taste buds. From a little bit of bread to little sip of wine, Spain cuisine tastes great which is why it stands at 4th place in this list. Spanish is a place for delicious pizza and Spanish omelet. Spanish used to start their breakfast with high brown complete, energetic meals. Also, it is a great starter for dinner, lunch and breakfast.
3. India
With a variety of delicious spicy meals, India stands at 3rd place on the list of countries with top 10 best foods in the world. India is well known for the delicious spicy food. It is a beautiful country with different cultures and tradition. If you walk through the streets, you never miss out the crunchy street foods and snacks. White rice is the most commonly used type of meals in south India. For North Indians, chappathi and paratha are the regular meals. White rice can be accompanied with Sambar, rasam and curry, thus Indian's spicy food has enslaved millions of people around the globe. There are a lot of vegetarians here but it is the hub of non vegetarian dishes. Prawn curry, chicken curry, Mutton biriyani, chicken kadai are just a few of the popular south Indian dishes.
2. France
At number 2, we have France on this list. The style and ingredients of France always invites every spicy food lovers in France. It is an interesting place where people would love to enjoy their life with different food and lifestyle. The western cuisine is excellent, makes it easier to choose the delicious food forever. Baguette, Steak-fries, Croque-monsieur, Duck confit, Jambon-beurre, Raw-milk artisanal cheeses, Croissant, Paris-Brest, and Macaroons are some of the most popular dishes in France. France is better known for the delicious street foods. There are a lot of mouthwatering street foods available out of which crepe is indeed a great snack for your afternoon.
1. Italy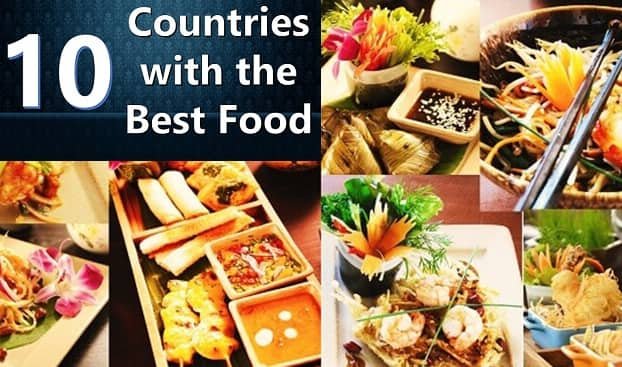 Nothing can beat the Italian spicy food. Pizza is the popular food, which comes in a variety of delicious flavors. The delicious spicy flavors of Italy invite everyone. Italy is well known for its mouthwatering coffee, which will rejuvenate your taste bud and let you feel fresh throughout the day. Be it a delicious pizza, mouthwatering multi-course lunch, nice grappa, one cannot stop having the Italian food. This is why it stands 1st place on the list of top 10 countries on the list. Pizza Margherita, Gelato, Roman Meals, Tiramisu, Pasta Carbonara, Italian Coffee, Risotto, Ravioli, and Gnocchi are just a few of the most popular and must–try Italian dishes.