10 Interesting Facts About Brahmos Missile
India finally got its hands on the world's fastest ever anti ship cruise missile. This short range supersonic cruise can be launched from land, ships, aircrafts and even submarines. The BrahMos was created in collaboration with Indians and Russians which is why it gets its name BrahMos – Brah – From the Brahmaputra River in India and Moskva River in Russia. If you're under the impression that this is just another missile, then you need to take a closer look at some of these interesting facts about BrahMos.
10. Can Be Launched From Land, Air Or Water
One of the most interesting things about the BrahMos is that it is a supersonic missile that can be launched from a ship, submarine, an air craft or even land. There is no other missile that can do this. The BrahMos is believed to be the world's fastest missile that travels at a speed of 2.8 to 3.0 Mach. While the land operations for the BrahMos have already been tested and the working version has launched, it is still to be launched for water and air based. It is believed that the tests for air and water will begin by 2017.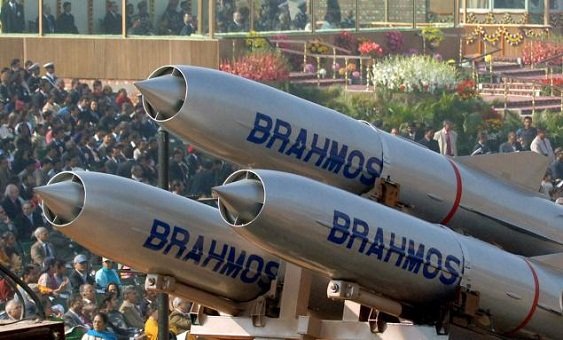 9. Joint Venture With India And Russia
One of the most interesting things about BrahMos is that it was not created by a single country. It is a joint venture between DRDO (Defense Research and Development Organization) of India and Russia's NPO Mashinostroeyenia. This reason it was named BrahMos is so that it could represent both the countries. It is named after the rivers Brahmaputra of India and the Moskva of Russia.
Read Also: 10 Most Powerful Weapons of Indian Army
8. Fastest Cruise In Operation
The BrahMos is the world's fastest cruise missile in operation which travels a speed of 2.8 to 3.0 Mach. While BrahMos is gaining a lot of attention recently, the missile has been under development since a long time. While the land version is ready, the air and water versions are expected to be ready by 2017.
7. Tough To Detect
One of the major things about the BrahMos is that unlike most other missiles, this one travels very close to earth and this makes it tough to detect the missile before an attack. The BrahMos can travel as close as 10 meters in altitude and since it travels so fast, it is tough to stop or detect.
6. Fast Even With Heavy Weight
The BrahMos is a supersonic missile that can carry up to 300 kg of conventional warheads and still travel a range of 290 km in full speed. This not only makes it a reliable missile, but also one that people can depend on in time of need.
5. 4 Times Larger Than The US' Tomahawk missile
While The US kept boasting about their Tomahawk missile, India and Russia went on to create one that is not just double, but 4 times larger than the US' Tomahawk missile. Not only is this supersonic missile larger, but it is 32 times more powerful in comparison to the US' Tomahawk missile when you talk about the initial kinetic energy that both the missiles produce.
4. First Test In Chandipur
The BrahMos was first tested way back in 2001 in a safe and secluded area. The testing was conducted under supervision and expert care at the Integrated Test Range (ITR), Chandipur in a vertical launch configuration to ensure no damage or harm is caused of any kind.
3. 2 Stage Missile
The BrahMos is a 2 stage missile. The first stage is a solid form which has already been introduced into the Army, Air Force and Navy. The second is a ramjet liquid propellant which has also been introduced into the armed forces. The final stage is under trial and is believed to be introduced soon.
2. Complete Protection
One of the best things about the BrahMos is that it can be launched in the air, by land or even water. When it covers water it will also cover submarines and it will be the first ever missile to manage to do this. It will help India and Russia stay safe during attacks and protect their nations.
1. Over 2,000 BrahMos In The Next 10 Years
Reports have confirmed that India and Russia plan on creating 2000 such supersonic cruise missiles in a span of 10 years with a view to protect their nation and keep everyone safe.