A Wedding anniversary is the most significant and unforgettable day in every one's life. To make it even more special, the men will be in search of unique gifts for their loving wife, who means a lot for them. Men, through this best anniversary gifts, can impress her and get a chance to express their love for her. The gifts signify a lot, to show her, how special she is for you.
The anniversary celebrations signify the successful completion of another one year of their marriage life that they came across with memorable and happy moments. The reason behind the celebration is that they can spend time together and can express their love for each other, which makes their relationship to become even stronger.
List of Top Wedding Anniversary Gift For Her
By this way, we include the 10 Best Anniversary Gifts Ideas for the wife that will really help you to touch the hearts of your wife with love and care forever. Let's look at the gifts one by one in detail.
10. Apparels and footwear
Gifting of the apparels and footwear is one of the best anniversary gifts for your life partner. It is always good to see them on your selection. It also makes them feel better and will let them know, how much you knew them personally. In addition, you, the husbands can leave a great feel for them.
9. Photo album
Organizing the photos that they loved most in an album is also a great idea on this list. It helps them to recollect the loving memories at all the times and it is such a great idea to open up their real excitements of this special day.
You can also prepare a photo collage of your happy moments with her and made it as a photo-framed gift.
8. Longing gifts
It is a better idea to bestow the gifts upon your wife that are longing for.  It fulfills the surprise gift criteria and will undoubtedly bring them the real happiness. Your wife will surely love this gift as well as will come to know about your love for her.
7. Presenting flower bouquet
Presenting a flower bouquet is more precious than any other costly gifts. Every woman likes to have a love proposal from her husband on this special day. You can order for a bouquet with cent-smelled flowers arranged in an elegant way. In addition, trust me; this is the perfect idea to be practiced to impress your woman.
6. Planning for Dating
Take your better half to the most romantic place or the place she loves to visit. This gifting idea is to make her feel this special day as a memorable one. You can also arrange for a candle light dinner and later for a movie of her favorite star. This idea will work fine and she will definitely love this kind of activities.
5. Jewelery gifts
Every woman is crazy about the jewels. Moreover, of course, it is the better choice to gift her on this special occasion. The best anniversary gifts without this gifting idea will not be fulfilled. Present her a gift voucher of her favorite jewelry shop to shop for the jewels and you can also gift the personalized pendants for her as a romantic gift.
4. Personalized gifts
Nowadays, it has been in a practice of bestowing the personalized gifts upon their loved ones. It involves the printing of the most loved photos of her on T-shirts, coffee mugs, pillow covers and so on. These gifts are readily available at many online stores and in other gifting stores.
3. Present a video
It is yet another best idea of gifting to your wife. Organize the happy moments and make it as a video. It helps her to express her inner feelings, whenever she saw the clips. In addition, it helps to make your family life even stronger.
2. Surprise party
One of the best anniversary gifts for your loving wife is to arrange for a surprise party. Call her parents and friends to visit your home to have this surprise party. Make clicks on all the happy moments that will happen there. And this is the greatest gift, you are going to present to your wife on your special day.
1. Treasure hunt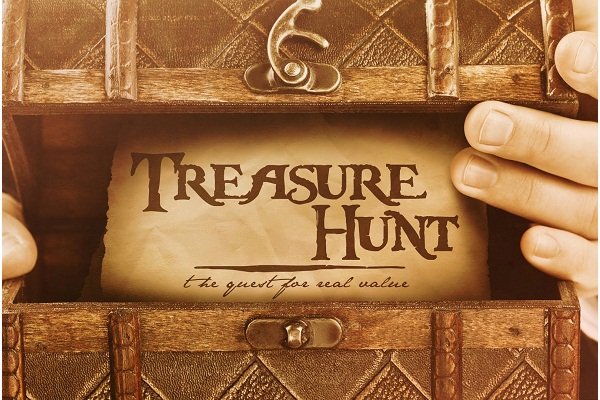 We all know the game called treasure hunt, which includes a piece of a clue to find the things at different places. If you love to make your wife to surprise in a unique way, trust me this is the best anniversary gifting idea for her. Place a short clue on her bed so that she will wake up with your clue and on seeing that, see will start to hunt for her gifts. This will definitely be an awesome feel that you are going to present it to her. On every finding of her gifts, she will get a new feel and she will know, how much love you have for her. Make a note, she will surely cry out of joy.
For all the husbands out there, here are the top 10 best anniversary gifts for the wife to surprise her. Make use of these ideas, to have a wonderful and blissful anniversary.
How to choose Wedding Anniversary Gift for her
Choosing a wedding anniversary gift for your significant other can be a daunting task, but with a little thought and planning, you can select a meaningful and thoughtful gift that your spouse will appreciate. Here are some tips to help you choose a wedding anniversary gift for her:
Consider her interests and hobbies: Think about what your spouse likes to do in their free time and choose a gift that relates to those interests. For example, if she is an avid reader, consider a book or a Kindle. If she loves cooking, consider a cookbook or a cooking class.
Personalize the gift: Personalized gifts are always special and show that you put thought and effort into the selection. Consider engraving her name or initials on a piece of jewelry, or creating a custom photo album or piece of art.
Plan an experience: Instead of buying a material gift, plan an experience for the two of you to enjoy together. For example, you can plan a weekend getaway, a spa day, or a romantic dinner.
Pay attention to the milestone: Each year of marriage has its traditional gift and theme, you can use these as a starting point for your gift selection. For example, the traditional gift for the 1st year is paper, so you can give her a beautiful journal or notebook.
Don't forget the sentimental value: A sentimental gift can be something small but meaningful, like a love letter, a heartfelt note, or a special keepsake that reminds her of a special moment you shared together.
Ultimately, the most important thing is that your gift comes from the heart and shows her how much you love and appreciate her.
Related Posts