Top 10 Bollywood Films About Real Life Criminals
It has been frequently said that crime does not pay. Criminals are later on punished for their evil deeds and are condemned for the rest of their lives.
However, this may not hold very true in the movies. Over the years, films about real-life criminals have had massive following and continue to make money at the tills. These real-life criminals, whether dead already or still alive, also earn notoriety as well as accidental fame when their lives are depicted in the big screen. In so doing, they are forever immortalized in the world of movies.
This list will let you in on the 10 Bollywood films about the lives of real criminals. How many of these films have you seen so far?
10. Dby VishramSawant – 2005
This film was based on real-life Indian underworld criminal ring D which was a secret organization that had taken root in Mumbai. Considered a classic of the Indian gangster film, the movie revolved around the life of an honest Indian mechanic Dashu. He gets accidentally thrown into a life of crime after his arrival to Mumbai from Dubai.
9. Gansgterby AnuragBasu – 2006
This film was a moderate success at the box office. Based on the real life relationship of Indian underworld mogul Don Abu Salem and Bollywood actress Monika Bedi, the movie revolved around a bar girl who falls in love with an honest layman with limited means and a gangster who could give her everything she needs.
8. Vaastav (The Reality) by Mahesh Manjrekar – 1999
Based on the life of Mumbai gangster ChotaRajan, the film depicted an unforgiving and harsh Mumbai in a directorial style known in Europe as film noir or the "dark film." Acclaimed for its stylish filmmaking style, this is one of the quintessential gangster films ever made by Bollywood. It was also a huge box-office success.
7. Shootout at Lokhandwalaby Apoorva Lakhia – 2007
This rather realistic and graphic film depicted the killing of several leaders of the Mumbai underworld in a police shootout in 1991. The film was praised for its tight editing, near-perfect orchestration of cinematic elements, crisp dialogue, and believable acting. The killing of gangster Maya Dolas was depicted graphically in this film.
6. Maqbool by Vishal Bhardwaj – 2003
This film featured an outstanding ensemble cast. Based on William Shakespeare's classic tale entitled Macbeth, the movie combined elements from Shakespeare's work and the dark Mumbai underworld scene. Maqbool was the right hand of infamous Mumbai underworld Don Jahangir Khan.
5. Company by Ram Gopal Varna – 2002
The film based its storyline from the split between two of Mumbai's most vicious crime lords – Dawood Ibrahim and ChotaRajan. The film's release was marred with controversy for its violence and brutal depiction of society in Mumbai. It likewise made a killing at the tills and was well-loved by film critics who wrote glowing reviews.
4. Once Upon A Time in Mumbai by Milan Luthria – 2010
This film realistically recreates the chaos of 1970's Mumbai through the eyes of a small-time smuggler, whose charm and ingenuity causes him to earn the attention of a big-time criminal, whom he would later replace. The film has been remade a few times and adapted into local versions in other Asian countries.
3. Shootout at Wadalaby Sanjay Gupta – 2013
The film is based on the Mumbai police's first encounter with a large organized crime group in Mumbai in the early 80's. It is considered a prequel to the 2007 gangster hit Shootout at Lokhandwalaand also starred an ensemble acting cast.
2. Gangs of Wasseypur II by Anurag Kashyap – 2012
This ultra-violent gangster film was based on the lives of 3 families who controlled the underworld belly of 21st century India. The film featured a huge cast that was praised for their good acting. Technical elements of the film also proved to be superior.
1. Gangs of Wasseypur by Anurag Kashyap – 2011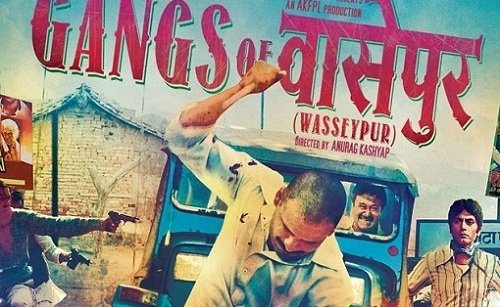 This film was dubbed to be the gangster film to end all gangster films. In some ways, it actually did. It depicted the lives of real-life gangsters with such authenticity and brutality that it earned a "For Adults Only" rating from the Indian censors.