Over the years, Bollywood – the world's largest national cinema – has come up with hundreds of films about friendship. And why not? In An Eastern and Asian country like India, the gift of friendship is something that is treasured and cherished for eternity. This is why a lot of Bollywood films revolve around friendships. Some of these films made viewers laugh. Some of them made viewers cry. But one thing is for sure. These films made audiences all over India and the world appreciate the gift of friendship in a much deeper way.
This list reveals the 10 best Bollywood films about friendship. How many of these have you seen already
10. Kuch Kuch Hota Hai
This record-breaking film was the directorial debut of Karan Johar. It depicted two stories in different periods. The first one revolved around campus friends whose friendship blossomed into a sweet romance. On the other hand, the second story was about a young daughter and her attempt to reconnect her father with his childhood friend. The film was shot in 3 different countries and was a huge success locally and abroad.
9. 3 Idiots
This gem of a Bollywood film was a resounding success both locally and abroad – having been screened in almost 50 other nations and dubbed into several foreign languages. Helmed by thespian Amir Khan, the story revolved around the eccentric but very deep friendship of Rancho, Farhan, and Raju together with their cohorts. The film was hailed as an enigmatic and inspiring piece of Indian cinema.
8. Ek Main Aur Ek Tu
Directed by Shakun Batra in his feature-film debut, the film tells the story of an architect based in Las Vegas. After a night of excessive drinking and partying, he marries an eccentric Indian woman, only to have their marriage annulled soon after. The two develop a good friendship until the architect feels a romantic attachment to his female friend. The film was praised for its comedic style and its big, big heart.
7. Dil Chahta Hai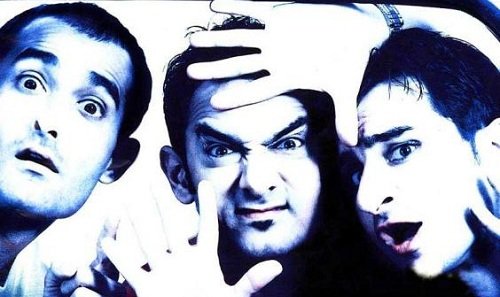 This film was praised by critics for depicting in very realistic and humane terms, the transitions experienced by 3 male friends who find themselves at varying crossroads in their lives. Filmed in Mumbai and Sydney, this movie was written and directed by FarhanAkhtar in his feature film debut.
6. Fukrey
This comedy and coming-of-age film is about 4 friends in Delhi who are considered slackers and on the hunt for easy money. Though only a moderate hit, the people who saw this film were inspired by its hopeful message, its undeniable sense of determination, and the genuine friendship displayed in the film by the main characters.
5. Yeh Jawani Hai Deewani
This film was a huge box-office success at the tills. It depicts the story and special friendship of Bunny and Nania, whose friendships and feelings for each other developed during a mountain trek when they were still young. Can friendship prevail over romance? Or is it the other way around? The film answers that question with flying colors.
4. Rang De Basanti
This big-budget Bollywood film featured an all-star ensemble cast. The story revolves around an English filmmaker who decides to make a documentary about Indian Freedom Fighters during Britain's imperial rule in India. The film won numerous awards for its storytelling and its nationalistic stance.
3. Munna Bhai M.B.B.S.
The film is the Bollywood equivalent of the Hollywood hit Patch Adams which starred Robin Williams in the titular role. The Indian version cast Sanjay Dutt, and follows his journey as a medical student until he becomes a doctor and experiences tragic disillusionment and a renewed sense of hope.
2. Dostana
This comedy film starred Miss World 2000 Priyanka Chopra as the woman in the middle of two male friends who pretended to be homosexuals so that they can live with her in her apartment. The film was shot in Miami, Florida and was well received locally for its comedic charm and for the chemistry of the 3 lead actors.
1. Sholay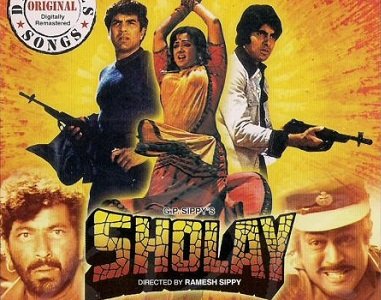 Perhaps no other Indian film depicted friendship better than this classic film about two criminals (Jay and Veeru) hired by a Honest police officer to capture an evil bandit. This movie still tugs at the heartstrings due to its tale of sacrifice and honor more than 40 years after it was made. It is the only Bollywood movie which will give you full entertainment as many times you watch it.