A motorcycle is the fastest way of getting around the corners of a jam prone city. India is heavily affected by traffic congestion at the busiest hours of the day, and a motorcycle can easily avoid these obstacles while going towards a destination. 3,00,000 lakh rupees is certainly a great budget for bikes in Indian market.
In this price you can buy a good looking sports bike, and we have brought out 10 of these for your approval.
10. Apache RTR 180ABS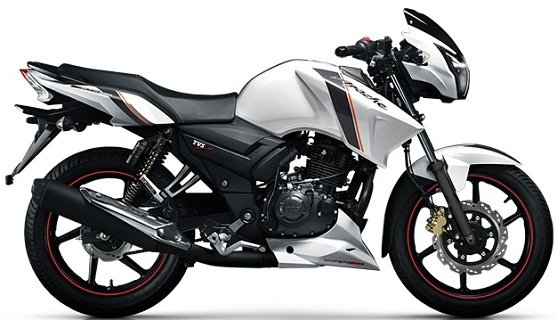 ABS equipped in the breaking technology is very necessary. Apart from this, the Apache RTR 180 ABS has a 177 cc engine with 17.30 bhp maximum output and 15.50 Nm maximum torque. The rated mileage is 45 kmpl. Price – Rs. 86,222.
9. Bajaj Pulsar RS200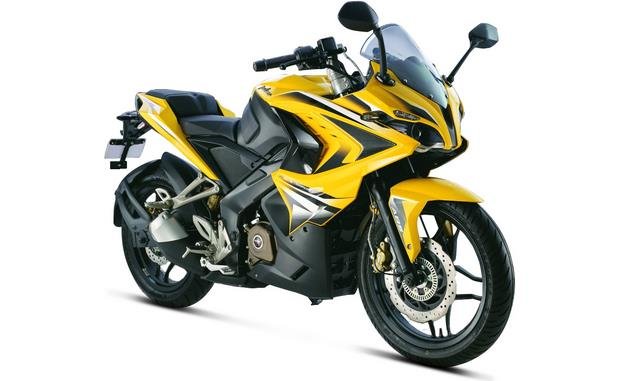 Bajaj Pulsar RS200 comes with 199.50 cc engine displacement, 24.50 bhp horse power at 9,750 rpm and maximum torque output of 18.60 Nm at 8,000 rpm. There are 6 gears and disc brakes on the wheels. Top speed on this bike is 141 kmph. Price – Rs. 126,310.
8. Yamaha YZF R15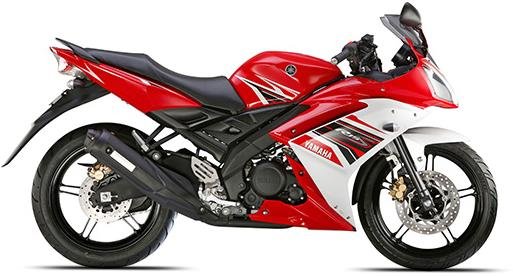 Yamaha YZF R15 is a standard issue motorcycle with some sports bike-like qualities. Engine displacement on this motorbike is 150 cc with maximum power output 16.70 bhp at 8,500 rpm and 15 Nm at 7,500 rpm. There are 6 gears; mileage rating 42 kmpl. Price – Rs. 119, 466.
7. Kawasaki KLX 110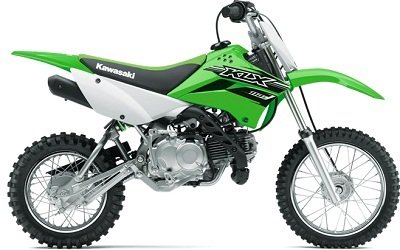 It's a dirt bike with 112 cc engine and the maximum power output on this bike is 7.14 bhp at 7,500 rpm. Maximum torque goes up to 8 Nm at 4,500 rpm, which offers sufficient pulling power. There are 4 gears; the fuel tank holds 4 liters of fuel and the standard mileage rating is around 50 kmpl. Price – Rs. 265,000.
6. KTM RC390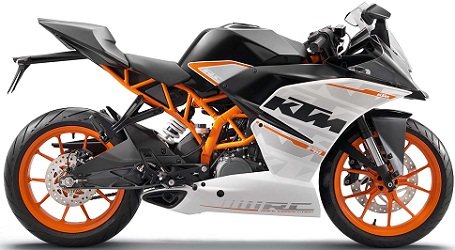 Though the displacement of 390 cc might not look much bigger for a sports bike on papers, but it is. KTM RC390 engine offers 43 bhp maximum power output at 9,000 rpm and a maximum torque of 35 Nm at 7,000 rpm. There are 6 gears, and mileage rating is 25 kmpl. Price – Rs. 2,20,561.
5. Hyosung GT 250R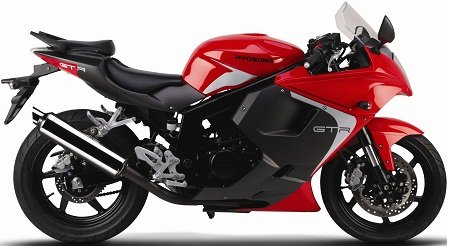 It's a motorbike with the potential of a grand tourer, and a sports bike. Engine displacement on Hyosung GT 250R is 249 cc with 28 bhp maximum power and 22 Nm maximum torque. There are 5 gears on this motorbike for better pickup. Fuel tank capacity is 17 liters and overall curb weight 188 kg. Price – Rs. 302,000.
4. Honda CBR 250R
The outlook truly portrays a sport bike, also comes at a very reasonable price. 167 kg curb weight is still lightweight for a bike like this. 249 cc is the engine displacement with 26.15 bhp engine output at 8,500 rpm and 22.90 Nm maximum torque at 7,000 rpm. There are 6 gears, and this motorbike offers 29 kmpl mileage. Price – Rs. 169,317.
3. Royal Enfield Continental GT (Café Racer)
The seats are especially made in such orientation that highway rides will never be painful, and 535 cc engine with 29.10 bhp engine and 44 Nm torque will certainly be able to pull it off in style. The number of gears is 5, and it offers 26 kmpl mileage. Price – Rs. 195,669.
2. Suzuki Inazuma 250
With a fierce outlook, accented edges and cutting edge commuting technologies, the Suzuki Inazuma 250 was literally introduced in the Indian streets to take over the scenario. This motorbike is a commuter with greater engine pick up at 250 cc engine displacement, with a 6 speed constant mesh manual gearbox. Suzuki Inazuma 250 holds 13.3 liters of fuel. Price – Rs. 216,000.
1. KTM Duke 390
With a crazy high power rating of 44 bhp at 9,500 rpm and 35 Nm maximum torque at 7,250 rpm, the massive 373 cc engine offers great pulling power in all sorts of terrain. From city to highway, KTM Duke 390 can run everywhere. The fuel tank takes 11 liters of fuel at most, while offering 25 kmpl mileage. The bike weighs 139 kgs. Price – Rs. 210,780.
Conclusion
These bikes are available for a great service warranty deal and covers repairs as well, speak to the respective ex-showroom for more details.