Timeless beauty is not just about physical appearance but also about timeless elegance that transcends time. Women's watches have always been a symbol of style and sophistication. From classic and minimalist designs to bold and extravagant ones, women's watches have evolved over time, reflecting the changing tastes and preferences of women.
If you are new to the gorgeous world of watches for women, we are here to help you get started by listing out some of the most iconic watches for women that have stood the test the time and continue to be some of the most popular pieces for women.
Sonata Essentials Grey Dial Leather Strap Watches for Women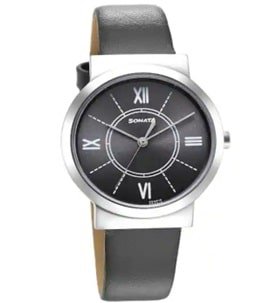 Leather straps watches for women are indeed a timeless design element that can elevate any watch design. There is just something about the timeless charm of leather straps which makes them beloved among fashion-conscious women. This classic grey dial leather strap watch for women is an essential style accessory for women. This kind of versatile watch can be styled in multiple ways to bring the best out of your outfit.
Watches for women, such as this one, is perfect for those who value both style and function. The classic round case shape and elegant grey dial make it a versatile accessory that can be dressed up or down. The durable metal construction ensures that this watch will last for years to come, making it a smart investment for any wardrobe.
Sonata Play Blue Dial Watches for Women
Another timeless icon in the world of watches is this steel strap blue dial watch from Sonata. Stainless steel straps are perfect for those who are not a big fan of the old-school leather strap and want to add a modern touch to their ensemble. Moreover, the vibrant blue dial adds a pop of colour that brings life to every outfit. Worried about your outfit looking monotonous? Well, there is no need to go searching for the perfect accessory, this vibrant blue watch is perfect for you!
Sonata Play Rose Gold Dial Watches for Women
The next watch on this list is an elegant all-gold stainless steel strap watch from Sonata. This watch is another essential piece of accessory that every woman should have in their wardrobe.
What makes this watch such an iconic piece is its monotone look. This piece goes perfectly with a wide range of outfits and occasions. So, even if you're going for a traditional outfit or a casual Western ensemble, this timeless accessory can help you bring together every element of your outfit. Lastly, the water-resistant feature adds to its versatility, making it a practical accessory for any occasion.
Sonata Play Black Dial Watches for Women
The Sonata Play Black Dial Quartz Analog Watch for Women is not just an accessory, it's a conversation starter. Its unique combination of colours and sleek design makes it a standout piece that's sure to draw compliments. Don't settle for an ordinary watch when you can have one that's truly exceptional. What sets this watch apart from others is the unique combination of a black dial colour and a blue plastic strap. The contrast of the two colours creates a striking visual effect that's sure to turn heads. The strap itself is not only stylish but also comfortable to wear. The 3 piece sliding clasp ensures a secure fit on any wrist.
Conclusion
The world of watches for women is a vast and varied one, with countless options available for those in search of the perfect timepiece. However, there are a select few watches that have truly achieved iconic status – watches that have become synonymous with timeless beauty, elegance, and sophistication. These watches, including the ones we highlighted above, have stood the test of time, and continue to inspire and delight watch enthusiasts around the world.
At the end of the day, truly iconic watches for women are more than just a timepiece – they're a symbol of history, craftsmanship, and timeless style. Whether you're a dedicated watch collector or simply in search of a beautiful accessory to wear on your wrist, you should always shop from reliable watch companies like Titan and Sonata watches, their quality remains unmatched.