Kamal Hassan is recognized as one of the most talented and versatile actors in the South Indian film industry, who comes only after Rajnikanth in terms of fan following and popularity. He has also worked in some Bollywood films, and achieved phenomenal success there too.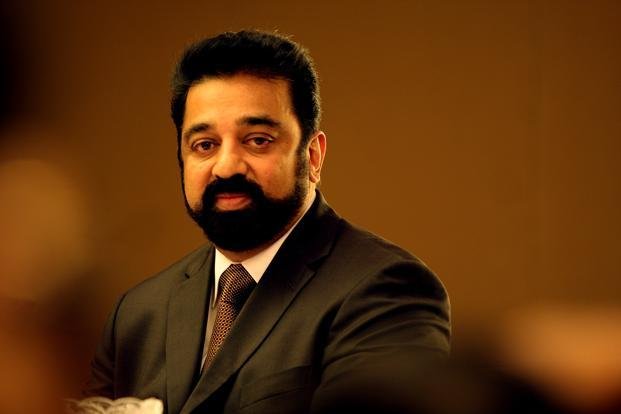 Net Worth: $ 100 million
Income Sources: Kamal Hassan is one of the highest paid actors in the South Indian film industry. He is a multi talented artist, who has also tried his hands in film production, direction, playback singing, screen writing and choreography
Born: 7th November, 1954 (65 years old)
Marital Status: Kamal Hassan has been married twice, first to Vani Ganapathy and later to Sarika, but he separated from both of them. Currently, he is living with actress Gouthami Tadimalla since 2005.
Height/Weight: 5 feet 5 inches, 75 kg
Personal Background
Kamal Hassan was born in Tamil Nadu and his father was a criminal lawyer, who wanted him to study but he had other interests, which took him towards a career in acting. He has amassed a huge wealth from his career and has also ventured into film production and direction. Despite his phenomenal success in film career, Kamal Hassan has never been successful in his personal relationships. He separated from his first wife of 10 years, Vani Ganapathy due to his relationship with Sarika, from whom he has two daughters, Shruti Hassan and Akshara Hassan, both of them making a film career. He had a live in relationship with Sarika and married her only after the birth of their second daughter in 1988. But the couple split up in 2002, reportedly due to his relations with co actress, Simran Bagga. Kamal Hassan is recognized for his humanitarian efforts in various fields, such as awareness against HIV-AIDS and working for orphaned and cancer stricken children.
Career Graph
Kamal Hassan started young in the industry, making his debut as a child artist in 1960 and has completed 50 glorious years in Indian cinema in 2010. He made his debut as a lead actor in 1975 with a movie called "Apoorva Raagangal". Later, he delivered hits after hits, with films like "Moondram Pirai", "Nayagan", 'Indian", "Dasavathaaram", "Hey Ram" and "Vishwaroopam". He has not only emerged as one of the best actors in South Indian cinema, but also made a big name in the Hindi film industry too. Till date, he has been honored with 4 National Awards and 19 Filmfare Awards, in addition to the prestigious Padma Shree in 1990 and Padma Bhushan in 2014. He owns a production house called Rajkamal International, which has delivered a number of hits.
House and Cars
Kamal Hassan owned two luxurious bungalows, but had to sell the first one and mortgage the second one to cover the losses he incurred in making his films. He owned an amazing fleet of luxurious cars including Chevrolet Camaro Convertible which he added in his fleet in 2013, but had to sell many of them to repay the loans of his production house.