Although it might seem foreign to a lot of people, the way pet lovers treat their pets is different. People with pets firmly believe that pets are family, and they certainly treat them like one. The way pets like cats and dogs have become an important part of homes is heartwarming. Pet owners take a lot of responsibilities for their pets.
This includes their health, hygiene and happiness, and the rise in pet spas and pet cab services in Bangalore prove the same. When one sees their pet as a family, it is difficult for them to be excluded from anything, and this includes traveling.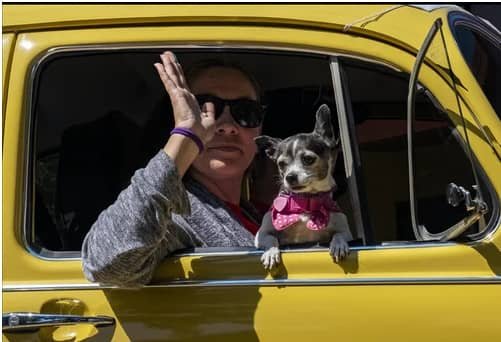 There are a lot of pet boarding centers that will take care of pets when the families are away, but yet it is heartbreaking to leave a pet behind.  Traveling with pets is becoming more common and is a great resort to avoid separation anxiety.
If you are one of the crowd that feels your pets belong wherever you are and would want to travel with your pet, there are certain things you must know.
Below Are 5 Things You Must Know if You Are Traveling with Your Pets in India
Plan Your Commute
Before planning on the mode of transport and accommodation, it is important to arrange the commute to the places. A lot of cab services do not allow pets in their vehicles due to safety and hygiene purposes. This becomes a hassle, especially when you are traveling with your pets. Surf on the internet to find the cab services that allow pets. Searching for pet cab services in Bangalore gives you a list of options to choose from.
Traveling with Pets on Train
Indian railways have charted out the rules and regulation to travel with your pet. One must pay an additional ticket fare of Rs.30 for the pet. First-class compartments will entail Rs. 10 per dog, and this is a prepaid charge. However, pets are not allowed in AC Sleeper Coaches, AC chair car coaches, sleeper class and second class coaches.
The dog must be provided with collars and chains also. The owner must make arrangements for food and water for the pet throughout the journey. Make sure that your pet is engaged throughout the journey and is not a nuisance to other fellow passengers.
Traveling with Pets on the Flight
If you are planning on taking your pet on a flight, make sure you pick an airline that is pet friendly. There are a couple of procedures you must follow to board your pet on a flight. An overall medical clearance and a certification that says your pet is free from rabies are essential. Additionally, you need clearance from the flight in-charge. Ensure your pet is well hydrated before the flight journey and is crate trained to avoid anxiety in pets. Large-sized pets will be carried in the cargo, and small-sized pets can accompany their owner. The seats will be designated by the crew, usually the last seat. The dog must be in a crate and should be leashed.
Check with the Accommodation
Another thing you must plan is the accommodation for you and your pet. You can check with the hotel if they allow pets. Few hotels have a separate area for boarding dogs on the premises. This way, you can check on your pets often. You can opt-in for homestays that allow pets on the premises to have a more casual vacation with your pet.
Take Care of Your Pet
Traveling with a pet can be challenging for multiple reasons. Especially if it is the first time that your pet is traveling, make sure you prepare your pet for it beforehand. If you are traveling by car, take your pet on short car rides to make them accustomed to it. Similarly, if your pet is going to be in a crate, train your pet to stay calm in a crate. This will help in avoiding exhaustion and anxiety while traveling. Ensure your pet is in good shape and is well hydrated throughout the trip, and take breaks for your pet to attend nature's call.
Be prepared for emergencies. Carry necessary medications if your dog has any condition. Carry treats and toys along with you to calm your pet. Do be well versed with rules. This will come in handy to talk to the locals in case they create an issue because of your pet. Make sure you are well prepared for the journey and ensure both you and your pet have loads of fun.