Shikhar Dhawan is a famous cricketer from Delhi.  His cricketing ability is not the only thing that makes him popular, it is his wife too Ayesha Mukherjee, as well.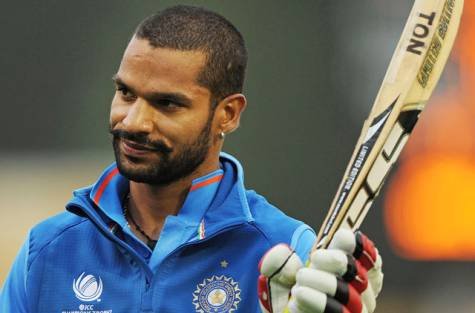 Net Worth: 11 Million Dollars. However, we have taken it from different sources and we cannot confirm the same.
Date of Birth: 5th December, 1985
Age: 33 Years
Playing Role: Opening Batsman
Batting Style: Left-hand bat
Early Life: Shikar Dhawan was born in Delhi to Sunaina and Mahendra Pal Dhawan. He completed his schooling from St Mark's Senior Secondary Public School in Paschim Vihar. Shikar Dhawan started his training at the age of 12 from Sonnet Club. His coach was a famous trainer Tarak Sinha who also trained 12 international cricketers.
Personal Background
Shikar is married to Ayesha Mukherjee and is 10 years older than him. His wife is Anglo-Indian whose mother is Bengali and Father of an English descent. She was earlier married to an Australian Businessman and got divorced. Ayesha was settled in Australia and is a kick boxer. Harbhajan Singh was the mutual friend of Shikar and Ayesha. Ayesha has two kids from her first marriage. Ayesha and Dhawan have a baby together in 2014 named as Zoravar Dhawan.
Marrital Status: Married
Career
Dhawan's first cricket career started when he represented Delhi with his team, under 16 age group in 1999 Merchant Trophy.He has a top score of 199. His impressive performances were for Delhi under-16s and played three times averaging 85. Shikar stunned all observers in Australia when made his debutant as fastest test century in Mohali 2013.In August 2013, he played for India A on its tour with Africa. He recorded the second-highest List A innings of all time by scoring 248 runs off 150 balls against South Africa.On 25th February 2018, Shikar Dhawan was named vice-captain of India for the T20 Tri-series in Sri Lanka.In Indian Premier league 2015, he scored 259 runs in 14 matches.He scored 501 runs in 17 matches when he was playing for Sunrisers in 2016. He was bought for 5.2 crores in auction for IPL by Sunrisers team in 2018. Dhawan also has endorsements for Canara Bank, Rodeo Drive, Big Bazaar, RK Global and MRF.
Shikar also received many awards such as Most Runs from Indian Player in ICC World Cup 2015, Most Runs in India Tour of South Africa 2018 in T20I from Indian player, First Indian to score a century before lunch of first day in a Test match.