Ravish Kumar doesn't need any introduction as he is a very popular Indian TV anchor. He has hosted many shows on various news channels and he is respected a lot by his Indian as well as the International audience.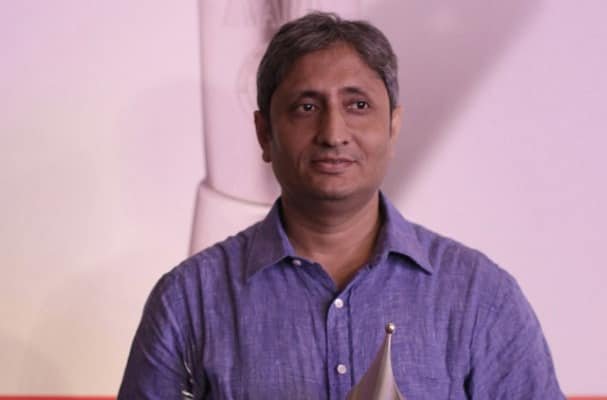 Net Worth
The net worth of Ravish Kumar is not known.
Income Source
The main source of income for Ravish Kumar is the fee that he receives for anchoring the various shows on the TV network.
Real Name
The real name of this successful journalist is Ravish Kumar Pandey.
Date of Birth: 5th December 1974
Age: 44 years
Height/Weight
Ravish Kumar has a tall height and he is 6 feet tall. In addition to this, he weighs about 74 Kgs.
Marital Status
Ravish Kumar is presently married to Nayana Dasgupta
Personal Background
Talking about the personal background of Ravish Kumar, it is known that he was born in Motihari in Bihar. He completed his schooling from Loyola High School in Patna and he later went to Deshbandhu College in the prestigious Delhi University. After completing his graduation, he enrolled in Indian Institute of Mass Communication in New Delhi and he received his Post graduate diploma in Journalism from this college. The name of his parents is not known but he also has a brother and the name of his brother is Brijesh Kumar Pandey. Brijesh is a politician and he is a part of Congress. Talking about his personal life, it is known that he is married to Nayana Dasgupta and his wife is a teacher in Lady Sri Ram College. His wife teaches history to the students in this college. Apart from this, the couple also has a daughter.
Career
It is known that Ravish started his career soon after completing his diploma in mass communication. He was able to acquire all the necessary skills while pursuing a diploma. He later started working with NDTV India and he hosted shows like Ravish Ki Report, Prime Time and Hum Log with NDTV. All these shows became really popular because of his unique style of journalism. It is also known that Ravish Kumar wrote many books and some of the books he wrote include Ravishpanti, Ishq Mein Shahar Hona, and Dekhate Rahiye. He had been in limelight because of his successful career and he won many awards because of the same. As per the information available, Ravish was honored with Ganesh Shankar Vidyarthi Award in 2010. The award was presented to him by the President of India and he received this award for his Hindi journalism and Creative Literature.
It is also known that he received Ramnath Goenka Excellence in Journalism Award and one of the biggest honor for him was the moment when he was listed in 100 most influential Indians in 2016. The list was published by The Indian Express. Apart from these, he received several other notable awards and he is surely giving his 100% to journalism.
Properties and Cars
The details about Ravish Kumar's cars and properties are not listed on the web.