Since their evolution, gardens have captured the substance of classic literature, creative arts and big screen romance. Correspondingly, in real life too, a garden is a place to brush off the dust from your faces that has been deposited by the routinely tasks. While a house with a garden is an earthly heaven, even if you don't have one in your sweet home, take time to tour some public ones. In India, there're a lot of them, almost in every part of the country.
Of them, 15 of the most breathtakingly beautiful gardens are mentioned below. Get ready for the breath of fresh air and the fragrance of nature.
15. Yadavindra Gardens, Pinjore
Ever attended Pinjore's Mango Mela? The fruity festive atmosphere takes place in Yadavindra Gardens, also known as Mughal Gardens of Pinjore. Located 22 kilometres away from Chandigarh on the Himalaya foothills, this garden is built in seven terraces. Each terrace opens into a palace. You'll find a beautiful range of palaces including Jal Mahal, Hawa Mahal, Shish Mahal and Rang Mahal.
14. Chashme Shahi, Srinagar
Overlooking the Kashmir's Jewel Dal Lake, Chashme Shahi garden was built nearly 400 years ago as a gift to Prince Dara Shikoh by his father Mughal Emperor Shah Jahan. With influences of Persian architecture, the garden features a hut at the entrance that also signifies the onset of spring.
13. Garden of Five Senses, Delhi
With pools swarming with water lilies, bell trees, elephant sculptures and bamboo courtyards, the 14-year old garden is surely set to lure all your five senses. Spread across 20 acres in Saket's Saidul Ajaib Village, the garden was built by a Delhi-based architect.
12. Chaubattia Gardens, Ranikhet
Famous as Chaubatia's Apple Garden, the garden is situated near Almora district of Uttarakhand. Almost a paradise of fruit orchids, the garden is a perfect weekend getaway. And when you return, remember to bring their special souvenir; apples, peaches, plums, apricots, fruit juices and whatever kicks your taste buds.
11. Hanging Gardens, Mumbai
Well, they are not actually hanging but sort of tucked over the Malabar Hill facing Arabian Sea. Capture cute shots with the carved greenly animals or visit the popular boot-shaped boot house, the time seems to run when you're here.
10. Government Botanical Gardens, Ooty
Inaugurated 170 years earlier in Udhagamandalam, these botanical gardens were ideated by the Marquis of Tweedale. The garden also participates in the annual Flower Show competing with 200 other gardens from the surrounding area.
9. Nishat Bagh, Srinagar
One of the three Mughal gardens in Srinagar, Nishat Bagh symbolizes the 'Garden of Bliss'. Glassy waters reflecting the majestic Zabarwan mountain range and twelve terraces depicting twelve zodiac signs will truly make your moments spent there the moments of your bliss!
8. Mehtab Bagh, Agra
While not in a hill station, Agra is still regarded as one of the best honeymoon destinations in India. And so does this fascinating garden in Agra. Regarded as a moonlit pleasure garden, Mehtab Bagh was built in 1652 in a charbagh architectural style. Though the garden remains open year round, avoid visiting monsoon as the grassy grounds and plaster walkways tend to become soggy with water.
7. Nek Chand Rock Garden, Chandigarh
Some time or the other, you must have thought how to recycle the waste materials in your house. However, a government official Nek Chand started using the waste to secretly build a garden, which is famously known as the Rock Garden today. It is made with broken bangles, paper, ceramics, bottles, tiles and broken pipes. Enjoy enthralling crafty views, stroll round the rock dolls garden or stand near the revitalizing waterfall; it has got it all that you might think of!
6. Indira Gandhi Memorial Tulip Garden, Srinagar
If you are a florist or simply a lover of flora, this destination might add to your favorites list once you visit it. Situated at the foothills of Zabarwan mountains, this is the largest tulip garden in entire Asia spanning 30 hectares of area. However, don't think you'll find only the tulips here. The garden also hosts exotic varieties of daffodils, hyacinths and ranunculus.
5. Brindavan Gardens, Mysore
Overhearing the waves roaring in River Kaveri, Brindavan Gardens nestle in the Mandya District of Karnataka. During the day, you will encounter vast meadows of horticultural farms, gazebos and fruit orchids. However, if you plan to visit after sunset, don't miss out the musical fountain show. It's spectacular beyond the limit!
4. Sim Park, Tamil Nadu
One of the most visited tourist places in the country, the cool garden place lives in a settlement 1780 metres above sea level in Coonoor. Owing to the high altitude, you might also experience temperature drops to as less than 5 degree Celsius during winters. Still and all, it's perfectly mowed lawns dotted with exotic ornamentation trees makes it a must visit at least once in a lifetime.
3. Lodhi Gardens, Delhi
Apart from being a city park for morning walks and a getaway surrounding for couples, Lodhi Gardens also serve as a great picnic spot for families. Developed by Sikander Lodhi, the grounds were created when his father Sultan Ibrahim Lodhi was defeated in the First Battle of Panipat by Mughal Emperor Babur.
2. Lal Bagh, Bengaluru
The famous Red Garden of Bengaluru was started in the hands of Thigala community ordered by the ruler of Mysore Hyder Ali. However, later on it was passed onto Tipu Sultan who witnessed the commencement of the development. Along with its famous glass house, the garden houses a huge variety of fauna and wildlife. Some of the species commonly found in the garden include parakeets, peacock, blackbuck, hens, mynah and deer.
1. Shalimar Bagh, Srinagar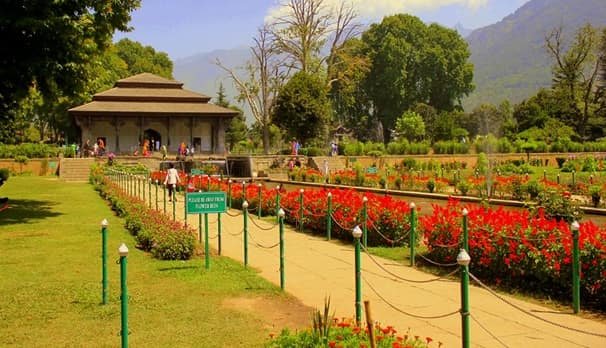 Being the largest of Mughal Gardens not just in Srinagar but in the country, it goes without saying that Shalimar Bagh is not to be missed, especially if you are in India currently. Featuring a backdrop of Dal Lake, a ruined marble cottage, fountain pools and tree-dotted terraces, the Bagh will attract your attention the moment you cross the entry gateway. If you are married, take a tour to this magnificent Kashmiri garden with your better half. The blissful garden was built by Mughal Emperor Jahangir in order to please his queen Noor Jahan and it might do the thing for you as well!
Summary
Each of these gardens offer not just a set of splendid views but also moments of serenity that take you away from the hush and rush of the rumbling city, be it for a while. So, wait no more, just pack your bags and give them a go one by one! Don't forget to share with us which one of them made it to your all-time-favorites list.