India ranks at number 1 slot in the world's highest Banana producing country. Banana which is an edible fruit is majorly grown in sub-tropical and warm climatic conditions. Not only they are devoured as fruits but they can also be used for cooking. This fruit is available throughout the year and is loaded with many health benefits. They are loaded with healthy nutrients and are extremely beneficial for hair, skin and eyes. Other advantages of bananas are that they help in promoting weight loss, it is extremely beneficial for expectant mothers, and it boosts the stamina and increases the energy levels and also keeps the bones strong.
It is majorly grown in areas which have subtropical kind of climate. Apart from this the soil should be alluvial so that it doesn't retain water though it can be worked out if terrace farming is an option available. Various varieties grown in India are Dwarf Cavendish, Poovan, Grandnaine, Ardhapuri, Basarai, Rasthali, Karthali and Karpurvalli.
So since India is the largest producer of Banana, let's find out top 10 states which contribute to it:
10. Orissa – 521.31 metric tonnes
At number 10 slot, we have Orissa. This state provides for helpful farming and cultivation conditions as the soil is fertile and has a good drainage. Producing about 521 Metric tonnes of fruit, Odia people not only use it as a fruit but they also use it in curries and stew. Dalma and Kadali Majai Rai are the two famous cuisines which are made from Bananas. Also banana leaf is used to serve food in traditional settings.
9. Assam – 837.021 metric tonnes
With the production of about 837 Metric tonnes, Assam ranks at number 9. Apart from Banana, papaya, Sugarcane, Sweet potato and jute is also grown. Banana flower is cooked in vegetables. This region is highly productive but the production has taken a big hit in the past 5-7 years due to various issues like floods etc. Assam also exports bananas to the neighboring countries such as Nepal, Bhutan and Bangladesh.
8. West Bengal – 1077.8 metric tonnes
West Bengal ranks at number 8 in the highest banana producing state of India with the production of over 1077 metric tonnes. This state has a variety of vegetables and fruits to offer and Banana being one of them. Ghonto is a cuisine which is generally made from Banana flower. For another dishes named as Bhapa, Paturi and Pora, banana leaf is used to wrap the fish and vegetables and then steamed or roasted. Many Bengali families have the tradition of eating food on the banana leaf.
7. Madhya Pradesh – 1701 metric tonnes
The central state of India, Madhya Pradesh produces about 1701 metric tonnes of Bananas. Ranked at number 7, MP also is known for the production of honey. The northern part of Madhya Pradesh has the deposits of alluvial soil which makes it easy for banana trees to grow.
6. Bihar – 1702.412 metric tonnes
At number 6, we have Bihar which is one of the major producers of Banana and Mango in India. Hajipur city of Vaishali district is known for cultivating and producing bananas. The plain terrain of this place makes it a perfect place for the cultivation of Banana. You can witness amazing lush green plantations of Banana as soon as you cross the Mahatma Gandhi Bridge.
5. Karnataka – 2529.6 metric tonnes
With the production of over 2529 metric tonnes, Karnataka ranks at number 5 in the top 10 Banana producing states of India. Nanjangud banana is grown in the area surrounding the Chamrajanagar and Mysore district of Karnataka. It is natively known as Nanjangud rasabalehannu. This variety is primarily known for its unique aroma and flavor due to the black alluvial clay saline soil in and around this area. The climate of this area is dry and humid which is noted as a favorable condition for the growth. Dishes like Kesaribhath and Sheekaraniare made from Bananas. Banana chips and Banana buns, Baaley Kai bajji are eaten as snacks.
4. Andhra Pradesh – 3242.797 metric tonnes
Andhra Pradesh ranks at number 4 with the production of 3242 metric tonnes of Banana production of the country. Ravulapalem in the East Godavari district of the state of Andhra Pradesh is known for its huge Banana Yards. These are the biggest ones in Asia. This place is rich in alluvial soil and its proximity to the sea makes the climatic condition also favorable for the growth and cultivation of Banana.
3. Maharashtra – 3600 metric tonnes
With the production of 3600 metric tonnes, we have Maharashtra at number 3 slot. Due to the huge area of this state, many fruits are produced primarily bananas and mangoes. Jalgaon district in Khandesh region of Maharashtra is known as the Banana city as it contributes to almost half of the Banana production of the state. Approximately 410 kilometers away from Mumbai, the city of dreams, Jalgaon produces almost 2.5 lakh truckloads of Banana. Surely fascinating that it.
2. Gujarat – 4523.49 metric tonnes
Ranking at number 2, with the production of 4523 metric tonnes of Banana, we have Gujarat. The agriculture of Gujarat is primarily dependent on Cotton, wheat and fruits. Gujarat provides a hospitable environment for the growth of Banana production. Located on the western side of India, this state has seen a considerable amount of growth from the agriculture sector. Diversified plantations and crops and more importantly climatic diversity is what makes Gujarat one of the best cultivator of India.
1. Tamil Nadu – 5136.2 metric tonnes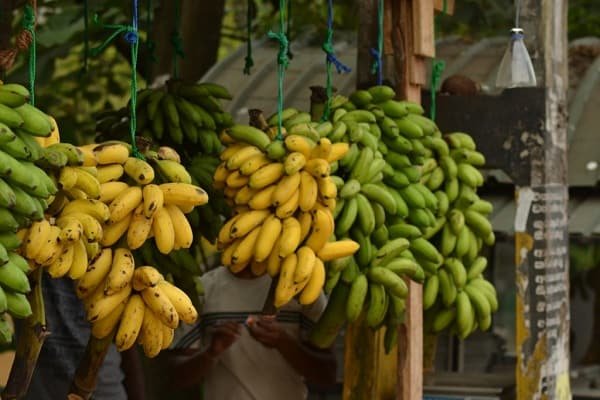 At number one slot, we have Tamil Nadu, with the production of 5136 metric tonnes. Not only is this fruit used for consumption, it is also used for serving a full course meal on its leaf and guests sit on the coir mat made from the banana leafs and stems. The used banana leaf is then washed and used as the food for cows. Tamilians believe that eating the food on a banana leaf adds a different flavor to the food. Banana leaf is also eaten like betel leaf as it aids digestion. And Banana chips of south India is something which everyone must have tasted in their lives. So to say Tamil Nadu is making the optimum utilization of Bananas.
Conclusion
Banana is a versatile fruit and comes with a lot of health benefits. Not only that, the leaves are used as plate to serve food in many parts of the country. These leaves are also helpful in making the roofs and fiber as well. India is the largest producer of Bananas as climatic and soil conditions are right for the cultivation of Banana.