Jaya Bachchan is a leading Bollywood actress, who is also popular because she is the wife of the biggest super star of the industry, Amitabh Bachchan. But this, in no way means that she is less in talent in any way.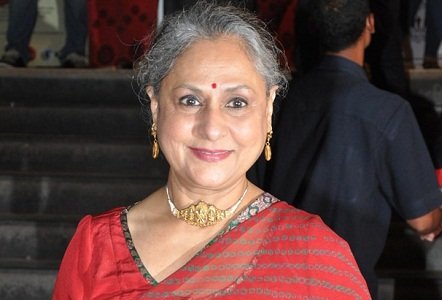 Net Worth: Rs 91 crore
Income Sources: Besides being a popular Bollywood actress since the past four decades, Jaya Bachchan is now a member of the Rajya Sabha from Uttar Pradesh.
Born: 9th April, 1948 (66 years old)
Height: 5 feet 2 inches
Marital Status: Jaya Bachchan is married to the Big B since 1973. She has two children, Abhishek Bachchan and Shweta Nanda. The former Miss World and top Bollywood actress, Aishwarya Rai Bachchan is her daughter in law.
Personal Background
Jaya Bachchan was born as Jaya Bhaduri in Jabalpur, Madhya Pradesh and she hails from a Bengali family. Her father, Taroon Kumar Bahduri was an accomplished writer and stage artist, and she got acting talent in legacy from him. As a student, Jaya had numerous achievements to her name, including being declared as the Best All Indian NCC Cadet at the Republic Day Parade of 1966. After completing her education, she joined the renowned FTII in Pune and passed out her acting course with a gold medal. Jaya had a successful career in acting and went on to marry the most famous actor in the history of Indian cinema, Amitabh Bachchan. After a career as a celebrated actress, Jaya became equally acclaimed as a politician too. She joined the Samajwadi Party and was elected as a Member of Parliament in the Rajya Sabha in 2004, followed by another term in the office in 2012. Besides being appreciated for her brilliant performances and given a number of awards for them, this wonderful actress has also been conferred the prestigious Padma Shri award in 1992.
Career Graph
Jaya Bachchan started her career as a child artist with a couple of Bengali movies, but her Hindi film debut came with the Hrishikesh Mukherjee film called "Guddi", which released in 1971. Jaya was widely acclaimed for playing the role of a teenaged school girl obsessed with a popular film star, to perfection. She established herself in the industry by delivering excellent performances in "Jawani Deewani", "Piya Ka Ghar", "Parichay", "Anamika", "Koshish" and "Bawarchi". Jaya met Amitabh on the sets of "Bansi Birju" and the couple got married after "Zanjeer". They worked together in a number of films after that, including "Abhimaan", "Chupke Chupke" and "Sholay". Jaya retired from the industry after that, to give a good upbringing to her children, but made a comeback in 1981 with the Yash Raj venture "Silsila", in which she co starred with Amitabh Bachchan and Rekha, who were rumored to have a controversial relationship. Then she took an extended break of 18 years from Bollywood, after which she made an impressive comeback with films like "Hazaar Chaurasi ki Maa", "Kabhie Khushi Kabhie Gham" and "Kal Ho Na Ho". Besides being honored with the Filmfare Lifetime Achivement Award in 2007, Jaya has won three Filmfare Best Actress and the same number of Best Supporting Actress Awards till date. Jaya is reputed as a great actress, wife and mother in the industry.