Eurojackpot Lottery is a transnational lottery game played by millions of Europeans and around the world. It can be played both online as well as through physical retail stores. Players can win up to 90 million euros in the jackpot. It also provides fairly decent odds to win the jackpot as compared to similar lotto games for European countries such as SuperEnalotto or La Primitiva. It is formed by European countries who devised the rules and managed the funds available for play.
How to Play Eurojackpot
Eurojackpot lottery draws are made every Friday night at 9:00 pm in Helsinki. Finland. Some countries host live coverage of the draw, but videos are also available online immediately after the draw, like Youtube or from the countries' respective lotto websites. Sales of lotto Eurojackpot tickets close 90 minutes before a draw and would resume shortly after the draw has been concluded Thus, players should make sure that the tickets that they are buying are for the right draw date.
General Rules
Playing Eurojackpot is very simple and are easy to follow:
Players must choose five numbers between 1 to 50 (the main numbers) and 2 numbers (the Euronumbers) between 1 to 10. These numbers should not repeat for each set and can be in any order.
If these 7 numbers were selected during the draw, then you win the jackpot prize.
However, there are also a total of 11 other prize tiers so you would have other chances to win, albeit for a much lower prize amount.
In the case that multiple ticket holders got the same winning combination, then the jackpot prize will be shared equally among all the winners.
Generally, only those 18 years of age or above are allowed to enter the Eurojackpot lottery.
However, this can either be higher or lower depending on where you are playing from. For example, those playing the lottery from Portugal must be 21 and above, while those playing from the UK can already purchase their tickets at 16 years of age. Should you be found to be underage, you cannot claim a prize even if you have won.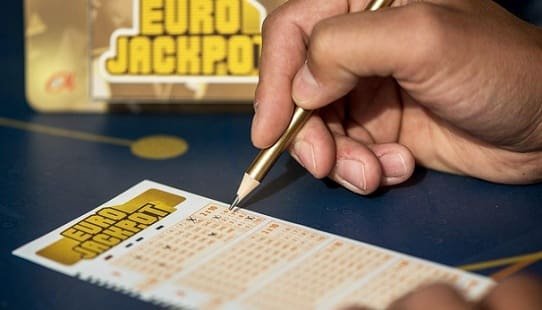 Where to buy a ticket?
The following were the participating countries for Eurojackpot as well as the year that they joined:
Denmark (joined 2011)
Estonia (joined 2011)
Finland (joined 2011)
Germany (joined 2011)
Italy (joined 2011)
Netherlands (joined 2011)
Slovenia (joined 2011)
Spain (joined 2012)
Croatia (joined 2012)
Iceland (joined 2012)
Latvia (joined 2012)
Lithuania (joined 2012)
Norway (joined 2012)
Sweden (joined 2012)
Czech Republic (joined 2014)
Hungary (joined 2014)
Poland (joined 2017)
Slovakia (joined 2017)
How to Play Eurojackpot from India
You can now purchase the Eurojackpot Lottery ticket online from different relevant sites. The most popular and trustful are TheLotter(Lottosmile) and Lottoland. Also, you will perceive that to play online is rapid and suitable.
Ticket prices can either be 2 or 5 euros depending on whether you are buying a ticket from a retailer or if you are playing online.
For online players such as those betting from sites like Multilotto, Lotto247, or PlayHugeLotters.
you would have to register and create an account before you can start to play.
This must also be funded so that you can start betting.
The latter method also allows players not from the participating countries to play the Eurojackpot lottery. Some also find playing online to be more convenient as there are no physical tickets to take care of, and there is also a facility that will automatically email you should your ticket win anything.
Playing Tips:
It is simple to play EuroJackpot, but there are certain helpful tips to consider while you get a ticket.  They are as below:
Play online
Playing with more that 1 ticket increases your chances to win
Use a quick-pick to increase the odds
Don't leave it too late
Don't delay claiming prizes
Check your numbers carefully
EuroJackpot Odds and Prizes
The below table gives all possible prize tiers, the odds of winning, and the percentage of the prize fund.
As can be seen from the chart above, the odds of winning a jackpot prize from the EuroJackpot lottery are much higher when compared to its counterparts. For example, EuroMillions only gives you a 0 00000072% chance of winning the jackpot prize, while with SuperEnalotto odds it is even lower at 0.000000161 %. Of course, it could be argued that payouts are much larger for the other two lotteries, but it really depends on whether you want bigger wins or more frequent ones.
How to Receive Winnings at Eurojackpot Lottery
Depending on how much you have won, players can claim their Eurojackpot lottery prizes in the following locations:
At the store where they bought the Eurojackpot lottery ticket
Any authorized Eurojackpot lottery retail store
From the bank or Eurojackpot lottery office of the country where you have bought the ticket.
Rules depend on where you have bought your ticket. Your undamaged and untampered ticket must also be presented in order to claim the prize, which can take up to two weeks to process depending on the amount involved as these may be brought to another country for closer inspection. Also, depending on the country, winning ticket holders have anywhere between 30 days to 3 years to claim their prize.
How to get Winnings online in India
For those who played Eurojackpot lottery online from India via sites like Lottosmile, Lottoland. or Lotto247, the prize may be credited directly to your account or Credit Card or via bank transfer.
Small prizes are enrolled to the balance on the site you played.
Big amounts of money are transferred in a way agreed and convenient to the winner.
Jackpots can be sent by Bank Transfer directly to India.
Take note that, in some cases, a valid ID must be presented before their prizes can be claimed.
Taxes on EuroJackpot Winnings
Players from India that play online don't have to pay taxes in Europe. However, if a ticket was purchased in one of the countries listed below, the taxes are deducted from the winnings. There are different tax schemes for prizes won via Eurojackpot lottery. The table below provides information on these.
Taxes are already taken out before Eurojackpot lottery prizes are given to the winners. Thus, you would no longer have to worry about paying or evading taxes. For foreigners who have bought Eurojackpot lottery tickets and won, their native countries may also tax their winnings upon arrival.
History of Eurojackpot
Eurojackpot lottery started in 2006 as a discussion of other European countries to compete with the popular EuroMillions game The formation of the rules for the Euromillions lottery was. however, formulated 5 years later, in 2011. in the city of Amsterdam. The first ticket for Eurojackpot lottery was sold last March 17, 2012 with the first draw occurring one week later. Meanwhile, the first jackpot prize was on May 11, 2012 where 1 winner won 19,534.864 euros.
Before October 10, 2014, the odds of winning the jackpot was 1:59,325,280. Rules for the Eurojackpot lottery were revised, making the odds of winning 1:95,344,200. Eurojackpot lottery also provides a guaranteed min jackpot of 10 million euros, while those who won the second prize can win anywhere from 250,000 to one million euros. On the other hand, those who match for the lowest level prize will get at least 5 euros per winning ticket.
It is also interesting to note that, up until 5 years ago, Eurojackpot lottery also had a roll down clause where if the jackpot prize was not won after 13 consecutive draws, then the jackpot prize would be given to those who have won the second highest prize, namely the 5 + 1 match. This, however, was changed as many players wanted the higher jackpot prize more.
The Difference between EuroJackpot and EuroMillions
There has been a lot of comparison between the Eurojackpot lottery and the older Euromillions lottery. However, there are a lot of differences between the two and that is excluding the number combinations at play – despite their many similarities.
Eurojackpot lottery tends to pay out more frequently, as their odds are higher as compared to the 1:139,838,160 odds of winning the jackpot at Euromillions.
Eurojackpot lottery is accessible to more people, with 300 million potential players, while Euromillions can only account for about two-thirds of that.
Eurojackpot lottery ticket is also cheaper than EuroMillions as it costs 2 euros to buy ticket, but can be more expensive if you play online. As a comparon, a Euromillions ticket is worth 2,50 euros per line, but additional payments for add-ons are also available.
Eurojackpot lottery is only drawn once a week while EuroMillions has a schedule of two draw in a week, specifically on Tuesdays and Fridays. Currently, Spain is the only country that participates in both Eurojackpot and Euromillions lotteries.
Eurojackpot lottery has a 90 million euro jackpot cap, which means that jackpot prizes will roll until it reaches that amount. On the other hand, EuroMillions has a 190 million euro jackpot cap and is distributed to the next level winners should the jackpot not be claimed after five consecutive draws.
This means that, while Eurojackpot lottery provides you with higher chances of winning the jackpot, the maximum that the prize can roll up is smaller than that of its counterpart.
Thousands of Eurojackpot players have become real millionares. Join lottery draws and get a chance to become a euro-millionaire too!