The term dessert, currently in vogue, is mainly a delicious sweet dish served at the end of a sumptuous meal. It could be a scoop of dark chocolate ice cream, a red velvet pastry, a pie, or anything that gratifies the sweet tooth in the foodies. But when it comes to India, sweets name are etched in everyone's minds and hearts. That is because it is not just the mandatory finale of a delectable meal, but also an irreplaceable offering to the gods and goddesses during festivals. Although the list of these traditional Indian sweets name goes on, given below are the names of a few of the most favourite ones:
Gulab Jamun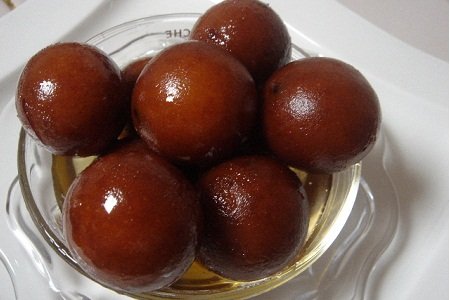 Be it a birthday celebration, a housewarming party, or a wedding, Gulab Jamuns are requisite members of the desert family without which the Indians cannot imagine any kind of happy occasion. This spongy dessert drenched in a tad-flavoured sugar syrup augments the beauty of a dessert platter manifold. It looks like a jamun, hence the sweets name Gulab Jamun.
Kaju Katli
If you are an admirer of dry fruits and do not mind filling your cheat days and tummy with a mouthful of sweet dishes, Kaju Katli should be your go-to traditional Indian dessert. It is made by kneading a dough out of cashew nuts, hence the derivation Kaju Katli, and cutting them into distinct shapes with a thin layer of silver leaf to give a majestic finish. Kaju Katli is a very popular dessert that families share with each other during celebrations like Diwali or any other Indian festival.
Gajar ka Halwa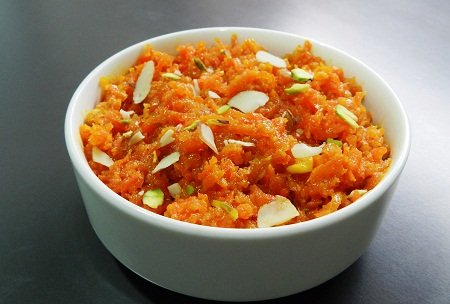 Making delicious dishes out of seasonal offerings by Mother Nature is a tradition followed in every Indian household. Gajar ka halwa, as the sweets name suggests a halwa dish made primarily with gajar, is one such mouth-watering sweet preparation that is immensely popular amongst the North Indian states. This dish is mainly cooked by grating fresh carrots, cooking them in thick milk and pure ghee followed by deft garnishing with cardamom powder and nuts.
Rasgulla
In West Bengal sweet name Rasgulla are as inseparable as day and night. You cannot imagine a traditional Bengali celebration without a plate of Rasgulla on the menu. Primarily prepared with Indian cottage cheese by shaping it into precise round balls and boiled in sugar syrup, having a Rasgulla melt in your mouth is a moment of utter bliss. These round balls dipped in sugar syrup are the reason behind the nomenclature Rasgulla.
Mishti Doi
Yoghurt is one of the most popular choices of dessert, especially for fitness freaks in India as well as raita lovers. But, when this yoghurt is given a Bengali touch on how to transform it into its sweetened version, the final reward is immeasurably addictive. One spoonful of Mishti Doi, as in yoghurt or doi that is mishti or sweet, can rob you of all your conviction to stick to your no-sugar diet, and once you dig into a bowl of Mishti Doi you cannot stop!
Kalakand 
The sweets name kalakand dessert has a massive fan following both in West Bengal as well as the North Indian states. This soft creamy milk cake takes a long time to be made, but it is a must-have in the Indian sweet platter that no one is ready to sacrifice!
Rasmalai
This sweet delicacy is known to have originated in East Bengal from where it has picked on popularity all over India. Rasmalai is one of the most preferred desserts during festivals or special occasions in India. It is prepared by making cottage cheese balls and soaking them in thick sweetened milk.
Jalebi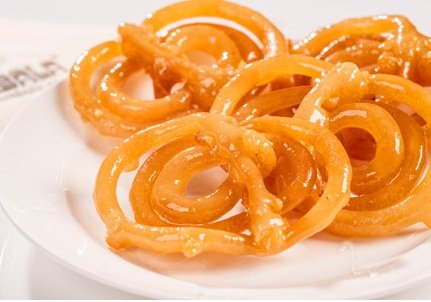 Have you ever been able to place the words 'beauty' and 'tasty' in the same sentence? Well, you can do that when you talk about this spiral crunchy delicacy drenched in sugar syrup. The whole process of making jalebi in itself is an art that can never tire you no matter how long you watch it being made. When the piping hot jalebis are placed in saffron-laced syrup the immediate change in colour is enough to make your tummy roar out of hunger. Jalebi is not just a traditional Indian sweets name but a favourite of all Indians.
Soan Papdi
Are you too choosy about your sugar consumption and still cannot let go of your sweet tooth? Well, Soan Papdi is one of the lightest sweets available in India which is not very sweet. What is more? If you need to be the host to some surprise visits by your relatives or guests, you would never have to run to the nearest sweetmeat store or bribe someone from your house to fetch some sweets for your guests when they have no time for such chores. That is because this particular sweet dish is available at all the departmental stores and your guests will also not be able to resist them.
Malpua 
Having originated in Bangladesh, The Indian sweets name Malpua got its first recognition in the Rig Veda around 5000 years ago! Unbelievable it might sound but Malpua has been around as a very significant part of the Indian dessert palette for a pretty long time. It is a classic pancake without eggs and dipped in sugar syrup. If you are a sweet lover with a remarkable fondness for fried sweets then Malpua can be one of your top 10 favourite desserts. Such is the popularity of Malpua that picturing Indian festivities like Holi is never complete without having a couple of Malpuas on your plate.
Rabdi
There have been many times you have heard some of your co-passengers on the train talk about the combination of Jalebi and Rabdi and wondered what taste it would make. Although this combination is popular in Madhya Pradesh, Rabdi in itself is a dessert that tastes heavenly. Made with sweetened and thickened milk boiled for several hours, the nutritious value of the milk is retained in this sweet without compromising the taste.
Desserts are loved by young and old alike in every part of the world, but when it comes to India, sweets name are something without which people cannot imagine their meals. Indian sweets have multipurpose applications, starting from welcoming the guests, offering as "Bhog" to the gods and goddesses during the festivals, to celebrating every little moment of joy. You could say, life in India is incomplete without its vast array of traditional sweets names.