When it comes to achieving quick makeup on the go, the tools you use are just as important as the products you apply. Investing in good makeup brushes and other face accessories can make a huge difference in the final result of your makeup application. Since we are talking about go-to makeup essentials, we need to make sure that we have accessories that will help us achieve the best in a short span of time.
Foundation Sponge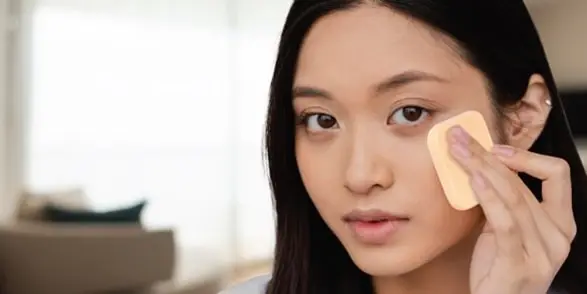 A foundation sponge is one of the most essential objects for achieving a smooth, even complexion anywhere and anytime. Make sure you have a foundation based on a light formula that blends in quickly and imparts a flawless look. It's important to choose a makeup sponge that works best for your skin type. For a swift application of foundation, Vega Foundation Sponge works wonders by blending the foundation real quick and with ease as its suitable for all skin types. It is best suitable for applying liquid cream, powder, and stick foundation both oil and water-based.
Buffer Brush
Right after getting done with your foundation, you would be needing a fluffy brush for keeping the makeup in place with a setting powder and achieving a matte finish. The best brush for a go-to mattifying look would be Vega Buffer Brush. A large, full circular brush used for lightweight application and blending of face powder or pigments. Used to create soft layers or add textures, this brush is the ideal tool for applying finishing powder. Its long, slender handle allows for controlled application. It can also be used to apply bronzer or blush for a subtle pigment.
Tweezer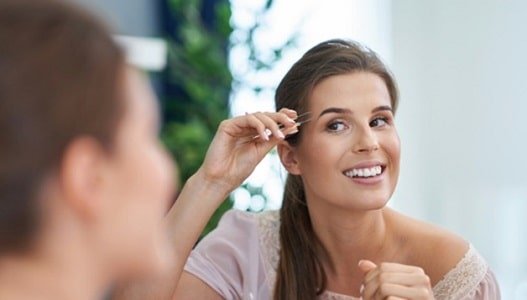 When it comes to eyebrows, some of us can't endure an irregular brow especially when few stubborn hairs stick out of its position. Of course, one cannot run to the salon at the last hour. It's best to always add a Vega Tweezer for such situations. This Vega Tweezer with Rubber Grip is made with stainless steel to ensure durability and prevents sliding during usage. This fine-quality tweezer is perfectly aligned to grab unwanted hair with ease and precision to comfortably groom your eyebrows anywhere and anytime.
Eyeshadow Brush
eye makeup is one of the important parts of your look, and you can't miss out on it even in a hurry, you should get aVega Eye Shadow Applicator. The eye applicator is ideal for applying color onto the lid, while the brush can be used to blend out edges and create a seamless transition between two colors. You can get hold of a small eye shadow palette that comes with a combo of basic colors that can be applied easily with the use of this eyeshadow brush.
Eyelash Curler
Finish your eye game with an eyelash curler can help to open up the eyes and make lashes appear longer and fuller. Use it before applying mascara for the best results. Vega Premium Eyelash Curler features comfortable rubber pad handles and a half-rounded curling pad with a smooth opening and closing action, making it easy to use when you need to get it done fast. The ergonomic design of the eyelash curler provides easy grip and precision curling.
Blush Brush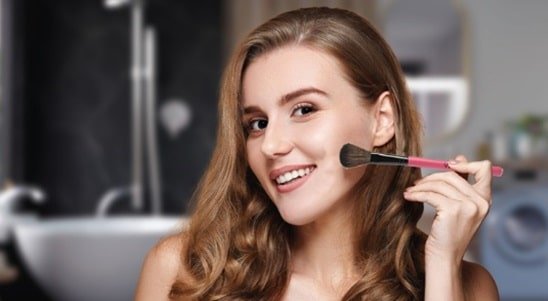 If you don't want to miss out on nice rosy cheeks no matter what the occasion is, you should definitely go for a blush brush that you can use for this purpose separately. The Blush Brush is ideal for the correct pick-up and blending of pigments. The round shape of the hair allows smooth and even application of blush and highlighter.
Lip Brush
At last, to get an even application of your favorite lipstick or lip gloss, get a Vega lip filler. Its helps in applying lip tint with precision and prevents smudging. It comes with a pointed tip for detailed outlining and is firm enough to control the amount of lipstick applied so that you don't overdo in hurry.
Opt for a makeup brush set
Instead of picking all makeup brushes separately, you can also go for purchasing an affordable makeup brush set or your convenience. The Vega Set of 5 brushes could be one of the best picks that you can carry in your handbag and use it when necessary for both makeup and touchup.  
In conclusion, investing in good quality and high-utility makeup brushes and other face accessories can make your on-the-go makeup application easier and better. By having the right tools on hand, you can achieve a flawless, professional-looking makeup look almost anywhere and for any given occasion.