10 Interesting Facts About Dargah Ajmer Sharif, Rajasthan
Ajmer is an amazing ancient pilgrimage located in Rajasthan, India. It is one of the holiest shrines for the Indian Muslims and found to have a lot of interesting facts inside it. Although it is a traditional Muslim pilgrimage, it grabs huge mass regardless of caste and culture. During the 7th century, king Raja Ajay Pal Chauhan founded this city. Mughals were more popular among various dynasties during the period. Ajmer city is well known for the tomb.
Despite there are tons of ancient forts available out, Ajmer is the home of the strongest forts in India, which is why many Muslim kingdoms were decided to conquer the city. It boasts a huge number of ancient forts, monuments and traditional temples around the city. There is a huge number of tourist attractions in Ajmer, especially, Dargah of Garib Nawaz. Moreover, the city boasts popular tourist destinations such as Adhani din Ka jhonpara, Taragarh Fort, Ana Sagar Lake, Nasiyan, Mayo college etc. while spiritual and religious tales of the place abound, here you can find out some interesting facts about Ajmer Sharif Dargah.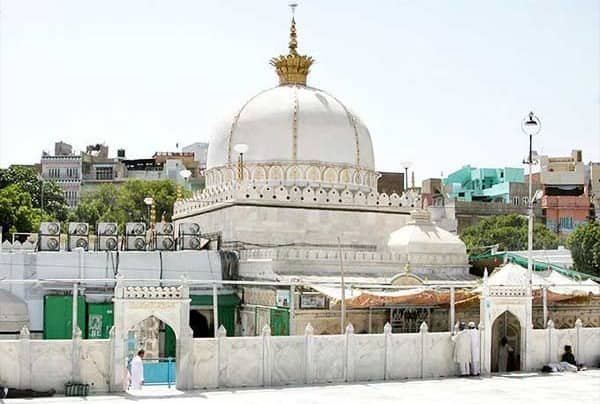 1. First Visit in 1332
Ajmer Sharif is also coined as Dargah Sharif, which is the most ancient and traditional shines in our country. Geographically situated in the heart of Ajmer, it is drawn by both Hindus and Muslims.
The Dargah Sharif of Hazrat Khwaja was first visited by the great sultan lord Muhammad Bin Tugluq in the year 1332.  This king is well known as "man of Ideas". He is one of the most striking sultans of Medival India.
2. Jahalra – Source of Water
The Ajmer Shariff encompasses Jahalra, which was found to be the Main source of water for agricultural and irrigational purposes during the period of Hazrat Khawaja Moinuddin Chishty. However, water from Jahalra is being used for some important rituals across the city.
3. Namaz
Being an ancient Muslims pilgrimage, they didn't stop doing namaz and traditional rituals. Every day, devotional singers contribute their part to Allah by singing devotional songs about Allah inside the Ajmer Sharif's hall.
4. Deghs
Since it is one of the ancient temples, it is no wonder that the shrine is filled with traditional monuments such as deghs, pots, etc.. The temple follows strict rituals and donations. They will use deghs for cooking Niaz, which is a delicious meal made of a mixture of ghee, sugar, rice, saffron, dry fruits etc.. This tasty meal is usually cooked at night and will be distributed to the people once morning prayer is done. The  degh is just about 10 feet and King Akbar presented this big Degh to Dargah. There is also a smaller degh available, which was presented to Dargah by Emperor Jahangir.
5. Quranic verses
The entire shrine is nourished with the 33 inscribed Quranic verses, which empathizes Allah and his 99 sacred names. The Quranic verses are the best example of artistic powers and a valuable sight for spiritually inclined pilgrims.
6. Dargah Rituals
Unlike other mosque, dargah Rituals are quite different here.  During the evening prayers, locals will place the candles inside lamps and then they recite Persian verses in the background. After finishing the recital, lamps are placed in the corner of the tomb. This way, the rituals happens every day.  This amazing Dargah Ritual is called as "Roshnee" or lighting ceremony.
7. Water career
It is believed that there is the water carrier called Nizam Sikka, which saved the life of Mughal Emperor Humayun's life once.  As a result, this honorable Mughal king awarded the right to rule the entire Mughal Empire for one day.
8. Jannati Darwaza
If you head to the west of Ajmer, you can see the Jannati Darwaza, which is a gorgeous gate made of silver metal. The most interesting fact is that the door will be opened four times a year. We can see it during the 6 days annual festival, which is hosted to commemorate a Sufi saint.
9. 6-Days Annual Festival
To commemorate the death anniversary of Moinuddin Chishti, who was a popular Sufi saint, Ajmer promotes the grand Annual festival, which will be celebrated continually for 6 days.  There is a hidden story behind this grand festival. It says that Moinuddin Chisthi was locked himself in a dark room and prayed for 6 days during his 114th age. After that, he left his mortal body. This is the reason why the city hosts 6 days Annual festival.
10. Akbar Mosque
The Dargah Sharif encompasses Akbar Mosque, which was built by the great emperor during the period. One of the interesting things is that this Mosque was founded as a token of his love, gratitude, and skill, which will remain in the thousands of hearts in the future. After the birth of his son, Jahangir, it was established. Over the time, the purpose of this Mosque has changed as now it is considered as the Quranic Educational Institution, which offers spiritual and religious related education to each and every people regardless of caste and culture.
There are a lot of places to visit the Ajmer as it is home to all the ancient monuments, scripts, traditional sculptures etc. But, a journey to the Ajmer is nothing without a visit to this traditional Dargah Sharif. The fort is easily accessible and can be reached by any kind of transportation. Further, you can reach it through airway as the nearest Airport is 130 km away from the fort and it connects the city to Jaipur, Jodhpur, Ahmadabad, Delhi, Agra, Mumbai etc. Being a busy city, it has all the way to connect to the road. More and more tourists are attracted to the city just because of the grace and bliss that the Dargah Sharif has. Not just the temple and monuments, you can enjoy tons of magical things you deserve.
There are a lot of interesting facts about Dargah Sharif as you can't find unless you visit the beautiful shrine of Ajmer City.