Wi-Fi is a modern technology that allows you to eliminate the need for wiring in order to connect all of the devices in your home. However, it is not a good fit if you're a tech-savvy person who wants top-notch connectivity and speed. The Wi-Fi connectivity range fades with distance, and the same happens with Ethernet cables, but it is so minimal that you can ignore it. And when it comes to buying an Ethernet cable, it's not like just grabbing a colourful one and you're good to go; it doesn't work that way.
There are some pretty important things like different categories, connector types, wiring arrangements, and all that stuff you should consider before making the final purchase. Otherwise, you'll be struggling with your home network connectivity and performance. Along with the list of the best Ethernet cables, we have also included an in-depth buying guide that goes over each of the aspects we mentioned earlier. This way you can feel independent and choose the best fit for your home internet connection that serves incredible performance and speed, so let's get going.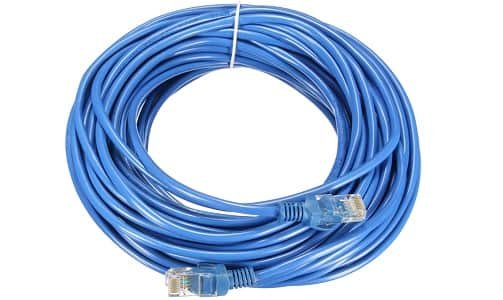 List of Best Ethernet Cables In India
How to Choose the Best Ethernet Cable 
Choosing an Ethernet cable depends upon various things, such as your needs, your connection speed, and some other aspects. Throughout this detailed buying guide, we will be taking a look at these factors and how you can look at various Ethernet cables and still pick the best one.
Check Your Connection
Before you even head to the market to purchase an Ethernet cable, it is good practice to check your connection speed first. This would be definitely the primary deciding factor when buying a new Ethernet cable, If you don't know how to do that, just google the term "Speed Test" and then you can go to any website and check your connection speed there. Recently, Google also added the speed testing option directly in the search results. You can find it at the very top when you google the term "Speed Test." Once the test is complete, note down the download and upload speeds. It'll help you make a better selection.
Different Categories
The one thing you can always notice is that whenever you look for Ethernet cables, there will be words like "Cat3, Cat 7a, Cat8", etc. The term "CAT" is a short form of "category," and here it means that the higher the category number, the better speed and performance you'll get. In the list given below, you can see how much speed and frequency you get with each category of Ethernet cable.
Cat 3 – 10Mbps (16MHz)
Cat 5 – 10 to 100Mbps (100MHz)
Cat 5e – 100 Mbps to 1Gbps (100MHz)
Cat 6 – 10Gbps up to 55 meters (250MHz)
Cat 6a – 10Gbps up to 55 meters (500MHz)
Cat 7 – 100Gbps up to 15 meters (600MHz)
Cat 7a  – 100Gbps up to 15 meters (1,000MHz)
Cat 8  – 40Gbps up to 30 meters (2,000MHz)
Connector Types
The most common port you'll find in an Ethernet cable is the 8P8C, which is an 8-pin connector. But there are certainly different types of 8P8C connections, let's talk about each of them one by one.
The RJ45 connector stands for Registered Jack 45, which is the most commonly used ethernet cable connector. There are two subtypes of this connector: the T568B is fairly common; whereas the T568A is rarely used. Almost every Ethernet category, from Cat 1 to Cat 6, as well as Cat 8, uses the RJ45 connector.
GG45 is a new connector for Cat 7, which stands for GigaGate45. But it was not that compatible with the RJ45, that's why the newer category Cat 8 switched to RJ45 again.
The EtherCON RJ45 connector was another version of the RJ45, but because of its inconsistent durability, manufacturers don't use it often.
Wiring Arrangements
Based on the wiring arrangements inside an Ethernet cable, there are four different types: Twisted Pair (TP), Unshielded Twisted Pair (UTP), Shielded Twisted Pair (STP or SSTP), and Foiled Twisted Pair (FTP or SFTP). The most commonly used one is Foiled Twisted Pair (FTP or SFTP) because it reduces the noise and provides better performance by boosting connectivity. We always recommend investing in new technology, such as FTP ethernet cables, because it is always worth spending on.