One of the mesmerising northeastern states of India, Arunachal Pradesh shares its border with Bhutan, Burma, and China. Widely known as the 'Land of Dawn-lit-Mountains', the state is gifted with a dazzling array of flora and fauna that attracts thousands of tourists worldwide. It is god-gifted with eye-catchy views & natural scenes that offer rejuvenation and relaxation. Arunachal Pradesh has everything, from wildlife sanctuaries to places of worship.
Depending on the geographic region, the dressing style they carry varies. Weaving is the primary source of livelihood, which they use in colourful attires. The offbeat and vibrant clothing styles with zig-zag lines and angular designs mostly belong to Mishmi, Aptami, and Adi tribes. Let's take a close look at the traditional dress of Arunachal Pradesh men and women.
1. Tangsa Tribe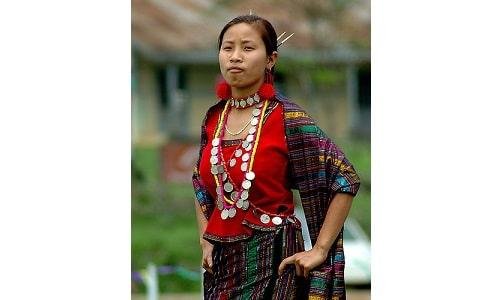 Traditional Dress of Men:
People belonging Tangsa tribe wear attires on similar lines to Burmese. Men of this tribe wear green coloured wrap around the spun in red, white and yellow thread. Along with an upper cloth, a sleeveless shirt is worn also.
Traditional Dress of Women:
On the other, women dress up in a petticoat, which is completely beautiful and intricately woven. A linen blouse is also worn along with this costume.
2. Sherdukpen Tribe
Traditional Dress of Men:
People of the Sherdulpen tribe look like Monapas and are citizens of Bomdila. Men related to this tribe wear sleeveless silk cloth whose edges are attached to the shoulder. The attire is till knee length. The traditional dress of Sherdukpen Tribe's Men is complete with skull headgear decorated with the hair of the Yark.
Traditional Dress of Women:
Women of the Sherdulpen tribe wear sleeveless and collarless costumes to knee length. They also dress up a waistcloth with an embroidered jacket, which is a full sleeve. With fantastic weaving skills, they design colourful dresses. Women also make a bun on the backside of their heads.
3. Adi Tribe
Living in the sub-tropical areas of East & West Siang, Upper Siang, Upper Subansiri and Dibang Valley, Abir Tribe people, including both men & women wear prefer wearing woollen clothes and jackets. Due to the cold temperatures, people here wear woollen clothes to keep themselves warm. The costumes of men and women are designed from bearskin, deerskin and cane skin.
4. Miji Tribe
The people of the Miji Tribe stay simple and look elegant. For this reason, women residing in the districts of West and East Kameng wear clothes that enhance their beauty and look very subtle. They prefer wearing a long cloak, which is incomplete without accessories. Hence, the costume is paired with beautiful neckpieces and large earrings.
5. Monpas
Andhra Pradesh's Buddhist community, Monpas is widely popular for its skull headgear. It is made from fringes and laces. Women belonging Monpas community wear sleeveless blouses paired with a long jacket. This blouse is attached at the waist with a narrow and long cloth to keep it in place.
6. Aptani Tribe
Traditional Dress of Men:
Men related to Aptani traditionally tie a knot using their hair on top of their forehead. This traditional look is called Piiding. To create the knot, a brass rod is used, called Piiding Khotu. Men also make Tattoos on their chins.
Traditional Dress of Women:
Women also make tattoos of a wide size, which extend from the head to the tip of the nose. The hairstyle is also neatly arranged by them on the top of the head, which is known as dilling.
7. Bridal Dress in Arunachal Pradesh ( Women)
Arunachal Pradesh's events and weddings vary from tribe to tribe. Traditional dresses of bridal dresses include an ensemble named Baku, a loose-fit blouse made of silk fixed formerly with a belt that gives the bride a perfect figure.
8. Bridegroom Costume in Arunachal Pradesh ( Men)
Arunachal Pradesh's bridegroom wears a long coat with natural accessories like stones. They also dressed in skull caps with yak skin on the top of their head.
Traditional jewellery
The jewellery worn by men and women in Arunachal Pradesh is wild heads, beads, green wings of beetles, coloured bird feathers, earrings, and bangles.
Conclusion:
When it comes to clothing, Arunachal Pradesh inhibits cultural diversity. It is home to 26 tribes and 100 sub-tribes, whose traditional costumes are different from one another.