Top 10 Banana Producing Countries in the World
A commonly found fruit of Africa and Asia is Banana. They are very tasty and are known for their health benefits. Bananas are a rich source of Vitamins, Minerals and anti-oxidants. This fruit is very good overall health and especially the health of the heart. Its nutrients like riboflavin, vitamin B 6, and potassium protects the heart from the fluctuations in the blood pressure. Other benefits of consuming bananas include vision improvement, weight loss, stronger bones, improvement of digestion, etc. it has a great benefit for hair and skin as well.  It empties kidneys, loose bowels, helps with nervous & stomach issues, acne break out, wrinkles.
It is grown majorly in warm subtropical kind of climate with approximately 50% humidity and almost 12 hours of sunlight. In many houses you would find bananas covered with clothes, it is because they are being protected from the damage which winds can cause. Soil should be well drained as water logging can hamper the roots and the fruit.
Let us find out top 10 banana producing countries of the world
10. Tanzania – 4.08 Million Tonnes 
At number 10 slot we have Tanzania with the cultivation of almost 4.08 Millions of tonnes. Bananas are a component of staple diet and are consumed by almost all people. Banana plantations and trees can be seen everywhere as you drive through the roads of Tanzania. They are available throughout the year. Bananas in this country are majorly divided into 3 groups and cultivation also depends on these three named as Plantains which are used for cooking, Beer which is used to make local beer and Sweet to be used as fruit.
9. Cameroon – 4.94 Million Tonnes 
Number 9 slot goes to Cameroon, where Banana production is in full bloom. This country is the major supplier of Banana in Africa. Bananas are not only used for eating in Cameroon but also the leaves of this plant is used to make house roofs. Grown mainly in the south-western part of the country, these bananas are exported to other countries as well.
8. Colombia – 5.27 Million Tonnes 
With 5.27 Millions of tonnes, we have Colombia at number 8 slot. Bananas export has led the country to a growth and development, Colombian Bananas are gradually and slowly gaining impetus in the world. Almost 80% of the banana production is exported to other parts of the world majorly European Union and United States of America. Cavendish Valery is the most preferred variety for export.
7. Indonesia – 6.34 Million Tonnes 
Indonesia ranks at number 7 in terms of world's highest Banana production with almost 6.34 Million tonnes. Majorly exported variety is the Cavendish Banana. Generally this fruit is exported to Singapore as it is the window of the world so from there it reaches the other parts of the world. Panama Disease is a commonly known disease which attacks the banana cultivation and in Indonesia as well it has harmed the cultivation to a greater extent.
6. Brazil – 7.65 Million Tonnes 
With the production of 7.65 Million of tonnes, Brazil ranks at number 6. Due to the proximity to the sea it has the appropriate weather and climatic conditions which facilitate the growth and cultivation of Bananas. Brazil has just recently joined the league of world's highest banana producing countries and has done very well. Most of the bananas are consumed within the country and very less is exported out. Majorly produced in Sao Paulo, Prata, and Rio de Janeiro. Cavendish is the preferred variety of the fruit.
5. Ecuador – 8.24 Million Tonnes 
Bananas being a very important part of Ecuadorian Economy, almost 50% of the production of sold internationally. Also with the trade between European Union and Ecuador, the Bananas production is not commercially influenced. It has helped raise the country's gross domestic product considerably. At number 5 slot, Ecuador has a production of almost 8.24 Million of tonnes. Mostly Cavendish is grown and exported out of the country. Other varieties are plantains which are cooked as a vegetable and often fried as chips.
4. Philippines – 9.45 Million Tonnes 
At number 4 slot, Philippines, with the production of 9.45 Million tonnes, is also the largest exporter of Banana. The varieties of bananas grown in this country are Cavendish, Saba and Lacatan. Majorly it is produced in Northern Mindanao, Davao and Bukidnon as the climatic conditions are quite favorable in these areas. Other fruits that are produced in the country are mangoes and pineapples.
3. Uganda – 11.23 Million Tonnes 
Uganda ranks at number 3 slot with the production of 11.23 Million of tonnes of World's production of Bananas. It is the staple food of Uganda and the climatic conditions are just helpful for the cultivation and growth of Bananas. Due to certain pests and diseases, the quantity of the banana production fell down, dropping Uganda at 3rd Slot after China. Almost 75% of people cultivate banana in the country as it is considered very profitable.
2. China (Mainland) – 11.64 Million Tonnes 
With 11.64 Millions of tonnes, China ranks at number 2 in the World's highest Banana producing country. In China, the banana leaves are used to wrapping the meat for making it tenderer. Banana is majorly produced in 5 provinces of China named as Guangxi, Guangdong, Yunnan, the Fujian and the island of Hainan. Hainan has the best climate and atmosphere for the cultivation of Banana and a part of this island is also known as the Golden Corridor Area for producing bananas.
1. India – 29.82 Million Tonnes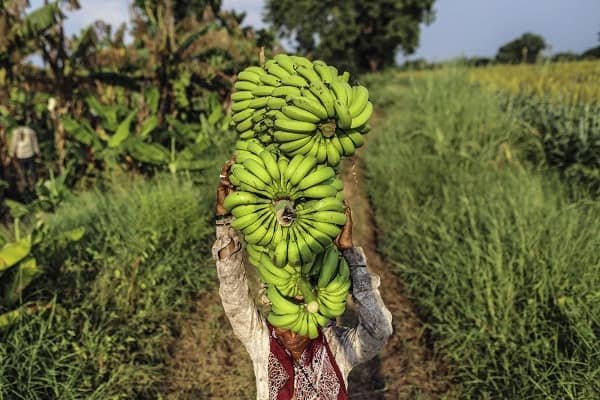 India is at number one slot of World's highest banana producing country with the production of 29.8 Million of tonnes. This fruit is available for 12 months and is not seasonal in nature. Grows best in alluvial soil and India has rich deposits of the same. Humid conditions are important for its cultivation. Generally it is cultivated in the Indian states of West Bengal, Kerala, Tamil Nadu, Andhra Pradesh, Maharashtra, Karnataka, Madhya Pradesh, Gujarat, Orissaand Assam. The varieties of bananas that grow in India are Dwarf Cavendish, Nendran,Poovan, and Robustaetc.

Conclusion
Not only for fruit and cooking, Banana can be extremely resourceful in making textiles and paper in many parts of the world. Surely Bananas are a favorite of many people and with the right conditions, they can prove extremely helpful for the growth and development of the countries. Many economies export this fruit as it needs certain conditions to grow like warm and subtropical climatic conditions and alluvial soil. There are certain pests which could prove to be harmful for the growth of Bananas so high quality manures should be utilized.