Ayushmann Khurana is a Television Anchor who managed to penetrate into the Indian filming industry and become an actor. Aside from that, he is also a singer. He has been receiving positive comments from the common people up to the film experts when it comes to his performances to his movies. One very successful film he starred with that made him extremely famous was "Vicky Donor".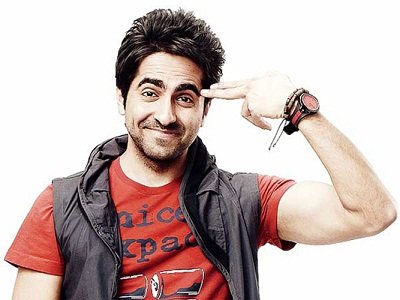 Net Worth: $6 million (Estimated)
Sources of Income: Obviously, Ayushmann Khurana gained a lot of money from his past jobs as television anchor. This high earning of him has been increasing the moment he stepped into the Indian filming world. In fact, he earned around 4-5 Crores in every movie he made. This amount of money served as his salary. He also earned money from endorsing product brands like the innovative car released in India known as Datsun Go+.
Full Name: Ayushmann Khurrana
Born: 14th September, 1984 (34 Year)
Marital Status: He got married to a Mass Communication professor, businesswoman, and author named Tahira Kashyap.
Height/Weight: He stands 5 feet and 9 inches, and weighs 70 kilograms.
Personal Background
Ayushmann Khurrana was born and raised in the progressive and beautiful city of Chandigarh in the Indian state of Punjab. Talking about his educational background, he studied high school in St. John's High School, and tertiary in DAV College that was just within the city where he used to live. He took up a Bachelor's degree of English Literature. And in the School of Communication Studies, Panjab University, he took up a master's degree in Mass Communication. During his college days, he was very active in theatrical shows. In fact, he founded 2 theatrical organizations in DAV College, which were "Manchtantra" and "Aaghaaz". In the national college festivals held in St. Bedes Simla, Birla Institute of Technology and Science, and IIT Bombay, he won several prizes from conceptualizing and acting in various street plays. And in the play written Dharamvir Bharati, which was Andha Yug, he played the role of Ashwatthama that gave him the ticket to get a Best Actor award.
Career Graph
 At the very young age of 17, Ayushmann Khurrana was being noticed in the national Indian television. It was way back in the year 2002 during the television show "PopStars" that was aired in Channel V network. He was one of the contestants at that time. At the age of 20, he tried his luck again in the television. He joined in the TV show titled "Roadies 2", in which he was declared to be the winner. A radio jockey was his first job, and it happened in BIG FM, Delhi. After his radio career, he then moved to TV in which he became a Video Jockey in MTV network, with the show titled "Pepsi MTV Wassup". He was also the host of a youth-oriented show in the said network titled "The Voice of Youngistaan". It was in the year 2012 when his big break in Bollywood came. It was with the Shoojit Sircar's movie titled "Vicky Donor". He was highly recognized in this particular film, and received a number of acting awards. From that very day up to now, Ayushmann Khurrana enjoys his flourishing career in Bollywood.
Save