If you talk about the forever young stars of Bollywood, Anil Kapoor would be the first name to come to your mind. This stylish actor has been ruling the Hindi film industry since the past three decades and still going strong, even after his next generation having stepped into the film industry today.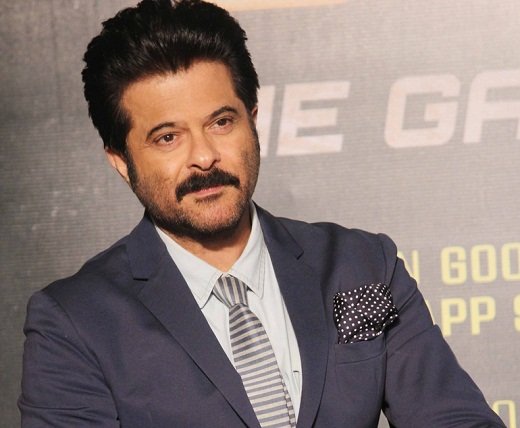 Net Worth: $ 12 million
Income Sources: Besides making money from movies, Anil Kapoor has also endorsed some leading brands, including the automobile giant, Renault.
Born: 24th December, 1956 (58 years old)
Height/Weight: 5 feet 11 inches, 75 kg
Marital Status: Anil Kapoor is married to Sunita Kapoor and they have three children. His daughter Sonam Kapoor has already become an established actress in Bolywood, while his younger daughter, Rhea Kapoor has become a film producer. His son Harshvardhan is planning his Bollywood debut very soon.
Personal Background
Anil Kapoor was born into a prestigious filmi family based in Mumbai. His father Surinder Kapoor and elder brother Boney Kapoor are acclaimed directors, while his younger brother, Sanjay Kapoor has also acted in some movies. His nephew, Arjun Kapoor has also recently made a promising entry into the film industry. Anil completed his schooling and college education in Mumbai and took a plunge into acting in the eighties, becoming one of the most successful actors in his period.
Career Graph
Anil Kapoor made his Bollywood debut with a film called "Hamaare Tumhaare" in 1979. He got recognized with his touching performance in "Who 7 Din" and then came the Golden era of this super star, with one super hit after the other, hitting bang on target. Films like "Tezzab", "Karma", "Ram Lakhan", "Janbaaz" and "Mr India" established Anil as one of the most bankable stars in the industry. He continued to maintain his stardom with brilliant performances in "Lamhe", "Taal", "Welcome", "Biwi No 1", "Race" and "Race 2" in the coming decades. His powerful appearance in the patriotic movie "Pukar" (2000) fetched him the National Award for Best Actor, besides a number of other awards for his versatile acting. Kapoor has taken the Indian cinema on the international level in the true sense, with movies like "Slumdog Millionaire", which received the prestigious Academy Awards, in addition to appearing in "Mission Impossible-Ghost Protocol" along with Hollywood star Tom Cruise. His home production, "Gandhi My Father" also brought several accolades for this handsome actor.
Home and Cars
Anil Kapoor is a very stylish actor and his style is reflected in his lifestyle. He lives in a luxurious bungalow in the posh area of Ville Parle of Mumbai, which is one of the most expensive locations in the city. Additionally, Anil owns a number of properties in Mumbai and abroad too, in locations like USA and London. He is also passionate about luxurious cars and has beauties like Audi and Renault in his fleet. Anil Kapoor is an avid follower of car races and has been seen in a number of car racing events, in Mumbai as well as Delhi.