Atif Aslam is a popular name among Indian and Pakistani music fans. Atif dragged attention for his electric rock songs. He has done playback singing in many Indian and Pakistani movies as well. Anyway, he has tried his hands with acting as well, and has made cameo appearances in many Indian Hindi cinemas.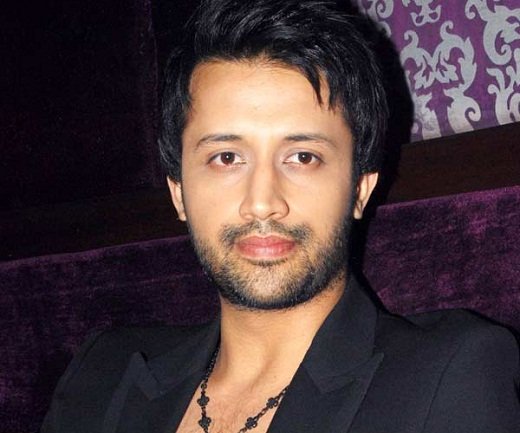 Net Worth: $ 22 Million
Income Source: Atif Aslam is one of the busiest names in music arena. His prime source of income is through his talent only. Atif is a highly paid playback singer. Apart from this, Atif earns huge through performing at live concerts. He keeps on moving through out the year over the globe for big shows. Apart from this, his albums pay him great as well because most those are generally huge hits.
Born: March 12, 1983 (31 years)
Full Name: Atif Aslam
Height/Weight: 5 feet 7 inches, 65 Kgs
Marital Status: Atif is having a huge fan base both in India and Pakistan. His breath taking voice and heroic look has made many girls mad about him. However, Atif finally married to his girlfriend Sara Bharwana. Sara is an educationalist. Both tied the knot in Lahore on 29th March, 2013.
Personal life
Atif's birth place is Wazirabad, Pakistan. He has done his schooling from St. Paul's Cambridge School, Rawalpindi, and has graduated in Punjab College. Atif has to move Lahore due to family causes in 1995 during his school life.
Interesting here is to mention that Atif is a damn Cricket fan. He is pretty talented on this matter as well, and was interested in making it as a career. In fact, he was picked for the Under 19 world Cup trials, and was training hard for the tournament. Atif was a fast bowler.
Career Graph
Atif's life is quite dramatic. Provoked by his friends he started singing in college functions, and made the song Aadat at his own expense. Suddenly, Aadat was a smashing hit in no time, and he got a star's accolade. In 2004 his first album Jal Pari came in to market. All the songs of the album were popular enough.
However, people outside Pakistan became a fan of him through the solo album Doorie. The solo albums were made 9 million copies business. He's got Film fare award for his song in the movie Race. Apart from playback singing, or albums, Atif is a highly demanded name for live concerts.
Atif has done concerts in almost all parts of the globe. He has performed along many big Indian names in music arena like Kailash Kher, Sunidhi Chauhan, etc through his rock concerts. Atif Aslam is the only name from Pakistan to perform in UK's O2 the prime aim of which was to increase love between India and Pakistan. Atif's acting debut was through Pakistani flick Bol in 2011. He has given voice in a Mira Nair Hollywood project and an American movie.
House and Cars:
Atif is said to be a big fan of the four wheelers. He is mainly seen to be moving with his favorite BMW. He is said to be having several houses in Lahore and Rawalpindi. Anyway, Atif spends most of his time in India for live concerts or playback singing.