10 Little Known Facts about Ajit Kumar Doval (NSA)
Ajit Kumar Doval is a former intelligence agent and is currently working as the National Security Adviser to the Indian Prime Minister, Narendra Modi. He has also played an instrumental role in national security beginning his career as an IPS officer and becoming the Director of Intelligence Bureau, a post he held in the year 2004-05.
Here are 10 little known facts about Ajit Kumar Doval: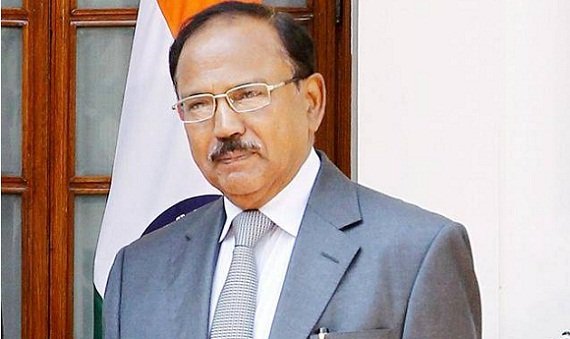 #1. Doval gets patriotism in legacy as his father served in the Indian Army. Ajit Kumar Doval did his schooling from Ajmer Military School and did his Masters of Economics from the University of Agra, where he bagged the first position in his course.
#2. He is the first police officer in the country to be honored with the Kirti Chakra (1988), the second highest peace time gallantry award. The award, which was considered a military honor previously, was conferred upon a police officer for the first time.
#3. He was also the youngest officer to receive the Police Medal, which he got just after 6 years in the service. Normally, it is given only after an officer has been in service for at least 17 years.
#4. The country had witnessed a total of 15 hijacks of the aircrafts of Indian Airlines in the period from 1971 and 1999. Ajit Kumar Doval was involved in solving all these hijacks.
#5. Another amazing thing about this meritorious security officer is that he has lived in Pakistan as an undercover agent for a period of seven years.
#6. He had also played a key role in handling the insurgency in the North East in 1986, where he worked as a field agent in an undercover mission, during which the rebel leader was forced to sign a peace treaty.
#7. He was also a part of the famous Operation Black Thunder, which was carried out in the Golden Temple complex in Amritsar in 1988. He operated undercover as a rickshaw puller and convinced the militants that he was an ISI agent from Pakistan and they let him enter the temple complex. Here, he gathered all the strategic information about them and gave it to the security forces just before the operation was carried out. This information helped the forces to a great extent to flush out the Khalistani militants from the shrine.
#8. His expertise as a security specialist and spy game player can be judged from the fact that he was able to brainwash several dreaded terrorists and turn them into counter terrorists, with the Kashmiri militant Kuka Parray and his gang being one of his accomplishments in this regard.
#9. Another little known fact about Ajit Kumar Doval is that he was able to bring some big names among separatist leaders on the negotiation terms. These include some prominent names like Shabbir Shah Maulvi Farooq, SAS Geelani and Yasin Malik.
#10. Ajit Kumar Doval has another big credit in his career that he had helped to ensure safe return of 46 nurses of Indian nationality, who were trapped in an Iraqi hospital in Tikrit in June 2014. Doval personally visited Iraq to study the situation and have strategic talks with the government of the country to secure the release of the nurses.
All these facts say a lot about the wit, intelligence and bravery of this exemplary security officer, who has made the country proud in more than one ways.