Mahatma Gandhi popularly known as the 'Father of Nation' was born on 2nd October 1869 in Porbandar district of Gujarat. He was one of the key leaders of Indian independence movement. He was barrister by profession who did his education from the Inner temple, London. Truth and Non-violence were the key weapons of Mahatma Gandhi in any movement. He returned back India in the year 1915 when he fought aggressively against the excessive discrimination and land tax of farmers and labors.
After joining Indian National Congress, he led various movements against poverty, women's rights, ending untouchability and most importantly for achieving Swaraj.  He was shot dead by Nathuram Godse on 30th January 1948. Here is the list of top 10 interesting facts about Bapu.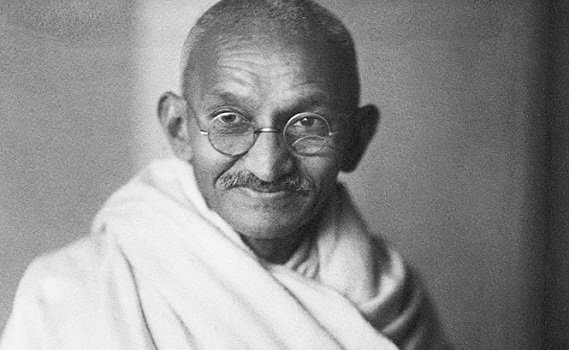 10. Did not celebrate the Indian Independence moment
Gandhiji didn't participate in Indian independence movement celebration held in Delhi. He didn't even hear the Nehru first speech post-independence 'Tryst with Destiny'. At that time he was in Calcutta to stop the riots spread between Eastern and Western Bengal.
9. Gandhi – An extremely shy kid
Gandhiji was the shy kid during his school time. He was the son from the fourth wife of Karamchand Gandhi i.e. Putlibai. His friends often called him Moniya Gandhi in his school because of his shy nature who used to run away from school multiple times because he did not feel comfortable in talking to his classmates.
8. Not an Intelligent student
This is really a lesser known fact that Bapu was an average student but had the strong command over English language and high ethics value. One of his report cards indicated 'Good in English', 'Fair in Mathematics' and 'Bad in geography'. His handwriting was also very bad for which he despised till his death.
7. Felt difficulty in going with his wife during early days after marriage
Gandhi was married in the year 1882 when he was just 13 years old. He was married to Kasturba who was 14 years old. Gandhiji felt very awkward while going with his wife in her early marriage days. After three years, Kasturba gave birth to a child which died in a short time. This incident has the strong impact on Gandhiji mind and strictly against child marriage which he generally referred as 'Emotional Curse to Indian Women'.
6. Walking Freak
Mahatma Gandhi believed that walking is the king of all exercise and the easiest way to keep good health. He commutes most of the distance through walking only. It is not to save money as he commuted through walk when he was practicing for the lawyer in South Africa and England. In one of the study, it was estimated that Gandhi walked around 10 km every day.
5. Inspired from an American to launch famous Civil Disobedience movement
There was the huge impact of Henry Salt book on Gandhiji and this becomes his source of inspiration to launch massive Civil Disobedience movement. This is one of the greatest struggles in Indian Independence movement. The book was based on the life of an American philosopher Henry David who refused to pay tax, for which he was sent to jail.
4. Failure in his profession 
Gandhiji was known for his shy nature since school time. Due to his shy nature, Bapu was not able to continue his law practice in India when he returned back in India in the year 1915, as he was not comfortable in asking questions from his witnesses and put forward his point strongly in front of the magistrate. He was also remain tensed during the time of speech as his legs and knees shivered at that time.
3. Served in British-Indian Army
This is very lesser known fact about Father of Nation. Mahatma Gandhi was served the British-Indian army for the very short duration of time. In his initial days in South Africa, he voluntarily served the British army as the stretcher holder in the war for ill soldiers. He was so soft and kind hearted person by heart that this fears of war further strengthen the notion of non-violence in his mind.
2. Most well-paid job in South Africa
Gandhi worked as a lawyer in Dada Abdulla & Co. in Natal South Africa. In this job, he received $15,000 per annum as remuneration at that time. This job was considered as one of the well-paid jobs in South Africa. But God had decided something else for him. He left this highly paid job and returned to India to participate in Independence movement and worked as "Satyagrahi".
1. Owned number of football clubs in South Africa
Gandhiji owned two football clubs in South Africa to propagate his ideology of 'Equality for all" when he saw the racial discrimination against Indians. He was against any kind of discrimination on basis of caste, creed, or religion etc.