For many of us, India's freedom movement speaks markedly of Mahatma Gandhi, a man who took upon the responsibility upon himself and freed the nation from the British rule. But how about the other half of Mohandas Gandhi, Bapu? Any idea on that one?
Well, there's say that goes in the breadth as, 'Behind every successful man, there's a woman'. It doesn't get any truer than here. Mohandas Gandhi, Bapu also had his better half supporting him throughout his life. This blog is a dedication to the lady behind the father of the nation.
Kasturba Gandhi, as she was known by, was the lady who bestowed the courage and support to Gandhi and the nation as a whole to move ahead. Also referred to as 'Ba', she navigated through the ups and downs proficiently. Here's us with an entry titled, '10 Interesting Facts about Kasturba Gandhi'.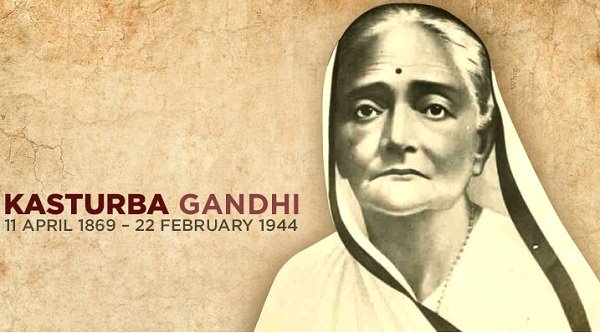 Read along for the piece on the women behind the face of the nation.
10) Had argument on Untouchability
Kasturba Gandhi had a stiff rage with Mohandas Gandhi on 'untouchability'.
Mohandas Gandhi urged her to do all the chores of the house and skipping the untouchable servant from the house.
The couple had a ward off on the topic.
9) Supported Gandhi's stance on Celibacy
It was in 1906 that Mohandas Gandhi took a lifetime oath of celibacy and chastity.
Kasturba Gandhi whole-heartedly supported her husband's stance and obeyed by the move.
The couple abstained from any sexual relationship after the oath.
8) Took the lead of the movement
Kasturba Gandhi took hold of the movement and lead from the front when Gandhi was in jail for a brief period of time in 1922.
There was a reeling far-cry among people wanting 'Ba' to lead the line and she profoundly essayed.
She was suffering from Anemia at the time, yet took the first train and led the movement.
7) The story behind her title 'Ba'
Kasturba Gandhi returned to India in 1915 with her husband Mohandas Gandhi.
She helped Gandhi form the Sabarmati Ashram where she was referred as 'Ba' which means mother.
The word 'Ba' became her referred title all her life.
6) Gandhi's stance on marriage
Kasturba Gandhi and Mohandas Gandhi were engaged off at an early age of seven years old and were married at 13 years of age. We shall have more on this one a while later.
As they were pretty young to understand the complexity and responsibility of the marriage, Gandhi reiterated that 'Marriage for us meant wearing new clothes, eating sweets and playing with relatives.
5) Was imprisoned for her role in the freedom movements 
Kasturba Gandhi played an active role in the freedom movements as she lead the stance from the front.
She was arrested upon whereby charges were levied against her multiple times.
She was convicted to six weeks' simple imprisonment at first in 1932. She was then further arrested and sent to the jail for six months' rigorous term.
She was further taken into custody in 1933 and sent for another six months in the jail.
4) Was arrested and jailed in South Africa
She had actively participated in the movements to improve the working conditions of Indian workers in South Africa.
She was later on arrested on charges and jailed for three months for the protest against the South African government.
3) Was Born when Child Marriage was Common Phenomenon
Kasturba Gandhi was born on April 11, 1869, in Porbandar. Her parents were Gokuldas Makanji and Vrajkunwerba Kapadia.
Her father was a merchant and was a friend of Karamchand Gandhi, the father of Mohandas Gandhi.
As was the case with the social norms then, she was engaged to Mohandas Gandhi when they were both seven years old and were later married at 13 years of age. A stiff example of child marriage.
2) Birth of the First Son
Mohandas Gandhi and Kasturba Gandhi gave birth to a baby boy in the year 1888 and named him Harilal.
Kasturba Gandhi raised the son on her own as Mohandas Gandhi had to allocate to England for higher studies.
They gave birth to further two sons down the lineage, Manilal Gandhi and Ramdas Gandhi.
1) An example of courage and tenacity
Kasturba Gandhi was a source of courage and tenacity. She raised the toddler or two on her own when Mohandas Gandhi left for England and South Africa.
She showed her courageous side as she helped Gandhi escape a white mob when she was stationed in South Africa with her husband.
What's your stance on the fact-file of the Kasturba Gandhi 'Ba'? Share them down below in the comment box and let us know about it.