10 Interesting Facts About Lonavala
Lonavala is a beautiful hill station near Pune City and considered the biggest attraction for travelers during the Monsoon Season. It is surrounded with mountains full of greenery and is a true example of natural beauty. Let's learn about some interesting facts about Lonavala Hill station so that you can plan your next vacations easily.
#1. It is a very old city with great Historical significance too, along with natural beauty. It was discovered in the year 1811 AD by the governor of Bombay, Sir Elphinstone. He was a lover of natural beauty and Lonavala offers it the most. It was a bushy forest when it was discovered .Initially very low population was found in the area, but later with development, lots of people moved to this beautiful attraction. It is the favorite city for a lot of real estate developers as the city attracts lot of investors due to its pleasant and pollution free environment throughout the year.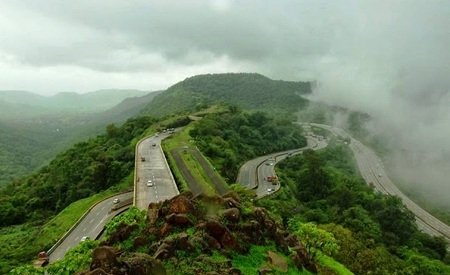 #2. The hill station got its name from the forest "Lonali" and "Avali" which means series, which is a perfect name to describe the beautiful area of Lonavala. It is also famous by the name of Jewel of Sahaydri Range. It is surrounded by mountains which give a scenery view during the monsoon season due to waterfalls and lakes around it.The place has a great political history too with the presence of Yadav Dynasty in the area. The place was ruled by Mughal Emperor in the early days after that by Maratha and Peshwas.
#3. Some of the popular attractions of the place are Karla, Bedsa and Bhaja caves which are quite popular among the tourists visiting the place. You can enjoy with your family and friends around the beautiful waterfalls and lakes which look more beautiful during the monsoon season.
#4. The place is well connected by Roads, Train and via Air not directly, but you can reach nearby stations like Mumbai and Pune after which take a cab towards Lonavala, .So if you are planning to travel, the destination you can take any one of the modes to reach Lonavala. It is situated around 106 Kms from Mumbai .It gives perfect picture squeopport unity to the travelers who love to capture beauty in the camera frames. From Mumbai if you travel by road you can reach Lonavala maximum in 2 hours and travelling via Pune it will take 1.5 hours. There are various Luxury Volvo buses available from both the places to reach Lonavala. The express Highway is beautiful and easy to drive if you are taking your personal vehicle to the place.
#5. Famous points to visit in Lonavala are Lohagad Fort, Pavana Lake,Della Adventure, and Lion's Point, Karla Caves, Rajmachi Fort, Bhushi Dam, Narayani Dham Temple, Tiger's Leap and many more. There are various waterfalls and lakes in Lonavala with clear water which enhances the beauty of the hill station.
#6. You can enjoy trekking in the area .It isa place with fine balance between easy accessibility and perfect hideaway .If weather permits,and then you should definitely enjoy Campsite and trekking while visiting Lonavala. Weather Proof tents are available which allow you to enjoy stay during the rainy season. You need not to take anything from your home for trekking there are various service providers which provide tents for rent which are perfectly suitable for rainy season. They will guide you best about the best area in Lonavala for trekking and what type of challenges you might face.
#7. If you are fond of adventure sports then do not miss waterfall rappelling as it will give you an opportunity to soar over the clouds. It will give you a mesmerizing experience to watch the beauty from the heights only. You can enjoy activities with your friends and family members to make your trip memorable and fulfilled.
#8. There are various resorts and 5 star hotels available in the area where you can stay with your family away from crowded lives in daily routine. The resorts provide great class facilities for the travelers across the globe. The staff members are trained to cater services to the tourists from different part of the globe. The resort and hotels have all basic medical facilities arrangements for the guests staying in their properties.
#9. Best time to visit Lonavala is during the Rainy or Monsoon season when natural beauty is at its peak. Best Months are from June to September when you can plan your vacations in the hill station. If you are travelling in summers take woolen clothes and if in winter season then you should take some woolen clothes for emergency.
#10. There are various eating points available in the destination where you can enjoy local and other cuisines too. You can taste the local food at small street side restaurants or cafes. Luxury star hotels are also available at the hill station to provide you best cuisines across the globe. You can book all reservations in advance to avoid any chaos at the last moment.
So these are some of interesting facts about Lonavala tourist attractions which will be helpful for you if you are planning to spend your next vacations in the hill station with your family or friends.
Save
Save