Diwali is a festival of thrill and lightning. Who forgets the days of childhood, the days of innocence, recreation and happiness but as the time passes everything goes away from the hands. The hectic life and cut- throat competition is teasing souls of everyone. Nowadays, festive seasons are the days to find the joy and childhood again back in the lives.Mostly foodie enjoys and rejuvenates themselves by taking different variety of food and even sweets. Sweets mobilise the mind and refreshes the body. Sharing of sweets is one of the main customs on Diwali, innovative and lip smacking sweets will be preferred. Let's share some sweetness by discussing 10 Easy Diwali Sweet recipes:
10. Mysore Pak
Ingredients: 1. Cup Sugar, 1 Cup Water, 1 Cup chick-pea Flour, 2 cups ghee.
Method:
Sift the besan and keep ready. Dissolve sugar in the water over low heat and once it dissolves, increase the heat, bring to a boil and cook till it reaches one-thread consistency. Add 1 Tbsp. of besan and stir to mix well. Continue that, a table spoon besan at a time. Add the ghee, one tablespoon at a time in it. It will change its colour as well as texture. Set in a platter, patting to level. Don't remove ghee that may float.Cool, cut and serve.
9. Milk Peda
Ingredients: 1 cup khoya, 2 cups Ghee, 1 Cup Sugar, ½ cup dry-fruits
Method
Stir khoya smoothly then add sugar and ghee. Mix till sugar melts in khoya. Remove it from the flame and after cooling, make flat balls. Garnish it with dry fruits.
8. Basundi Rice
Ingredients: 1 big pan milk, 4 bowl rice, 1 and 1/2 Cup Sugar, pinch of nutmeg powder, dry fruits and saffron.
Method
Reduce the milk on low flame till it thickens, simmer it, add sugar mix it well. Soak the rice in water then add the rice and close the container. Then after, 2 min. add nutmeg, saffron and dry fruits. It is ready to eat after 5-10 minutes.
7. Rasmalai
Ingredients: Cottage cheese balls soaked , sweetened 4 cup fat cow milk, 4 to 5 tbsp. sugar, 10- 12 unsalted pistachios- blanched, ½ cup water for blanching almonds and pistachios, ½ teaspoon cardamom powder, 1 to 2 teaspoon rose water, 8 to 10 saffron strands, a few saffron strands for garnish.
Method
Boil half cup water for dry fruits and cover it. After half an hour, peel the dry- fruits. Bring the milk into medium flame, take 2 spoons milk in bowl and mix saffron strands and keep aside. Add sugar and stir, till it dissolves. Then mix cardamom and dry fruits in it. After that dissolved saffron strands will go. Meanwhile take that cottage cheese,make it like rasgulla and with the help of spatula apply pressure. Then place it in the sweet simmering milk for 3-4 minutes. Switch off the flame and then add 1 tbsp. of rose-water. Stir gently and let the rasmalai to come at room temperature.
6. Mohanthal
Ingredients: 250gm gram flour, 1 tbsp. ghee, 3 tbsp. milk, 50 gm khoya, 200 gms. Sugar, ½ tsp. cardamom, 150 gm. Ghee
Garnishing:  Almonds, Pistachios
Method
Put sugar and half a cup of water over low heat and stir till sugar dissolves. After dissolving let it boil and make it hard ball consistent. While sugar is cooking, cook khoya over low heat, and then stir all the time. Till it crumbles and heat ghee and also add the gram flour mixture and sauté till it browns. Remove it from heat; add cardamom and syrup in it. Transfer to greased thali, cut into even squares and garnish it.
5. SemiyaPayasam
Ingredients: 200gm vermicelli, 25 ml ghee, 1.5 litres, 100 gm. sugar, 100 gms. Cashewnuts, 50gms. Raisins, 5 gms. cardamom powder.
Method
Heat the ghee and fry the vermicelli until brown, mix the cashewnuts and raisins. Add milk and boil for 5 minutes, mix the sugar and stir till it dissolves. Stir in the cardamom powder and serve hot.
4. Gulab Jamun

Ingredients: 250 gm soft khoya, 100 grams paneer, 3 tbsp. maida, 1 tbs. milk, oil for deep frying.
Sugar syrup: 2 cups sugar, 105 cups water, 1/4 tbs. lemon juice, 1 spoon rose water, ½ teaspoon cardamom powder
 Method
Mash the khoya with your hands and grate the paneer, keep both aside. Now mix 3 tbsp. all maida in paneer and add in khoya. In all, add 1 tbsp. milk. Form dough and add 1 tbsp. of milk. Roll the ball and put them in kitchen towel.
2 cups of sugar in a pan and 1 Cup water, put it on low flame, dissolve and mix lemon juice. Add 1 tbsp. of rosewater and cardamom.Dissolve the balls for half an hour in that sugar syrup.
3. Maida Barfi
Ingredients: ½ cup Maida, sugar -1 cup, oil-1/4 cup, Vanilla essence-3-4 drops, Cashew Nuts: 6-8, Food colour-yellow: pinch, Water one cup, sugar: 1 cup
Method
Keep a greased platter aside.In a pan, heat oil and fry cashew nuts to golden, then slowly add Maida in low flame. Keep frying smoothly and then in non-stick vessel, heat sugar and water to make syrup of one thread. Now add flour, colour, and essence, in the sugar syrup,and then switch off flame. It thickens, spread on the greased plate and cut it.
2. Coconut TilLadoo
Ingredients: 2 cups Sesame seeds, 1 and ½ cup chopped dates, 1cup dry grated coconut
Method
Chop the de-seeded dates; dry roast sesame in a pan for 1-2 min. cools it. Add coconut and grind all. Take small amount of Maida in hand and make balls. Roll those balls in coconut.
1. Phirni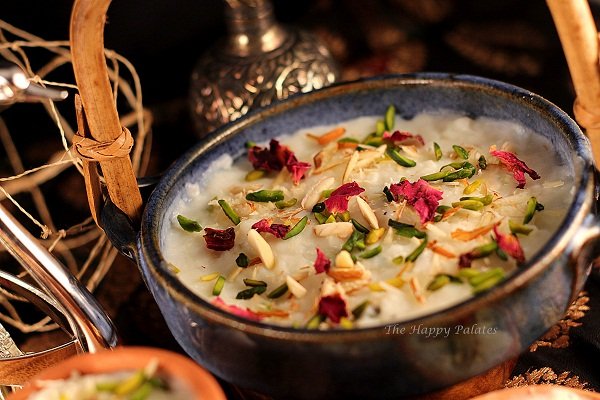 Ingredients: 250 ml, milk, 2 tbsp. rice flour, 2 tbsp. dry fruits according to choice, cardamom powder
Method
Heat milk till it simmers and adds rice flour, and then sugar will be added. It thickens and adds chopped dry fruits as well as cardamom powder. Pour in serving bowl and garnish. Refrigerate 2-3 hours.
Save
Save