If we were to think of musical instruments, not many would come close to replicating the melancholy of guitar. Guitar for ages has been the go-to musical instrument for many. There's something about those strings of the guitar, the musical ecstasy that it produces and the support that it lends to the very song.
Guitarist, the one who plays guitar are in a league of their own. Always on the forefront of the musical stage, guitarist adds life to the arena and lights up the stage. Although, the singer in you would disagree with that one. However, think of it, don't you love those mid-riffs when the notes on the guitar just lift the song to another echo lean. Everyone does.
List of Most Famous Guitarist in India
Here's us with a list of some of those accentuating personalities in the guitar stream present in India in the modern day. It's time we know them better. And what good way that to by having a look at the 'Top 10 Best Guitarist in India'.
10. Bruce Lee Mani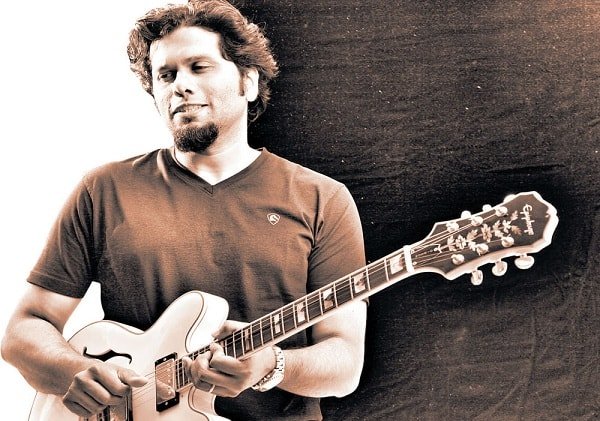 A top performer on the stage, Bruce Lee Mani kick starts off our list for today. A livelier performer on the stage, he has been regarded as a role model by plenty of new stream guitarists. With unrivaled knowledge and passion about guitar, the music resonating from his strings are a class apart.
He for years has been credited with playing original music of his own and has mastered the skill of it. His diverse range in guitar field also makes him a rare prodigy.
9. Rex Vijayan
Hailing from Kerala, Rex Vijayan is known for his multi-instrument skills. However, it's his hands on aguitar that has captivated the audience for long. He has been performing live for years and has been part of sold-out concerts on many occasions.
He also has plenty of albums to go by with as part of his portfolio. His albums predominately ventured into rock genre but he's well adverse on all genres at the date. He also infuses plenty of complex guitar arrangements in his music something not found on many guitarists profile.
8. Mahesh Tinaikar
A famous guitarist of India, Mahesh Tinaikar has been here for ages. Known as a skillful master of guitar, he has been offering high-quality riffs to audiences around. He has been part of concerts and albums for long and has seen pretty good fame over the period.He is one of those unique persona on guitar with added impetus that other find hard to replicate around.
7. Tony Das
A guitarist based out of Bangalore, he has been primarily offering solos over the years. He has also been part of many famous bands and co-operated with them in multiple facilities. His way of playing has been well received and are known to create a vibe between the audience and himself.
He is inspired by Nuno Bettencourt and has a collection of him. His favorite go-to music whilst driving car too is from Nuno Bettencourt. With a dream to be like Nuno Bettencourt, Tony Das has been making rave progress to the same stature.
6. Dhruv Ghanekar
A Bombay-based guitarist, Dhruv Ghanekar is one heck of a famed personality. He has been performing live for years and has seen followers come thick and fast. He holds a penchant for Indian tunes and syncs them into his music on numerous occasions.
He is known to perform mood captivating jazz sessions that perfectly heart-striking and soothing at the same time. A truly fine guitarist around.
5. Baiju Dharmajan
A guitarist with a substantially high number of live performances in India, Baiju Dharmajan is a well-known name. He has been performing with multiple of bands over the years and has built quite a portfolio. He started off at quite an early age and has been at the center of guitar genre for years.
He has a great uncanny ability to captivate and mystify the audience with his musical notes and riffs. A pretty skillful player of guitar, we hope to see more from him in the coming days.
4. Prasanna
A guitarist who is deemed as the master of complex scales and ragas, Prasanna is the go-to option for those trying to seek great music to listen to. Known to take his audience to transcendental space with his prodigal guitar abilities, he holds the baton of one of the best around.
In fact, Guthrie Govan, a famed guitarist himself, wrote "I sometimes struggle to get my head around the fact that Prasanna and I actually play the same musical instrument. He somehow manages to make an electric guitar do things which are clearly not possible! You owe it to yourself to check this guy out – you may well be terrified by what you hear, but you definitely won't be disappointed." in the testament to Prasanna's abilities.
3. Rudy Wallang
With supernatural note selection skills and enhanced levels of expertise on guitar, Rudy Wallang comes in at third in our ranking. He for years has been offering his finesse to the guitar enthusiasts and is well known for it.
He has been adding plentiful in the blues genre of music and has been performing the same live on numerous occasions. One of those guitarists, whose music can soothe you around, Rudy Wallang is definitely a name to remember.
2. Warren Mendonsa
Another of those famed guitarists of India, Warren Mendonsa is placed at second on our list. Based out of Bombay, he has been around the musical field for years. He is known to lend hands to guitars for infinite hours on a single instance.
His first guitar that he laid hands on was Mexican Fender Stratocaster, gifted by his mother. His songs are also applauded by comedian Russel Peters who terms it as mind blasting. He has a large fan base over India and offers his musical essence via concerts and more. He even worked with a band Black strat blues back in the days.
1. Amyt Datta
Placed at the top of our list is AmytDatta, the ever present top line guitarist of India, AmytDatta is based out of Kolkata and has been known as a fine creator of guitar riffs and notes. He for years has been offering great performances to the audiences and is loved for the same.
He has agreat passion for the same and it reverts in his performances. His range of genres include blues, rock, and jazz of which he is pretty famed for. He plays along with groups as Skinny Alley and Pink Noise as part of his collaboration.
Well, that's all from us on this one based on the best guitarists around the nation. These personas are truly someone to hail for and deserves accolades for the same. Here's us signing off on this note with a promise to return back with another one. Till then, enjoy the musical enigma.
This Article Source: polkacafe.com, ranker.com